Double Colour Frames
• For providing diferent needs & projects for
advertisers and decorators.
• Snap open design with two different colors.
• Anti-glare poster cover sheet included.
• Optional Hangers for easy mounting.
ACCESORIES
COLOR OPTION
SIZES
20″ X 30″ (508 X 762 mm), 30″ X 40″ (762 X 1016 mm), A0 ( 841 X 1189 mm), A1 (594 X 841 mm), A2 (420 X 594 mm), A3 (297 X 420 mm), A4 (210 X 297 mm), B1 (700 X 1000 mm), B2 (500 X 700 mm)
Double Colour Frames Product Description
Double colour frame is a snap open design, provided with two colour presence. Corporate colours, aesthetic appearance, contrast concepts highlight the product for various applications.
Double colour frame in different sizes serve different needs and projects of advertisers and decorators. Having a more stylish design and 2 colour presence, different than traditional models, capture the eyes within any commercial environment. Anti-glare poster cover sheet included.
Offices, museums, hotel lobbies, restaurants are common places that this Double Colour Frames can be used.
Double Colour Frames Accessories
Double Colour Frames Product Specifications
MATERIAL : Silver anodised aluminium PROFILE : 40 mm 450
WEIGHT
PACKING SIZE
BLACK-SILVER
SILVER-BLACK
EXTERNAL (x-y)
POSTER
COPY
WITH PACKING
*W X H X D
UCC405BNA4
UCC405NBA4
269 X 356 mm
210 X 297 mm
191 X 278 mm
0,750 kg
290 X 390 X 31 mm
UCC405BNA3
UCC405NBA3
356 X 479 mm
297 X 420 mm
278 X 401mm
1,250 kg
390 X 510 X 31 mm
UCC405BNA2
UCC405NBA2
479 X 653 mm
420 X 594 mm
401X 575 mm
1,850 kg
510 X 690 X 31 mm
UCC405BNA1
UCC405NBA1
653 X 900 mm
594 X 841 mm
575 X 822 mm
2,650 kg
690 X 940 X 31 mm
UCC405BNA0
UCC405NBA0
900 X 1248 mm
841 X 1189 mm
822 X 1170 mm
5,550 kg
930 X 1310 X 31 mm
UCC405BNB2
UCC405NBB2
559 X 759 mm
500 X 700 mm
481 X 681 mm
2,450 kg
590 X 790 X 31 mm
UCC405BNB1
UCC405NBB1
759 X 1059 mm
700 X 1000 mm
681 X 981 mm
4,330 kg
780 X 1100 X 31 mm
UCC405BN23
UCC405NB23
567 X 821 mm
508 X 762 mm
489 X 743 mm
2,520 kg
600 X 860 X 31 mm
UCC405BN34
UCC405NB34
821 X 1075 mm
1000 X 1400 mm
743 X 997 mm
4,700 kg
850 X 1110 X 31 mm
* W:Width H: Height D: Depth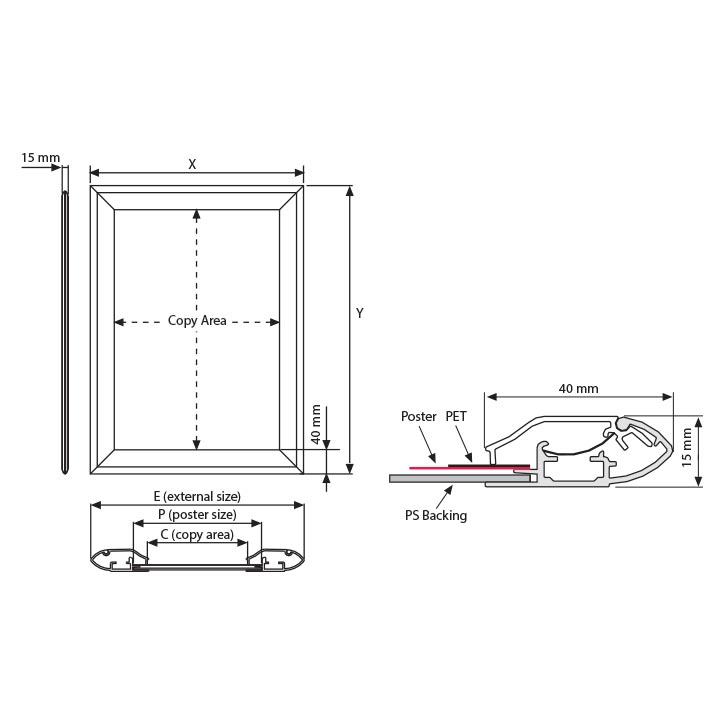 Double Colour Frames Product Print Templates
Double Colour Frames Product Assembly Sheets
Double Colour Frames Product Certificates & Warranty