Edge Clamp Kit
Removable Edge Clamp Kit is designed to create a barrier in the front of a table, desk, counter or cashier.
It fits table or desktop from 6 mm to 40 mm thick.
To avoid any damages to the desk, it is sported with black soft pads (EVA) where it touches to the table.
It can hold panels min. 2 mm and max. 8 mm.

COLOR OPTION
Edge Clamp Kit Product Description
Partitions can be easily removed and relocated. With two edge mounting clamps, clamp position on the table or on panel is adjustable.  Edge Clamp Kit is easy to install, making it easy to attach on a table or desk. It requires no drilling, easily attached to the table with stylish black knob.
3 divider panel options are offered: Clear, Frosted and Wood.
These partitions allow for a personal workstation for each person. Each divider panel acts as a moveable barrier to provide separate space and block distractions as well as guarding unwanted germs, viruses or so.
The panels can be moved easily and remounted. Partition dividers have smoot edges to avoid any harm.
Clear Divider is made of Acrylic which provides resistant to impact and scratches. Clear Desk Dividers effectively shields employees and the customers for safety.
Frosted Divider is of also made of Acrylic with smooth edges. It provides a barrier while still allowing light to filter through. Frosted acrylic is easy to keep clean and separates work area and desk from others. Wood Divider provides solid barrier and privacy to work stations.
Clear and Frosted Panels can be easily cleaned and sanitized with a soap and water solution spray or disinfectant spray with an alcohol content of 75% or less.
Edge Clamp Kit and Divider panels are suitable for a variety of office styles, helping to reduce workplace disturbances and creating private workstations. Moreover it works well for offices, cashiers, medical facilities, call centres and education and testing centres.
Edge Clamp Kit Product Specifications
MATERIAL : Steel
WEIGHT
PACKING SIZE
ARTICLE
DESCRIPTION
WITH PACKING
*W X H X D
UHEC0G0000
Edge Clamp Kit (Pcs 2)
1,050 kg
110 X 120 X 130 mm
* W:WidthH: HeightD: Depth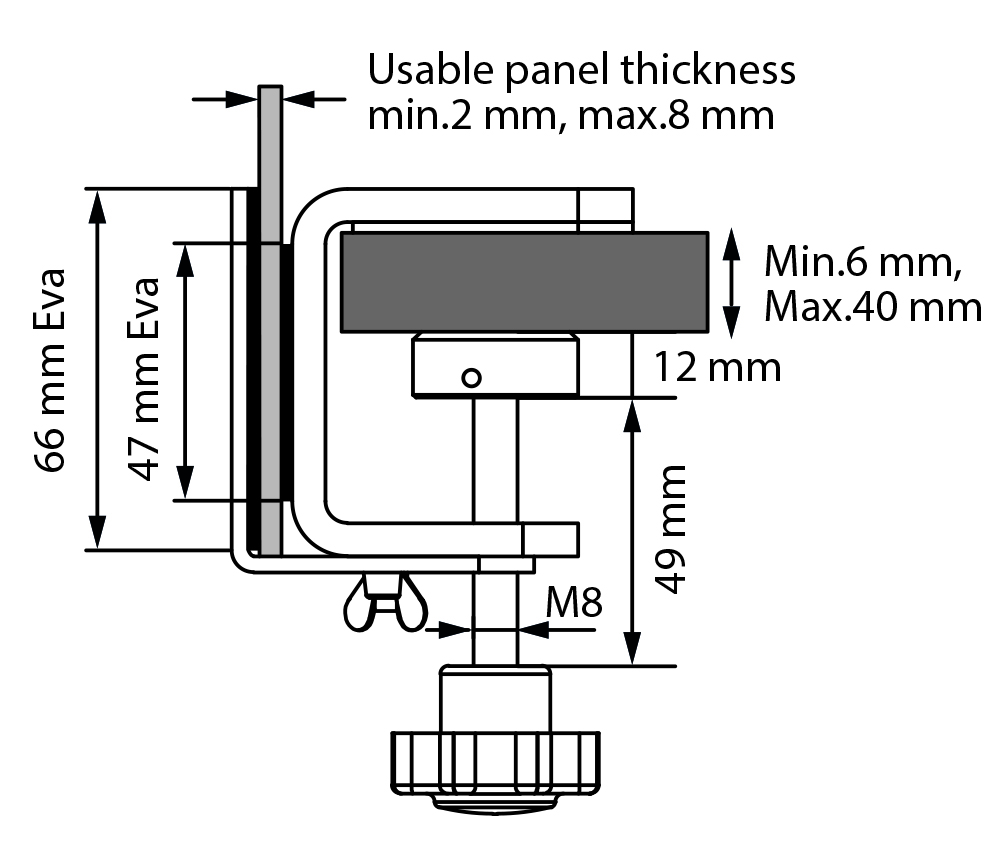 PANEL
ARTICLE
DESCRIPTION
UH0CD06560
Clear Table Divider Panel, 650x600mm, packed by 2
UH0CD09070
Clear Table Divider Panel, 900x700mm, packed by 2
UH0CD10070
Clear Table Divider Panel, 1000x700mm, packed by 2
UH0CD12070
Clear Table Divider Panel, 1200x700mm, packed by 2
UH0CD02430
Clear Table Divider Panel, 24"x30", packed by 2
UH0CD03030
Clear Table Divider Panel, 30"x30", packed by 2
UH0CD03630
Clear Table Divider Panel, 36"x30", packed by 2
UH0CD04230
Clear Table Divider Panel, 42"x30", packed by 2
UH0FD06560
Frosted Table Divider Panel, 650x600mm, packed by 2
UH0FD09070
Frosted Table Divider Panel, 900x700mm, packed by 2
UH0FD10070
Frosted Table Divider Panel, 1000x700mm, packed by 2
UH0FD12070
Frosted Table Divider Panel, 1200x700mm, packed by 2
UH0FD02430
Frosted Table Divider Panel, 24"x30", packed by 2
UH0FD03030
Frosted Table Divider Panel, 30"x30", packed by 2
UH0FD03630
Frosted Table Divider Panel, 36"x30", packed by 2
UH0FD04230
Frosted Table Divider Panel, 42"x30", packed by 2
UH0WD06560
Wood Divider Panel, 650x600mm, packed by 2
UH0WD09070
Wood Divider Panel, 900x700mm, packed by 2
UH0WD10070
Wood Divider Panel, 1000x700mm, packed by 2
UH0WD02430
Wood Divider Panel, 24"x30", packed by 2
UH0WD03030
Wood Divider Panel, 30"x30", packed by 2
UH0WD03630
Wood Divider Panel, 36"x30", packed by 2
UH0WD04230
Wood Divider Panel, 42"x30", packed by 2
| | | |
| --- | --- | --- |
| | Mid Section Clamp Kit | Edge Clamp Kit |
| Material | Galvanized steel | Galvanized steel |
| Packing Size (2 pcs) | 110 x 140 x 130 mm | 110 x 120 x 130 mm |
| Package Weight (2 pcs) | 0.64 kg | 0.5 kg |
| Product Weight (2pcs) | 0.55 kg | 0.4 kg |
| Divider Thickness | Min. 2 mm, Max. 8 mm | Min. 2 mm, Max. 8 mm |
| Table Thickness | Min. 6 mm, Max. 40 mm | Min. 6 mm, Max. 40 mm |
| Color | Silver | Silver |
Edge Clamp Kit Assembly Sheets
Edge Clamp Kit Product Certificates & Warranty