Frameboard 9 mm
• Has 3 different models; cork backing, dry wipe
Magnetic surface, cork & perforated steel backing.
• 4 x A4, 6 x A4, 9 x A4 and 12 x A4 are
available paper capacities.
• Can be used in Portrait & Landscape positions
• Max dimension 1200 x 2000mm.
ACCESORIES
SIZES
12 X A4 (210 x 297 mm), 4 X A4 (210 X 297 mm), 6 X A4 (210 x 297 mm), 9 X A4 (210 x 297 mm)
Frameboard 9 mm Product Description
Frameboard 9 mm
If you offer multiple services or products, you could get the most out of these tack boards. Whether you will use these tack boards at schools to post announcements and grades or at business environments to display specials, memos, directions, rules, and messages, they will effectively deliver your message to students, employees, attendees, and visitors. The frame board has a 3 different models; with cork backing, with a dry-wipe magnetic surface, with a cork perforated steel backing and 9mm or 0, 35" profile. 4xA4, 6xA4, 9xA4 and 12xA4 paper capacity sizes are available and can be used both in portrait & landscape positions. Simply mount it either vertically or horizontally.
It is practical for use at offices, hospitals, home, school, malls-shops etc. Different sizes are available.
Frameboard 9 mm Accessories
Frameboard 9 mm Product Specifications
MATERIAL : Silver anodised aluminium
WEIGHTWITH PACKING
PACKING SIZE
CORK
MAGNETIC
M&C
EXTERNAL (x-y)
PAPER AREA
CAPACITY
CORK
MAGNETIC
M&C
*W X H X D
U1CB95N144
U2CB95N144
U3CB95N144
505 X 675 mm
487 X 657 mm
4 X A4
2,950 kg
4,330 kg
4,400 kg
520 X 700 X 35 mm
U1CB95N164
U2CB95N164
U3CB95N164
505 X 995 mm
487 X 977 mm
6 X A4
4,305 kg
6,280 kg
6,055 kg
520 X 1010 X 35 mm
U1CB95N194
U2CB95N194
U3CB95N194
735 X 995 mm
717 X 977 mm
9 X A4
6,380 kg
8,460 kg
8,365 kg
740 X 1010 X 35 mm
U1CB95N114
U2CB95N114
U3CB95N114
965 X 995 mm
947 X 977 mm
12 X A4
8,465 kg
11,500 kg
10,845 kg
980 X 1010 X 35 mm
* W:Width H: Height D: Depth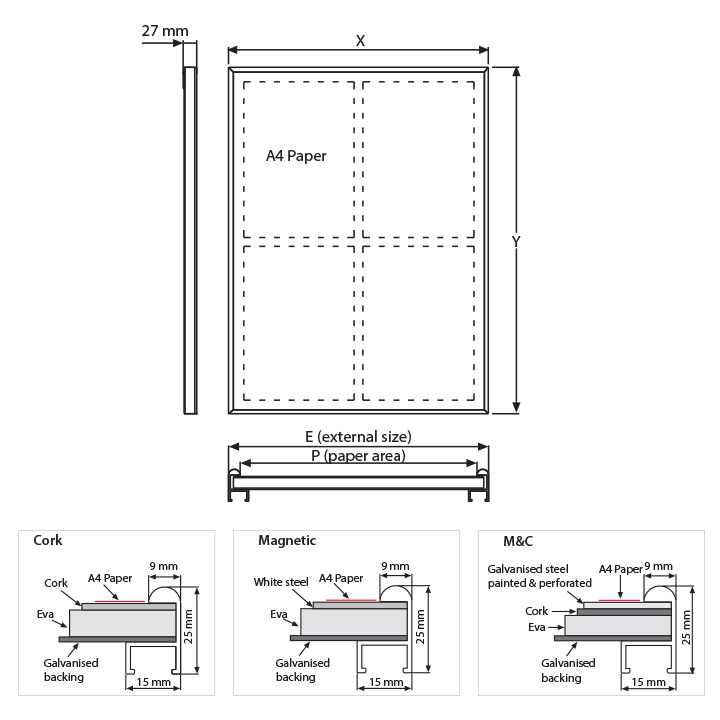 Frameboard 9 mm Product Assembly Sheets
Frameboard 9 mm Product Certificates & Warranty