Paper Board
• Snap open designed paper holder
• Two colors in one frame
• 2 clear plastics clips for each paper
• Three presentation options as 4XA4;6Xa4;9Xa4
• Anti-glare poster cover sheet included
• Optional Hangers for easy mounting
ACCESORIES
COLOR OPTION
SIZES
4 X A4 (210 X 297 mm), 6 X A4 (210 x 297 mm), 9 X A4 (210 x 297 mm)
Paper Board Product Description
Paper board is a snap open with two colors in one frame designed paper holder, suitable for indoor use. With this paper board you can display three presentation options as 4XA4;6Xa4;9Xa49, within the same frame, at the same time.
Another feature of this paper board is the clear, non- glare cover lay that protects your inserts from dust and dirt, keeps them straight and tight within the frame yet prevents glare for a comfortable look.
Outer black finish aluminum profiles are fixed and inner silver finish aluminum sides work just like a regular snap frame. So it is so easy to update your posters. Snap up inner framing, place your posters and the over lay, and then close the frame.
Lobbies of office buildings, hotels, offices schools, and entrances of public places are the environments that this paper board can be used for their need of displaying different and many information or promotion at the same time.
Paper Board Accessories
Paper Board Product Specifications
MATERIAL : Silver anodised aluminium PROFILE : 40 mm 450
WEIGHT
PACKING SIZE
ARTICLE
EXTERNAL (x-y)
PAPER AREA
CAPACITY
DESCRIPTION
WITH PACKING
*W X H X D
UPB405BN04
522 X 694 mm
442 X 614 mm
4 X A4
Black-Silver
2,050 kg
540 X 720 X 31 mm
UPB405BN06
742 X 694 mm
662 X 614 mm
6 X A4
Black-Silver
2,900 kg
720 X 760 X 31 mm
UPB405BN09
742 X 999 mm
662 X 919 mm
9 X A4
Black-Silver
4,100 kg
760 X 1020 X 31 mm
UPB405NB04
522 X 694 mm
442 X 614 mm
4 X A4
Silver-Black
2,050 kg
540 X 720 X 31 mm
UPB405NB06
742 X 694 mm
662 X 614 mm
6 X A4
Silver-Black
2,900 kg
720 X 760 X 31 mm
UPB405NB09
742 X 999 mm
662 X 919 mm
9 X A4
Silver-Black
4,100 kg
760 X 1020 X 31 mm
* W:Width H: Height D: Depth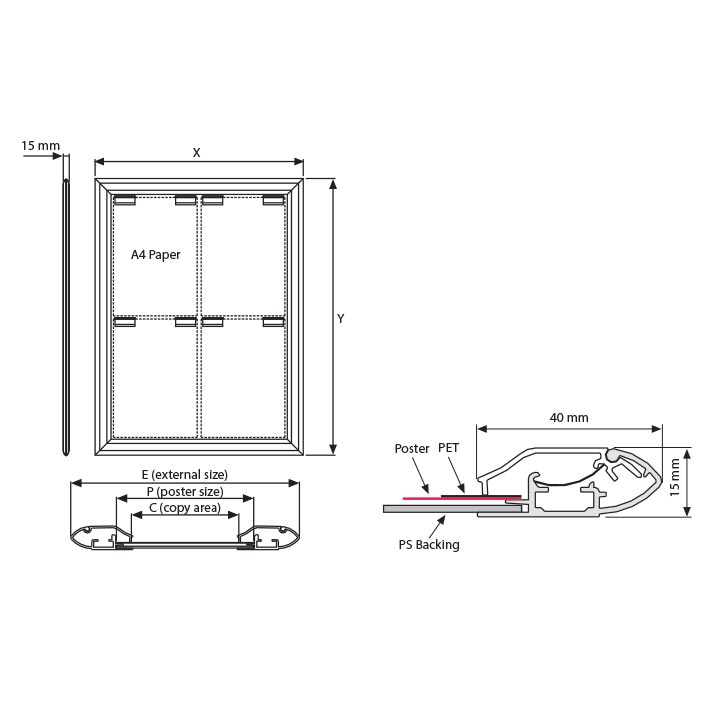 Paper Board Assembly Sheets
Paper Board Product Certificates & Warranty