Smart Roll Banner (Double Sided)
• Aluminum body is silver anodised.
• Stands at min 1000 mm, max 2300 mm height.
• Telescopic pipe adjusts poster height.
• End caps on the top provides stability and elegant look.
• Display and printed art work can be carried by textile bag.
ACCESORIES
SIZES
1000 mm, 800 mm, 900 mm,
Smart Roll Banner (Double Sided) Product Description
Smart Roll Banner Double Sided welcomes flags at various sizes with its height-adjustable design. What an high-impact solution for both retail presentations and trade show settings. This double sided portable banner display is sold without graphic. Just craft tailor-made designs addressing your individual needs and environment to add simplistic beauty to any of your events.
Smart Roll Banner Double Sided stand is remarkably easy to move and to store. Its telescopic pole design collapses down to a smaller, easy-to-carry size! It's lightweight and easy to set up. Another unique and appealing feature is the replaceable graphic.
These trade show banner stands provide the ultimate in convenience and style. Stainless aluminium legs are suitable for wet and public spaces. Each banner is packed as a set in grey textile covering bags. It is easy to set up and requires no tool.
Removable retractable system is ideal for applications where the message changes regularly.
Optional caryy bag available.
Smart Roll Banner (Double Sided) Accessories
Smart Roll Banner (Double Sided) Product Specifications
MATERIAL : Silver anodised aluminium
WEIGHT
PACKING SIZE
ARTICLE
EXTERNAL (x)
X1
POSTER
COPY
WITH PACKING
*W X H X D
URBSC00N82
806 mm
850 mm
800 mm
800 X 1930 mm
8,600 kg
240 X 880 X 130 mm
URBSC00N92
906 mm
950 mm
900 mm
900 X 1930 mm
9,300 kg
240 X 1080 X 130 mm
URBSC00N12
1006 mm
1050 mm
1000 mm
1000 X 1930 mm
10,000 kg
240 X 1080 X 130 mm
BAG
WEIGHT
PACKING SIZE
ARTICLE
MODEL
WITH PACKING
*W X H X D
UYUP070000
800 mm
2,850 kg
300 X 920 X 150 mm
UYUP071000
1000 mm
3,110 kg
300 X 1120 X 150 mm
| | |
| --- | --- |
| WEIGHT | PACKING SIZE |
| WITH BAG&PACKING | *W X H X D |
| 10,500 kg | 300 X 920 X 150 mm |
| 12,500 kg | 300 X 1120 X 150 mm |
| 13,500 kg | 300 X 1120 X 150 mm |
* W:Width H: Height D: Depth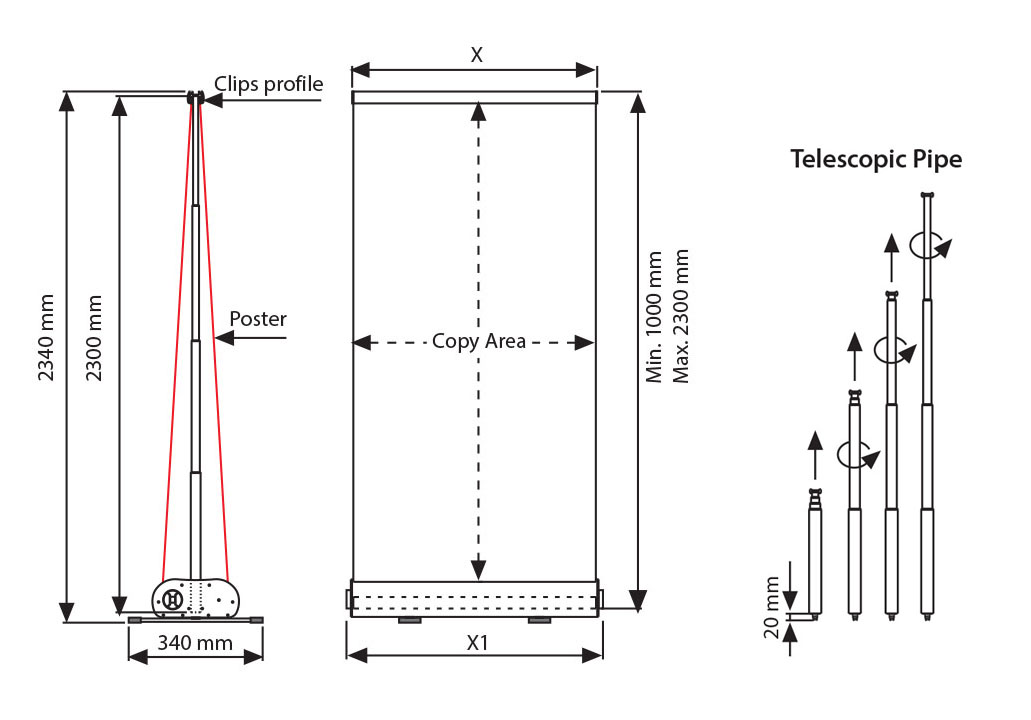 Smart Roll Banner (Double Sided) Product Print Templates
Smart Roll Banner (Double Sided) Product Assembly Sheets
Smart Roll Banner (Double Sided) Product Certificates & Warranty