Basic Touchless Dispenser Stand Foot Operated
Basic Touchless Dispenser Stand is designed to suit for use in any environment. It is operated by foot to avoid any unnecessary contact. Basic Touchless Dispenser Stand is a low-cost sanitising option where water and soap is not very easy to reach. It has heavy and sturdy construction for use outdoor conditions.  It can be positioned in maximum traffic flow areas rather than being missed as may happen with wall-mounted dispensers.
The pedal squeeze enables to apply disinfectant sanitizing gel or alcohol. Dispenser is fixed at convenient height.
Optional header allows adding appropriate messages to users (whether staff, visitors or customers) or promoting a brand.
Basic Touchless Dispenser Stand is suitable for commercial space, lobby, school, gyms, office, buildings, shopping malls and even industrial purposes.

ACCESORIES
COLOR OPTION
Basic Touchless Dispenser Stand Foot Operated Product Description
NO TOUCH! NO BATTERIES! NOT SENSORS!
• Stand is made of sturdy powder-coated steel.
• Dispenser holder made of shutter-proof ABS and bottle is PE.
• Flat steel base is 300×320 mm and weighs 3,600 kg.
• Textured finish
• 1L dispenser bottle is easily refillable with sanitizing gel or alcohol. And pump top mechanism to provide quick and easy access to disinfection.
• Dispenser bottle has spring loaded locking system to prevent foreign access. It is easy to access for clearing or refiling the gel or
liquid by the shop or maintenance staff.
• Paddle at top allows large range of motion for dispensing.  It is tested for use around 700.000 times.
• Pedal coated with EVA for comfortability and designed for ergonomic use and tested for use around 700.000 times without failure.
• Lever stays open for easy access during change of bottle. Pump is placed into the nest under the lever to avoid pump moving around.
Pump nuzzle faces 120° downwards allowing alcohol /gel into hand avoiding to spill over or wasting alcohol/gel.
• Drip tray included, inserts into the holder with a basic locking system to prevent loosing.
• Standard height is 1405,5 mm.
• Standard colours Silver, Black and White. Custom colours are available.
• Pedal
• Simple assembly required. Installation can be undertaken by any member of staff without specialist tools or know-how.
• Packed in 3 boxes.
• Recommended for express courier shipping as single unit.
• Optional header is available, made of PP, in size of 250x350mm.
• Sanitizer gel or alcohol is not included.
Basic Touchless Dispenser Stand Foot Operated Accessories
Basic Touchless Dispenser Stand Foot Operated Product Specifications
MATERIAL : STEEL
WEIGHT
PACKING SIZE
ARTICLE
DESCRIPTION (x-y)
WITH PACKING
PACKING SIZE
UHTDBG2000
Basic Touchless Dispenser 1L(no gel), Grey
9,850 kg
125 X 1370 X 100 mm – 330 X 350 X 60 mm – 120 X 170 X 300 mm
UHTDBB2000
Basic TouchlessDispenser 1L(no gel), Black
9,850 kg
125 X 1370 X 100 mm – 330 X 350 X 60 mm – 120 X 170 X 300 mm
UHTDBW2000
Basic TouchlessDispenser 1L(no gel), White
9,850 kg
125 X 1370 X 100 mm – 330 X 350 X 60 mm – 120 X 170 X 300 mm
* W:WidthH: HeightD: Depth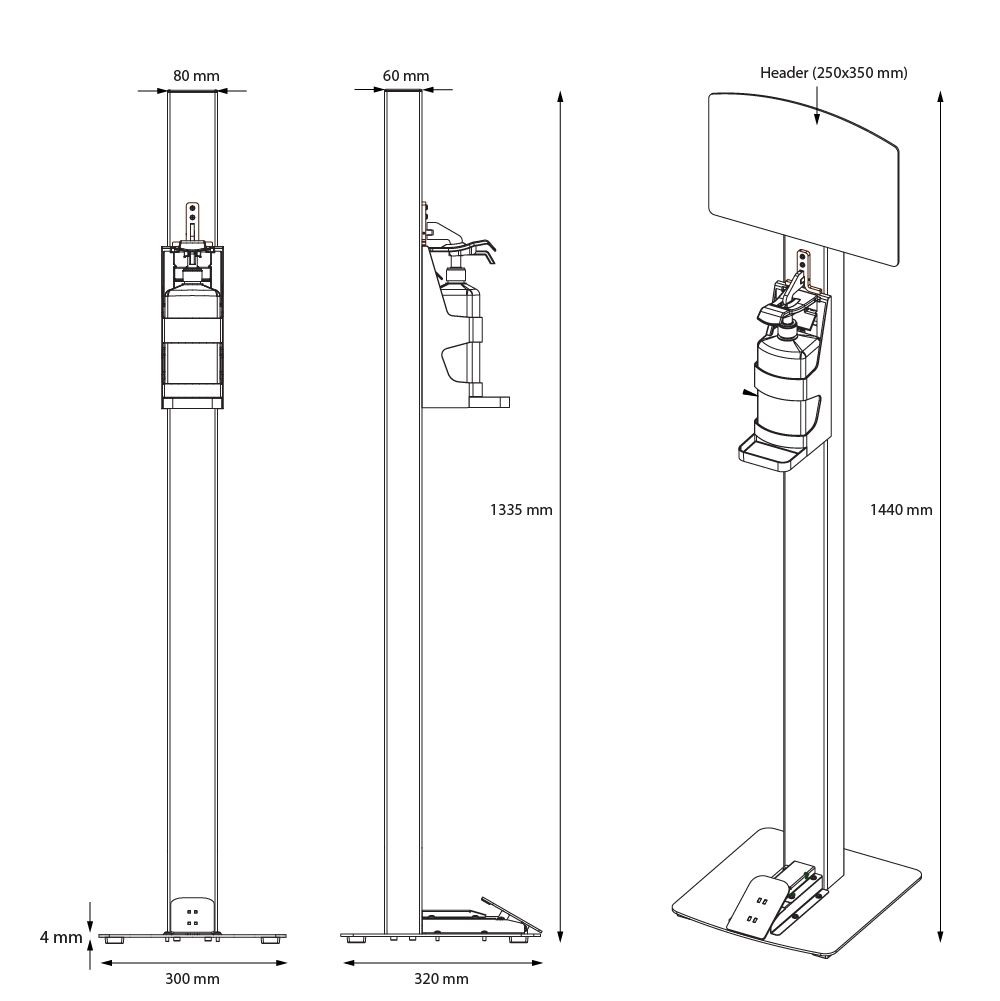 Basic Touchless Dispenser Stand Foot Operated Assembly Sheets
Basic Touchless Dispenser Stand Foot Operated Product Certificates & Warranty