Clear Brochure Holder T Type
• Transparent paper and brochure holder.
• Non-standard sizes can be produced.
• Injection molded dispenser can be printed on logo.
• Portrait and Landscape positions.
• A4, A5, A6 and 1/3 A4 sizes are available.
• Suitable for restaurants to display menus and price lists.
COLOR OPTION
SIZES
A4 (210 X 297 mm), A5 (148 X 210 mm)
Clear Brochure Holder T Type Product Specifications
MATERIAL : Clear
WEIGHT
PACKING SIZE
ARTICLE
POSTER
DESCRIPTION
W
H
D
WITH PACKING
*W X H X D
UMSTD01000
210 X 297 mm
A4 Portrait
210 mm
302 mm
105 mm
15,200 kg
485 X 485 X 350 mm (40 pcs)
UMSTY01000
297 X 210 mm
A4 Landscape
300 mm
212 mm
105 mm
12,960 kg
485 X 485 X 350 mm (30 pcs)
UMSTD02000
148 X 210 mm
A5 Portrait
150 mm
212 mm
75 mm
6,040 kg
340 X 370 X 240 mm (30 pcs)
UMSTY02000
210 X 148 mm
A5 Landscape
210 mm
152 mm
75 mm
6,210 kg
340 X 370 X 240 mm (30 pcs)
UMSTD03000
105 X 148 mm
A6 Portrait
105 mm
152 mm
75 mm
4,800 kg
265 X 385 X 180 mm (40 pcs)
UMSTY03000
148 X 105 mm
A6 Landscape
150 mm
107 mm
75 mm
3,360 kg
265 X 385 X 180 mm (30 pcs)
UMSTD04000
100 X 210 mm
1/3 A4 Portrait
105 mm
212 mm
75 mm
5,400 kg
340 X 370 X 240 mm (40 pcs)
UMSTY04000
210 X 100 mm
1/3 A4 Landscape
210 mm
107 mm
75 mm
7,210 kg
340 X 370 X 240 mm (50 pcs)
* W:Width H: Height D: Depth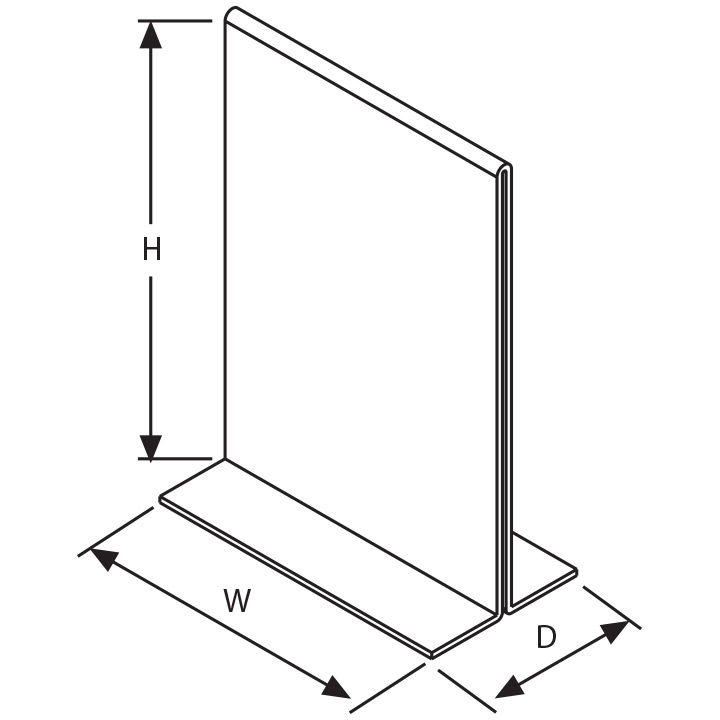 Clear Brochure Holder T Type Product Certificates & Warranty