Desktop Dispenser Vol2
Desktop Dispenser is a good solution for countertop hand
sanitising needs. It offers hand washing facilities around
your business to help protect staff and customers from
the spread of infection. It is supplied with a refillable
1l bottle and pump top mechanism to provide quick
and easy access to disinfection.

Desktop Dispenser Vol2 Product Description
Made of shutter-proof ABS, Dispenser is fixed on anodised
aluminium (51×25 mm). The heavy steel base is 150×200 mm and
provides stability to the stand. To avoid scratches on the counter,
the steel base has soft feet. It is designed for use in counter
standing form without the need for any permanent fixing.
Dispenser bottle has spring loaded locking system to prevent
foreign access.
Lever stays open for easy access during change of bottle. Pump is
placed into the nest under the lever to avoid pump moving around.
Pump nuzzle faces 120° downwards allowing alcohol /gel into hand
avoiding to spill over or wasting alcohol/gel.
Drip tray included with Desktop Dispenser, inserts into the holder
with a basic locking system to prevent loosing.
The use of a Desktop Dispenser alcohol / gel holder means that there
is no need for access to water or paper towels to maintain effective
hand hygiene.
Packed as complete in 1 box. No assembly required
Desktop Dispenser Vol2 Product Specifications
MATERIAL : Silver anodised aluminium
WEIGHT
PACKING SIZE
ARTICLE
DESCRIPTION
WITH PACKING
*W X H X D
USSDDN0000
Desktop Dispensers Vol 2(without gel)
1,550 kg
190 X 240 X 360 mm
* W:WidthH: HeightD: Depth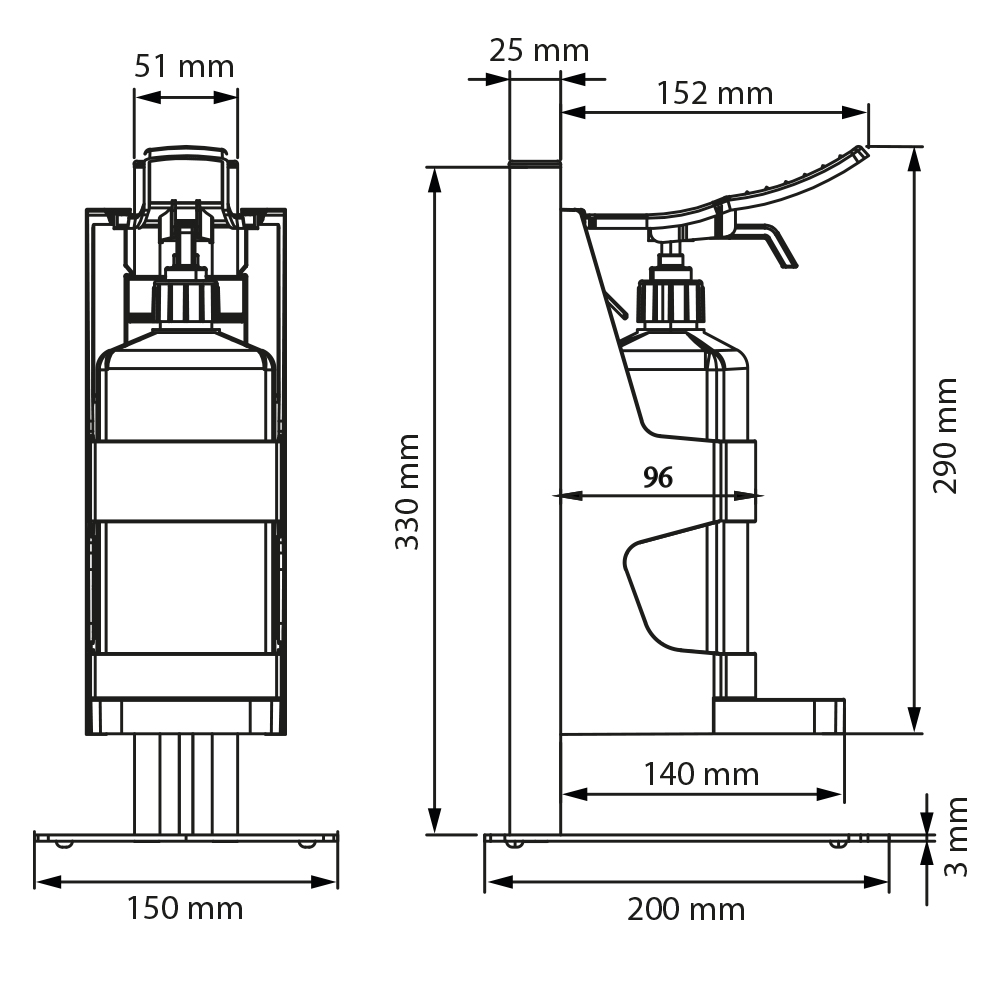 Desktop Dispenser Vol2 Product Assembly Sheets
Desktop Dispenser Vol2 Product Certificates & Warranty