Felt Showboard
• It has a felt backing in 4 different colors as
Blue, Gray, Green and Red.
• Suitable for outdoor use.
• Can be used in Portrait & Landscape positions.
• The profile width is 45 mm and the depth of
the case is 36 mm.
• Each unit includes mounting screws and plugs.
COLOR OPTION
SIZES
12 X A4 (210 x 297 mm), 4 X A4 (210 X 297 mm), 6 X A4 (210 x 297 mm), 9 X A4 (210 x 297 mm)
Felt Showboard Product Specifications
MATERIAL : Silver anodised aluminium
WEIGHT
PACKING SIZE
GRAY
BLUE
EXTERNAL (x-y)
COPY
PAPER AREA
CAPACITY
KEY
WITH PACKING
*W X H X D
USBN1404A4
USBN1204A4
585 X 755 mm
495 X 665 mm
483 X 653 mm
4 X A4
1
8,450 kg
620 X 780 X 60 mm
USBN1406A4
USBN1206A4
585 X 1075 mm
495 X 985 mm
483 X 973 mm
6 X A4
2
10,400 kg
620 X 1100 X 60 mm
USBN1409A4
USBN1209A4
815 X 1075 mm
725 X 985mm
713 X 973mm
9 X A4
2
14,100 kg
850 X 1100 X 60 mm
USBN1412A4
USBN1212A4
1045 X 1075 mm
955 X 985 mm
943 X 973 mm
12 X A4
2
18,000 kg
1080 X 1100 X 60 mm
MATERIAL : Silver anodised aluminium
WEIGHT
PACKING SIZE
RED
GREEN
EXTERNAL (x-y)
COPY
PAPER AREA
CAPACITY
KEY
WITH PACKING
*W X H X D
USBN1104A4
USBN1304A4
585 X 755 mm
495 X 665 mm
483 X 653 mm
4 X A4
1
8,450 kg
620 X 780 X 60 mm
USBN1106A4
USBN1306A4
585 X 1075 mm
495 X 985 mm
483 X 973 mm
6 X A4
2
10,400 kg
620 X 1100 X 60 mm
USBN1109A4
USBN1309A4
815 X 1075 mm
725 X 985mm
713 X 973mm
9 X A4
2
14,100 kg
850 X 1100 X 60 mm
USBN1112A4
USBN1312A4
1045 X 1075 mm
955 X 985 mm
943 X 973 mm
12 X A4
2
18,000 kg
1080 X 1100 X 60 mm
* W:Width H: Height D: Depth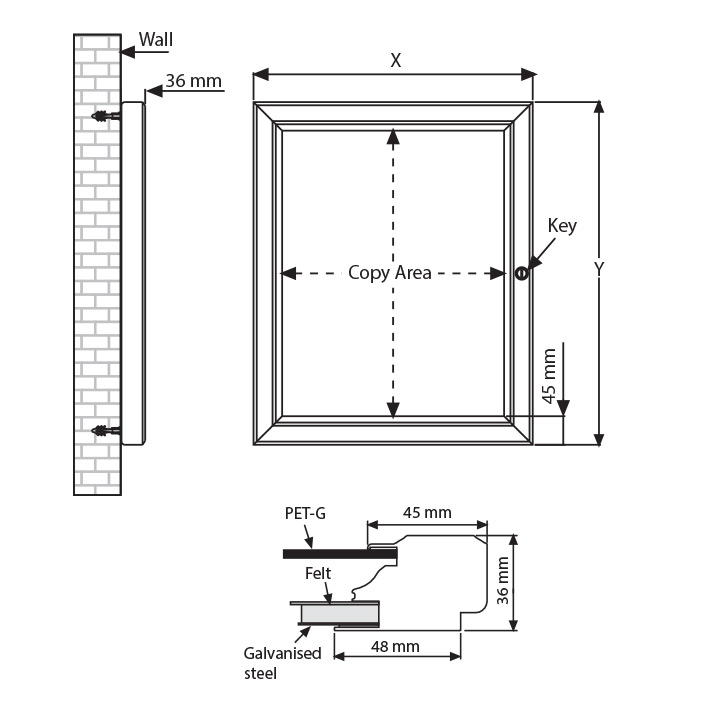 Felt Showboard Product Assembly Sheets
Felt Showboard Product Certificates & Warranty