Lockable Weatherproof Frame
• One key lock for frame
• Anti-glare poster cover sheet.
• Suitable for outdoor use.
• Water drainage holes provide weatherproof availabilities.
• Patented product (TR 2006 06254 PCT/TR06/000064)
ACCESORIES
COLOR OPTION
SIZES
20″ X 30″ (508 X 762 mm), 30″ X 40″ (762 X 1016 mm), 40″ X 60″ (1016 X 1524 mm), A0 ( 841 X 1189 mm), A1 (594 X 841 mm), A2 (420 X 594 mm), A3 (297 X 420 mm), A4 (210 X 297 mm), B0 ( 1000 X 1414 mm), B1 (700 X 1000 mm), B2 (500 X 700 mm)
PATENT
PCT/EP2018/060515
Lockable Weatherproof Frame Product Description
Wall mountable frames are an excellent option for presenting large scale promotional material. By positioning posters and other advertising content in a wall mounted frame, the posters are stylishly integrated into the surrounding environment and the need for messy, inconvenient hallway stands is eliminated. Wall mounted frames are an economical use of space and allow for a more stream-line appearance to be delivered to any office or commercial environment. The great news is you no longer need to be restricted by the settings typically used for lockable weatherproof frames. These large locking poster frames have been adapted with weather proof materials offering the greatest versatility with application in both indoor and outdoor spaces.
The weatherproof wall mountable poster frames have been manufactured with silver anodized finish aluminum profiles and inner rubber gaskets to achieve resistance from unfavourable weather conditions – this may include rain, dust, or other corrosive agents. The weatherproof outdoor frames have been specifically designed with an internal weather stripping facility that achieves the highest quality adhesive seal to guard against unwanted water damage and other harsh environmental conditions.
These locking poster boards have been produced with the utmost consideration to safety, security and protection of your printed posters. Not only have the lockable snap frames been produced with tailor-made weather resistant design elements, but the aluminium display unit has been manufactured with a high security lock and key to guarantee safety of your printed posters.
This added security feature means that wall mountable weather-proof outdoor frames are appropriate for the greatest range of visual content including, but not limited to theatre promotions, restaurant menus, malls, offices, school announcements, hotel communications, commercial advertising, and even art works. One custom made key is provided for each lockable poster frame ensuring unauthorised personnel will not be able to interfere with either the frame or the display content within.
Lockable Weatherproof Frame Accessories
Lockable Weatherproof Frame Product Specifications
MATERIAL : Silver anodised aluminium PROFILE : 35 mm 450
WEIGHT
PACKING SIZE
ARTICLE
EXTERNAL (x-y)
POSTER
COPY
WITH PACKING
*W X H X D
UCV355N0A4
276 X 363 mm
210 X 297 mm
206 X 293 mm
0,730 kg
280 X 365 X 23 mm
UCV355N0A3
363 X 486 mm
297 X 420 mm
293 X 416 mm
1,105 kg
365 X 490 X 23 mm
UCV355N0A2
486 X 660 mm
420 X 594 mm
416 X 590 mm
1,750 kg
490 X 670 X 23 mm
UCV355N0A1
660 X 907 mm
594 X 841 mm
590 X 837 mm
2,990 kg
670 X 920 X 23 mm
UCV355N0A0
907 X 1255 mm
841 X 1189 mm
837 X 1185 mm
5,820 kg
920 X 1270 X 23 mm
UCV355N0B2
566 X 766 mm
500 X 700 mm
496 X 696 mm
2,330 kg
572 X 780 X 23 mm
UCV355N0B1
766 X 1066 mm
700 X 1000 mm
696 X 996 mm
4,000 kg
780 X 1072 X 23 mm
UCV355N0B0
1066 X 1466 mm
1000 X 1400 mm
996 X 1396 mm
7,240 kg
1072 X 1480 X 23 mm
UCV355N023
574 X 828 mm
508 X 762 mm
504 X 758 mm
2,560 kg
580 X 834 X 23 mm
UCV355N034
828 X 1082 mm
762 X 1016 mm
758 X 1012 mm
4,350 kg
834 X 1088 X 23 mm
UCV355N046
1082 X 1590 mm
1016 X 1524 mm
1012 X 1520 mm
8,000 kg
1088 X 1600 X 23 mm
* W:Width H: Height D: Depth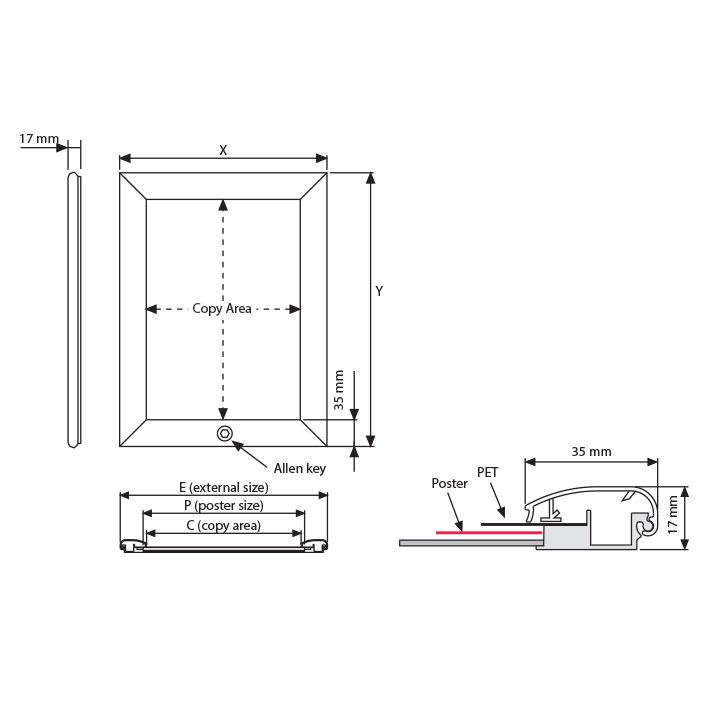 Lockable Weatherproof Frame Product Print Templates
Lockable Weatherproof Frame Product Assembly Sheets
Lockable Weatherproof Frame Product Certificates & Warranty