Lockable Window Frame
• Double sided adhesive tape holds up the frame
• Secured with allen key
• Anti-glare poster cover sheet.
• Available in a 32 mm frame
• Can be used indoor and Outdoor.
COLOR OPTION
SIZES
20″ X 30″ (508 X 762 mm), 30″ X 40″ (762 X 1016 mm), 40″ X 60″ (1016 X 1524 mm), A0 ( 841 X 1189 mm), A1 (594 X 841 mm), A2 (420 X 594 mm), A3 (297 X 420 mm), A4 (210 X 297 mm), B0 ( 1000 X 1414 mm), B1 (700 X 1000 mm), B2 (500 X 700 mm)
Lockable Window Frame Product Description
The lockable Window Frame system is available in a 32 mm profile. Thanks to two anti-reflex PET covers, your posters can be displayed both indoor & outdoor.
The system includes a decorative back profile to hide the double-sided adhesive tape holding the frame up to the window. As the tape surrounds the whole frame, it prevents any water flow from the outside in order to keep your poster dry. Each Frame includes an allen key to open the locked profile.
2 pieces of PET covers, double-sided tape around the frame suitable for use internal & external is already mounted on the product. The profiles open sequentially and the lockable system ensures your poster is never accessed by unauthorized third parties and it's secured with allen key. Anti-glare poster cover sheet is included.
Lockable Window Frames can be used in airports, travel agencies, hospitals, banks, car dealers, shops, telecom companies and more.
Lockable Window Frame Product Specifications
MATERIAL : Silver anodised aluminium PROFILE : 42 mm 450
WEIGHT
PACKING SIZE
ARTICLE
EXTERNAL (x-y)
POSTER
COPY
WITH PACKING
*W X H X D
UCK325N4A4
253 X 340 mm
210 X 297 mm
190 X 277 mm
0,680 kg
260 X 360 X 31 mm
UCK325N4A3
340 X 463 mm
297 X 420 mm
277 X 400 mm
0,950 kg
360 X 480 X 31 mm
UCK325N4A2
463 X 637 mm
420 X 594 mm
400 X 574 mm
1,790 kg
460 X 670 X 31 mm
UCK325N4A1
637 X 884 mm
594 X 841 mm
574 X 821 mm
2,750 kg
660 X 910 X 31 mm
UCK325N4A0
884 X 1232 mm
841 X 1189 mm
821 X 1169 mm
5,500 kg
910 X 1270 X 31 mm
UCK325N4B2
543 X 743 mm
500 X 700 mm
480 X 680 mm
2,200 kg
560 X 760 X 31 mm
UCK325N4B1
743 X 1043 mm
700 X 1000 mm
680 X 980 mm
3,450 kg
760 X 1060 X 31 mm
UCK325N4B0
1043 X 1443 mm
1000 X 1400 mm
980 X 1380 mm
6,000 kg
1060 X 1460 X 31 mm
UCK325N423
551 X 805 mm
508 X 762 mm
488 X 742 mm
2,400 kg
570 X 820 X 31 mm
UCK325N434
805 X 1059 mm
762 X 1016 mm
742 X 996 mm
3,600 kg
820 X 1080 X 31 mm
UCK325N446
1059 X 1567 mm
1016 X 1524 mm
996 X 1504 mm
6,750 kg
1070 X 1590 X 31 mm
* W:Width H: Height D: Depth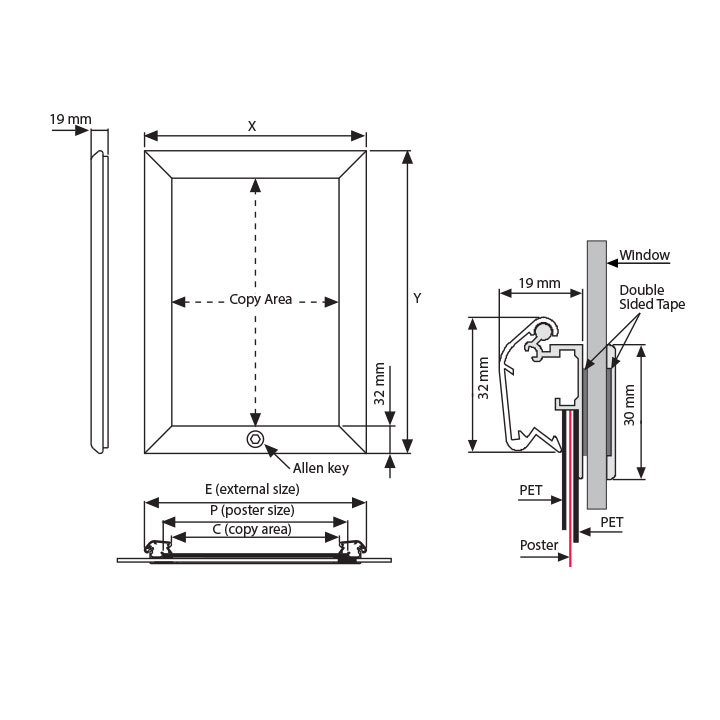 Lockable Window Frame Product Print Templates
Lockable Window Frame Product Assembly Sheets
Lockable Window Frame Product Certificates & Warranty