Newage Quick Banner
• Flexible and mobile poster clamp
• Designed as a practical set can be carried
• Suitable to hold banners in thickness
50 micron / 500 micron
• Comes with a grey textile bag
SIZES
1000 X 2000 mm, 600 X 200 mm, 700 X 200 mm, 800 X 200 mm,
Newage Quick Banner Product Description
Newage Quick Banner is a budget waynof displaying posters. It holds graphics with clamps and displays your poster in an elegant and stable way, providing easy carry and easy assembly. It is the most price effective  trade show banner.
Newage Quick banner dimensions allow a poster height 2000mm / 79″. Due to the foot at the back, it is more stable compared to the other  banners.
Simply placing the poster through aluminum clamps to the fixed pipe.
Supplied without graphics
Optional carry bag available
Newage Quick Banner Product Specifications
MATERIAL : Silver anodised aluminium
WEIGHT
PACKING SIZE (10 pcs)
ARTICLE
EXTERNAL (x-y)
POSTER
COPY
WITH PACKING
*W X H X D
UQBET00N62
603 X 2030 mm
600 X 2000 mm
600 X 1980 mm
9,600 kg
380 X 860 X 145 mm
UQBET00N72
703 X 2030 mm
700 X 2000 mm
700 X 1980 mm
10,200 kg
380 X 860 X 145 mm
UQBET00N82
803 X 2030 mm
800 X 2000 mm
800 X 1980 mm
10,800 kg
380 X 860 X 145 mm
UQBET00N92
903 X 2030 mm
900 X 2000 mm
900 X 1980 mm
11,500 kg
380 X 1060 X 145 mm
UQBET00N12
1003 X 2030 mm
1000 X 2000 mm
1000 X 1980 mm
12,200 kg
380 X 1060 X 145 mm
* W:Width H: Height D: Depth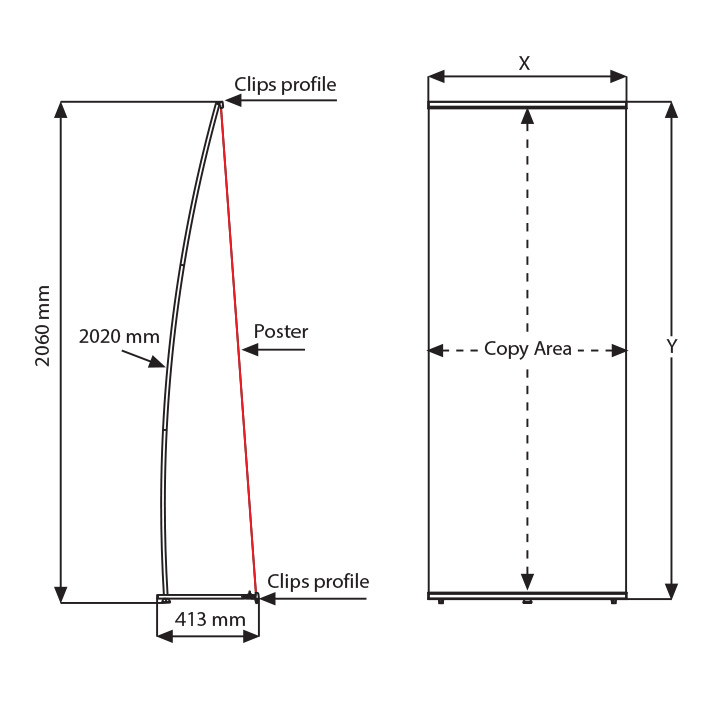 Newage Quick Banner Product Print Templates
Newage Quick Banner Product Assembly Sheets
Newage Quick Banner Product Certificates & Warranty