Novel Sanitizing Station – Vol2
Floor standing Novel Sanitizing Station is essential item to minimize the spread of any germs such as virus or bacteria in the society. It is constructed aluminium with heavy and stabile base. Novel Sanitizing Station completed with a snap frame for the messages for public as well as sanitizing dispenser. Designed for 1000 ml  gel sanitizer and foam soap (not included).
COLOR OPTION
Novel Sanitizing Station – Vol2 Product Description
Novel Sanitizing Station with A3 Opti Frame is ideal for use for hand
sanitisers.
It is raised on a 4 kg powder coated metal sheet base (45cm x 45cm x
6 mm), which gives an extra stability during pushes on dispensers.
It is equipped with an aluminium snap open A3 Opti frame and its
anti-reflex poster protection for messages and hygiene rules to draw
attention.
Overall height of the stand is 185 cm. 2-channel profile accepts free
standing accessories such as disposable glove, wet wipe or mask box
holder, brochure holders or banners to allow using as double sided
stand.
Opti Frame's and Dispenser's position at height is also adjustable on the
pole, moving up and down the channel of the aluminium post.
Made of durable ABS plastic, dispenser is easy to access for refiling the
gel or liquid by the shop or maintenance staff. It is easy to take off  and
clean.
EU size dispenser which can be filled up to 1 liter with gel, disinfectant,
soap or alcohol.
Dispenser pump is elbow push. It drops liquids rather than spraying.
Novel Sanitizing Station – Vol2 Product Specifications
MATERIAL : Silver anodised aluminium
WEIGHT
PACKING SIZE
ARTICLE
DESCRIPTION
WITH PACKING
*W X H X D
UFSSNN2A01
Novel Sanitizing Station Vol2,1L Dispensers with A4 Basic Frame
14,500 kg
100 X 970 X 80 / 480 X 480 X 160 mm
UFSSNN2A03
Novel Sanitizing Station Vol2,1L Dispensers with A3 Basic Frame
16,000 kg
480 X 480 X 200 / 100 X 970 X 80 mm
UFSSNN2A02
Novel Sanitizing Station Vol2,1L Dispensers with 8.5"x11" Basic Frame
14,500 kg
100 X 970 X 80 / 480 X 480 X 160 mm
UFSSNN2A04
Novel Sanitizing Station Vol2,1L Dispensers with 11"x17" Basic Frame
16,000 kg
480 X 500 X 215 / 100 X 970 X 80 mm
* W:WidthH: HeightD: Depth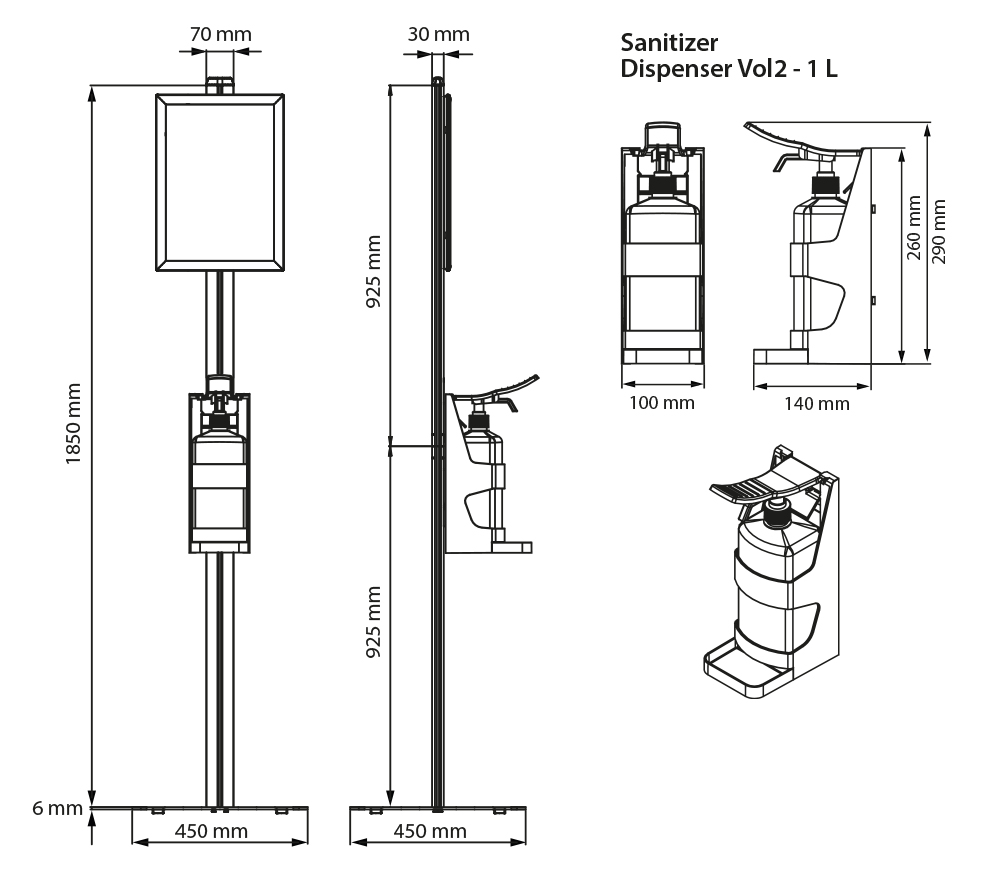 Novel Sanitizing Station – Vol2 Product Assembly Sheets
Novel Sanitizing Station – Vol2 Product Certificates & Warranty