Opti Frame 25 Silver A1 B2
• Gray color backing and counter support.
• The front profiles are silver-anodized and
thickness is 25 mm.
• Mitred and round corner options are available.
• Eco-friendly.
• The product is protected worldwide by all
relevant patent applications.
• Anti-glare poster cover sheet included.
*Lansdcape & Portrait positions on counter or wall.
SIZES
A2 (420 X 594 mm), A3 (297 X 420 mm), A4 (210 X 297 mm)
PATENT
Patent: PCT/TR06/000018 – WO 2007/126397 – EP 2016574 – DE 20 2006 020 145 – US 2009/211134 – AU 2006342800 – CN 101473363 – CA 2654307 – UA 2008 13893 – EA 200802174/26 – IN WO 2007/126397 – ZA 2008/09638 – TR 2007 05704 – OHIM 831235-0001,2,3,4
Opti Frame 25 Silver A1 B2 Product Description
Opti Frame 25 Silver A1 B2
This sign frame is for wall mounting of your A1 and B2 inserts.
With four hinged sides, all you need to do is snap open the natural coloured side profiles, place your poster in then the PET protection and snap shut. Only takes less than a minute. Antireflex PET foil keeps your graphic from dirt and dust as well as getting damaged. Another feature of this sign frame is soft corners. To make sure safe use of the frame mitred corners are slightly rounded.
Each snap open poster frame also features a silver metal frame with a slim profile and a matte finish. This sign frame can be mounted both vertically and horizontally on the wall. This product is
produced with injection moulding technology.
This sign frame or also called poster frame can be one of your favorite tools for your business or personal use with its high quality and budget- friendly cost.
Opti Frame 25 Silver A1 B2 Product Specifications
MATERIAL : Silver anodised aluminium PROFILE : 25 mm 450 – 25 mm Round
WEIGHT
PACKING SIZE
MITRED ARTICLE
ROUND ARTICLE
EXTERNAL (x-y)
POSTER
COPY
WITH PACKING
*W X H X D
UCP255N0B2
UCP250N0B2
534 X 734 mm
500 X 700 mm
484 X 684 mm
1,530 kg
550 X 750 X 24 mm
UCP255N0A1
UCP250N0A1
628 X 875 mm
594 X 841 mm
578 X 825 mm
2,245 kg
650 X 900 X 24 mm
UCP255N022
–
589,9 X 742,2 mm
22" X 28"
539,8 X 692,2 mm
1,830 kg
600 x 750 x 24 mm
* W:Width H: Height D: Depth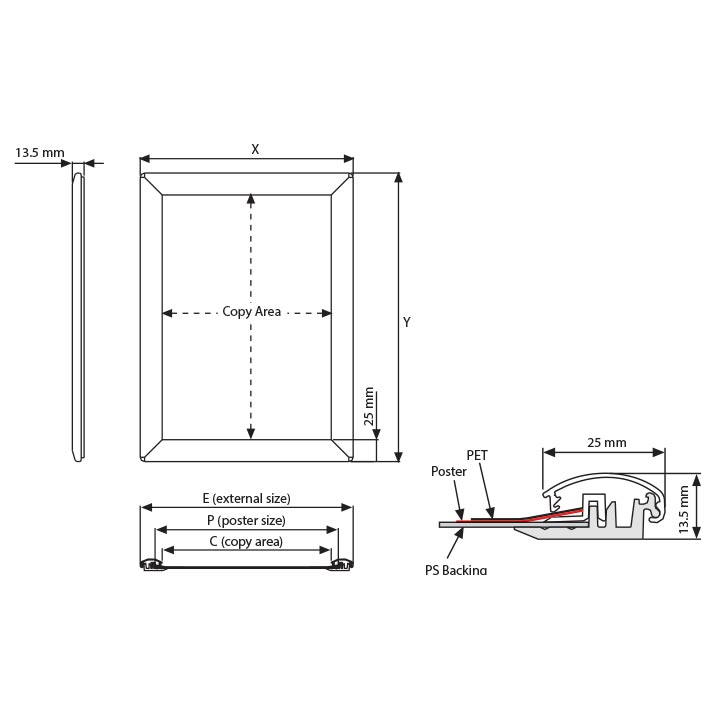 Opti Frame 25 Silver A1 B2 Product Print Templates
Opti Frame 25 Silver A1 B2 Assembly Sheets
Opti Frame 25 Silver A1 B2 Product Certificates & Warranty