Opti Frame 25 mm Wood Effect
• Wooden color backing and counter support.
• The front profiles have a wood effect finish.
• Eco-friendly.
• The product is protected worldwide by all
relevant patent applications.
• Anti-glare poster cover sheet.
*Lansdcape & Portrait positions on counter or wall.
COLOR OPTION
SIZES
A4 (210 X 297 mm)
PATENT
Patent: PCT/TR06/000018 – WO 2007/126397 – EP 2016574 – DE 20 2006 020 145 – US 2009/211134 – AU 2006342800 – CN 101473363 – CA 2654307 – UA 2008 13893 – EA 200802174/26 – IN WO 2007/126397 – ZA 2008/09638 – TR 2007 05704 – OHIM 831235-0001,2,3,4
Opti Frame 25 mm Wood Effect Product Description
Opti Frame 25 Wood
Wood look A4 poster frame is the newest, easiest, fastest and safest way to display your pictures, posters, advertisement images and any A4 print for business and personal purposes in both indoor and outdoor spaces.
With easily snap up/ close profiles, this frame can be used as a wall sign, door sign, office or conference room sign or any kind of sign holder for your advertisement images, provides simple and quick use in:
• buildings
• shops,
• markets,
• cafes and restaurants,
• hospitals
• residents,
• museums,
• office spaces,
• schools,
• hallways,
• airports,
… and many other places.
The transparent cover lens prevents reflections and provides a clear display as it keeps your inser from dust and damage.
The A4 front loading frame has also a slim 25mm or 1" profile with a wooden look that is very elegant and sleek. The optional back support or in other words easel let it be used on counters in both horizontal position with a quick change. This snap frame can also be used on walls in two vertical or horizontal positions.
Overpriced plastic poster frames are not your only option for your limited budget any more. Cheap A4 frames are designed exclusively, without sacrificing quality by MT Displays to meet your needs for both personal and business use and can be purchased in different sizes for your graphics to be displayed on countertops, doors or walls.
These economical frames are packed with required tools in a carboard box.
Opti Frame 25 mm Wood Effect Product Specifications
MATERIAL : Wood Look Effect PROFILE : 25 mm 450
WEIGHT
PACKING SIZE
MITRED ARTICLE
EXTERNAL (x-y)
POSTER
COPY
DESCRIPTION
WITH PACKING
*W X H X D
UCP255W0A4
241 X 328 mm
210 X 297 mm
191 X 278 mm
Without support
0,495 kg
250 X 350 X 24 mm
UCP255W1A4
241 X 328 mm
210 X 297 mm
191 X 278 mm
With support
0,520 kg
250 X 350 X 24 mm
* W:Width H: Height D: Depth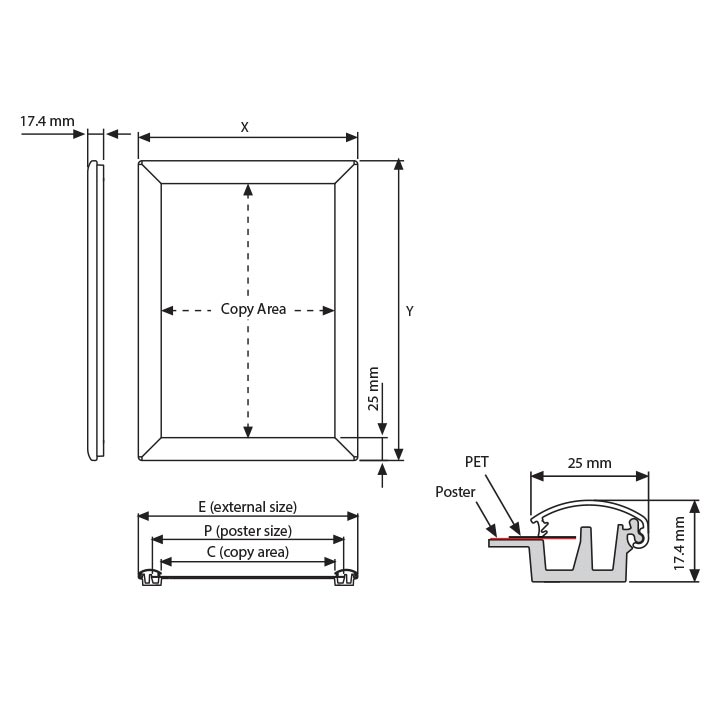 Opti Frame 25 mm Wood Effect Product Print Templates
Opti Frame 25 mm Wood Effect Assembly Sheets
Opti Frame 25 mm Wood Effect Product Certificates & Warranty