Opti Frame Colour
• Available in five different colors as red, blue,
yellow, black and green.
• Eco-friendly.
• The product is protected worldwide by all
relevant patent applications.
• Anti-glare poster cover sheet.
COLOR OPTION
PATENT
Patent: PCT/TR06/000018 – WO 2007/126397 – EP 2016574 – DE 20 2006 020 145 – US 2009/211134 – AU 2006342800 – CN 101473363 – CA 2654307 – UA 2008 13893 – EA 200802174/26 – IN WO 2007/126397 – ZA 2008/09638 – TR 2007 05704 – OHIM 831235-0001,2,3,4
Opti Frame Colour Product Description
Opti Frame Colour
Opti Frame is also available in fashionable colours: Red, Blue, Green, White and Yellow as well as Silver, Black and Wood.
Snap Open Sign Frame or as also called snap open door sign frames are the perfect solution for restaurants, shop, offices, hotels and even personal us with amazing colours.
Our worldwide patented Opti Frame comes with 14mm or 0.55" powder coated front profiles are attached to a plastic backer via flat metal springs. Holes for wall hanging or wall mounting already exist on the edges, at the back of the snap open door sign which also comes with an optional support (easel) for counter top use. Snap open sign frame can be used in either portrait or landscape position for both on wall or on counter options.
Slightly rounded and soft mitred corner feature is especially designed for safe use in public, preventing any damage to passers-by, caused by the corners.
This snap open door sign comes with an anti glare protective plastic cover to protect your insert from dust, dirt and getting damaged.
Our Opti Frame is also a nice and durable option to your picture frame requirements.
With it's eye-catching colors, this snap open door sign will be one of your favorite displays.
Opti Frame Colour Product Specifications
MATERIAL : Silver anodised aluminium PROFILE : 14 mm 450
WEIGHT
PACKING SIZE
ARTICLE
COLOUR
EXTERNAL (x-y)
POSTER
COPY
WITH PACKING
*W X H X D
UCP145E1A4
RAL 6029-GREEN
231 X 318 mm
210 X 297 mm
200 X 287 mm
0,520 kg
250 X 350 X 24 mm
UCP145E1A5
RAL 6029-GREEN
169 X 231 mm
148 X 210 mm
138 X200 mm
0,250 kg
185 X 250 X 24 mm
UCP145E1A6
RAL 6029-GREEN
126 X 169 mm
105 X 148 mm
95 X 138 mm
0,140 kg
140 X 190 X 24 mm
UCP145H1A4
RAL 9003-WHITE
231 X 318 mm
210 X 297 mm
200 X 287 mm
0,520 kg
250 X 350 X 24 mm
UCP145H1A5
RAL 9003-WHITE
169 X 231 mm
148 X 210 mm
138 X200 mm
0,250 kg
185 X 250 X 24 mm
UCP145H1A6
RAL 9003-WHITE
126 X 169 mm
105 X 148 mm
95 X 138 mm
0,140 kg
140 X 190 X 24 mm
UCP145L1A4
RAL 5002-BLUE
231 X 318 mm
210 X 297 mm
200 X 287 mm
0,520 kg
250 X 350 X 24 mm
UCP145L1A5
RAL 5002-BLUE
169 X 231 mm
148 X 210 mm
138 X200 mm
0,250 kg
185 X 250 X 24 mm
UCP145L1A6
RAL 5002-BLUE
126 X 169 mm
105 X 148 mm
95 X 138 mm
0,140 kg
140 X 190 X 24 mm
UCP145R1A4
RAL 3020-RED
231 X 318 mm
210 X 297 mm
200 X 287 mm
0,520 kg
250 X 350 X 24 mm
UCP145R1A5
RAL 3020-RED
169 X 231 mm
148 X 210 mm
138 X200 mm
0,250 kg
185 X 250 X 24 mm
UCP145R1A6
RAL 3020-RED
126 X 169 mm
105 X 148 mm
95 X 138 mm
0,140 kg
140 X 190 X 24 mm
UCP145Y1A4
RAL1021-YELLOW
231 X 318 mm
210 X 297 mm
200 X 287 mm
0,520 kg
250 X 350 X 24 mm
UCP145Y1A5
RAL1021-YELLOW
169 X 231 mm
148 X 210 mm
138 X200 mm
0,250 kg
185 X 250 X 24 mm
UCP145Y1A6
RAL1021-YELLOW
126 X 169 mm
105 X 148 mm
95 X 138 mm
0,140 kg
140 X 190 X 24 mm
UCP145B1A4
RAL 9005-BLACK
231 X 318 mm
210 X 297 mm
200 X 287 mm
0,520 kg
250 X 350 X 24 mm
UCP145B1A5
RAL 9005-BLACK
169 X 231 mm
148 X 210 mm
138 X200 mm
0,250 kg
185 X 250 X 24 mm
UCP145B1A6
RAL 9005-BLACK
126 X 169 mm
105 X 148 mm
95 X 138 mm
0,140 kg
140 X 190 X 24 mm
* W:Width H: Height D: Depth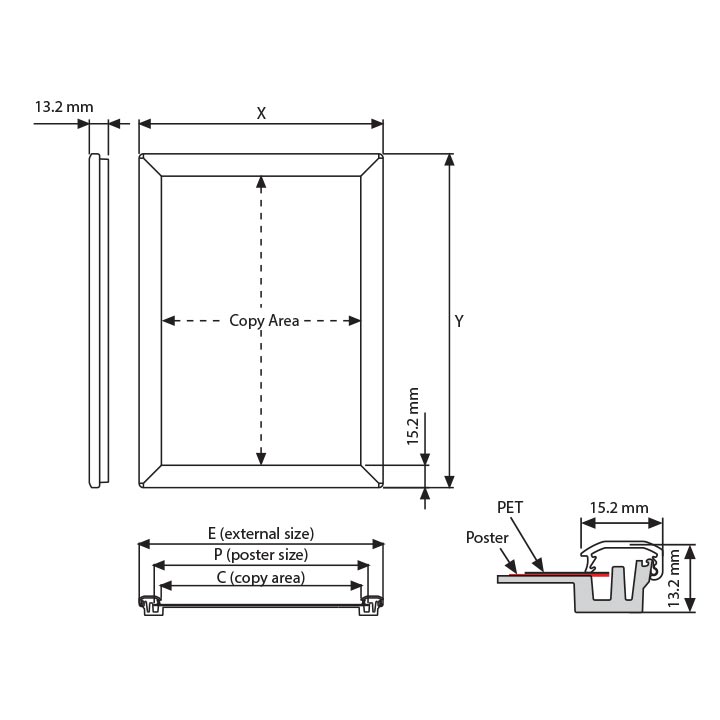 Opti Frame Colour Assembly Sheets
Opti Frame Colour Product Certificates & Warranty