Poster Snap
• One set comes with profiles, end caps and hangers.
• Easy to assembly without tool.
• Screen printing is available on the profile.
• Patented product (TR 2005 01301)
COLOR OPTION
SIZES
A1 (594 X 841 mm), A2 (420 X 594 mm), A3 (297 X 420 mm), A4 (210 X 297 mm), B1 (700 X 1000 mm), B2 (500 X 700 mm)
PATENT
Patent Pending TR 2005 01301
Poster Snap Product Description
Poster Snap
A sign hanger, such as a poster holder or banner holder, can be easily hung in your retail environment. The sign hanger offers a slim hanging rail for unobstructed viewing. Kit includes: Profiles, end caps and hangers. Easily assembly without tool Screen printing is available on the profile.
Bottom Snap Rail holds your posters flat and taut.
This sign hanger uses spring-loading technology for holding posters. Open the poster holder and you will see a black rubber gasket which helps grab your posters tightly. Our sign hanger, which is like a banner display system, installs easily and makes switching out posters a snap. Buy this versatile sign hanger for all your hanging poster needs. Sign hangers, banner rails, and other poster hangers perform the task of getting your message across. Various sizes are available. A banner holder or display system will greatly improve sales and promotions by showing the customer what is available.
Poster Snap Product Specifications
MATERIAL : Silver anodised aluminium
WEIGHT
PACKING SIZE
ARTICLE
EXTERNAL (x-y)
POSTER
WITH PACKING
*W X H X D
UPT26SN021
216 mm
210 mm
5,700 kg
220 X 260 X 320 mm (50 pcs)
UPT26SN030
306 mm
300 mm
8,500 kg
220 X 360 X 320 mm (50 pcs)
UPT26SN042
426 mm
420 mm
11,500 kg
220 X 480 X 320 mm (50 pcs)
UPT26SN050
506 mm
500 mm
13,200 kg
220 X 560 X 320 mm (50 pcs)
UPT26SN060
606 mm
600 mm
17,000 kg
220 X 660 X 320 mm (50 pcs)
UPT26SN070
706 mm
700 mm
19,000 kg
220 X 760 X 320 mm (50 pcs)
UPT26SN085
856 mm
850 mm
12,000 kg
180 X 910 X 220 mm (25 pcs)
UPT26SN100
1006 mm
1000 mm
13,500 kg
180 X 1070 X 220 mm (25 pcs)
* W:Width H: Height D: Depth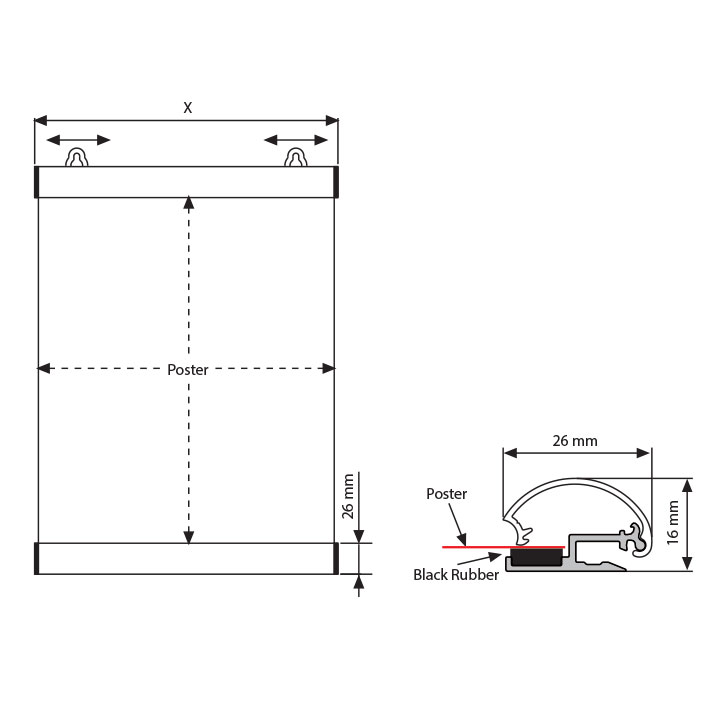 Poster Snap Product Print Templates
Poster Snap Assembly Sheets
Poster Snap Product Certificates & Warranty