Q Rope Knob Top
• Can be used as protocol entries for govermental
agencies, public enterprices.
• Made of sturdy, durable steel
• Comes with rubberized base
ACCESORIES
COLOR OPTION
Q Rope Knob Top Product Description
If you are looking for a elegant, stylish but budget friendly stanchion systems, crowd control system or as also called retractable barrier posts, then you are on the spot. With its chrome finish base and post this retractable stanchion post brings the high quality along with long lasting use. As many posts as required can be connected just attaching the belts from one post to another. Each retractable stanchion post has 4 way adaptor for multiple side configuration. Each chrome finish stanchion is 37" long. And each nylon blue belt which has a printable area of 1- 4/7" x 103- 2/7" can extend up to 114- 1/6".Heavy base brings the stability to the retractable barrier post.
The bottom of the base of each stanchion post is rubberized to enhance the hold of the stanchion on the floor as well as to protect the floor from getting scratched or damaged. Easily to assemble and disassemble.
Different colours are available. These crowd control systems can be used as a protocol entries for governmental agencies, public enterprises.
Q Rope Knob Top Accessories
Q Rope Knob Top Product Specifications
MATERIAL : Steel
WEIGHT
PACKING SIZE
ARTICLE
DESCRIPTION
WITHPACKING
*W X H X D
UQRPP1B010
Black – Knob Top. W/out Weight W/out Rope
6,250 kg
140 X 970 X 140 / 390 X 390 X 60 mm
UQRPP1G010
Grey – Knob Top. W/out Weight W/out Rope
6,250 kg
140 X 970 X 140 / 390 X 390 X 60 mm
UQRPP1C010
Chrome – Knob Top. W/out Weight W/out Rope
6,250 kg
140 X 970 X 140 / 390 X 390 X 60 mm
UQRPP1W010
White – Knob Top. W/out Weight W/out Rope
6,250 kg
140 X 970 X 140 / 390 X 390 X 60 mm
UQRP00L000
Blue-Chrome / only rope
0,950 kg
120 X 460 X 95 mm
UQRP00B000
Black-Chrome / only rope
0,950 kg
120 X 460 X 95 mm
UQRP00R000
Red-Chrome / only rope
0,950 kg
120 X 460 X 95 mm
TWBTRT0201
Red-Gold / only rope
0,950 kg
120 X 460 X 95 mm
* W:Width H: Height D: Depth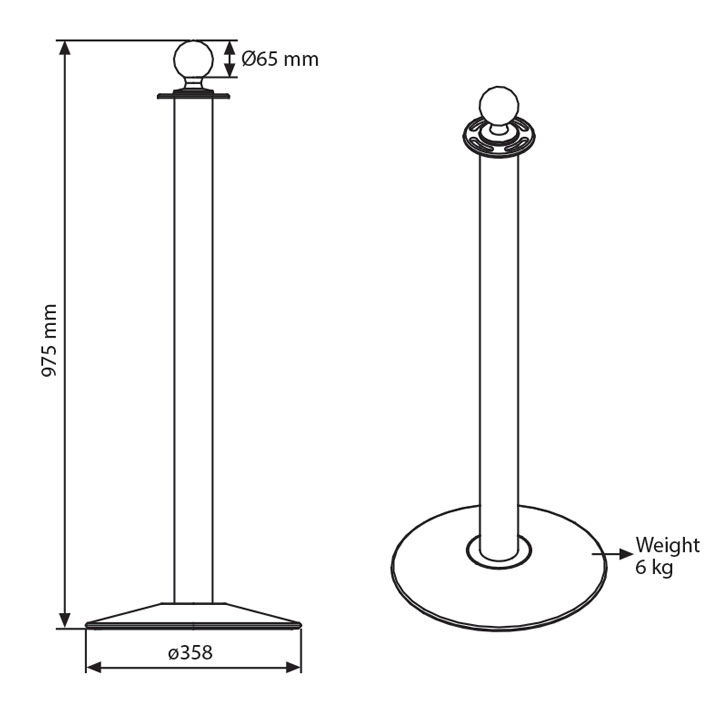 Q Rope Knob Top Assembly Sheets
Q Rope Knob Top Product Certificates & Warranty