Quick Banners (Double Sided)
• Flexible and mobile poster clamp.
• Designed as a practical set can be carried.
• Comes with a bag.
ACCESORIES
SIZES
800 X 2000 mm, 900 X 2000 mm,
Quick Banners (Double Sided) Product Description
Double Sided Quick Banner stands create stylish, smart-looking and effective advertising spaces with their high quality silver anodized aluminum clamps. These banner hangers come with a canvas carrying bag making it easy-to-carry and protecting your prints from wear and tear during transportation. All quick banner stands are sold without custom graphics.
Just keep your Double Sided Quick Banner stands out of your storage room and let them perform for your brand at many places in many ways with printed vinyl, canvas, PVC foam or paper posters
Double Sided Quick Banner is a perfect trade show banner with its patented height adjustable pipe. This banner stand holds graphics from 74.80″ to 86.61″ high. It provides more stability compared to other quick banners due to its heavy leg at the back.
Quick Banner Stands shipped without Custom Graphics
Promote your brand with ease and at affordable prices with our quick banner stands.
Let the Quick Banner Stands perform for your business anywhere
Quick Banners (Double Sided) Accessories
Quick Banners (Double Sided) Product Specifications
MATERIAL : Silver anodised aluminium
WEIGHT
PACKING SIZE (10 pcs)
ARTICLE
EXTERNAL (x-y)
POSTER
COPY
WITH PACKING
*W X H X D
UQB0C00N72
706 X 2030 mm
700 X 2000 mm
700 X 1970 mm
21,200 kg
380 X 860 X 175 mm
UQB0C00N82
806 X 2030 mm
800 X 2000 mm
800 X 1970 mm
23,300 kg
380 X 860 X 175 mm
UQB0C00N92
906 X 2030 mm
900 X 2000 mm
900 X 1970 mm
25,950 kg
380 X 1060 X 175 mm
UQB0C00N12
1006 X 2030 mm
1000 X 2000 mm
1000 X 1970 mm
26,800 kg
380 X 1060 X 175 mm
* W:Width H: Height D: Depth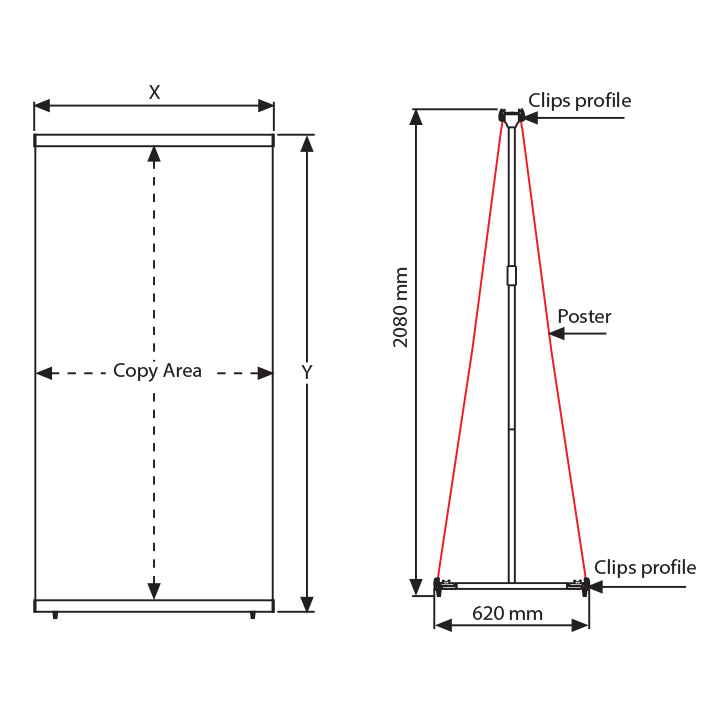 Quick Banners (Double Sided) Product Print Templates
Quick Banners (Double Sided) Assembly Sheets
Quick Banners (Double Sided) Product Certificates & Warranty