Quick Banners (Single Sided)
•  Flexible and mobile poster clamp.
• Designed as a practical set can be carried.
• Comes with a bag.
• Patented product TR 2005 01772.
ACCESORIES
SIZES
700 X 2000 mm, 800 X 2000 mm, 900 X 2000 mm,
PATENT
TR 2005 01772
Quick Banners (Single Sided) Product Description
If there are too many exhibitions or shows that you need to attend, our Quick Banner Single Sided display is the most effective product for you, offering competitive solutions. Graphic height is 2000mm and widths are 700mm to 1000mm in standard.
This Quick Banner is of silver anodized aluminum. You can easily carry it to shows or exhibitions within its bag since this banner stand is collapsible.
This  trade show banner is suitable to hold banners in thickness 50 micron / 500 micron.
These exhibition banner stands as also known banner displays feature (2) separate banner rails to pull your graphics taut while on display. We sell this banner displays without banners to save you money. So you can spend most of your budget on having the most effective artwork.
Buy this banner stand today and save your time just focusing on styling your impressive presentation.
Quick Banners (Single Sided) Accessories
Quick Banners (Single Sided) Product Specifications
MATERIAL : Silver anodised aluminium
WEIGHT
PACKING SIZE
ARTICLE
EXTERNAL (x-y)
POSTER
COPY
WITH PACKING
*W X H X D
UQB0T00N72
706 X 2030 mm
700 X 2000 mm
700 X 1970 mm
14,600 kg
380 X 860 X 145 mm
UQB0T00N82
806 X 2030 mm
800 X 2000 mm
800 X 1970 mm
15,600 kg
380 X 860 X 145 mm
UQB0T00N92
906 X 2030 mm
900 X 2000 mm
900 X 1970 mm
16,400 kg
380 X 1060 X 145 mm
UQB0T00N12
1006 X 2030 mm
1000 X 2000 mm
1000 X 1970 mm
17,200 kg
380 X 1060 X 145 mm
BAG
PACKING SIZE
ARTICLE
MODEL
*W X H X D
UYUP066000
800 mm
160 X 860 X 160 mm
UYUP067000
1000 mm
160 X 1060 X 160 mm
* W:Width H: Height D: Depth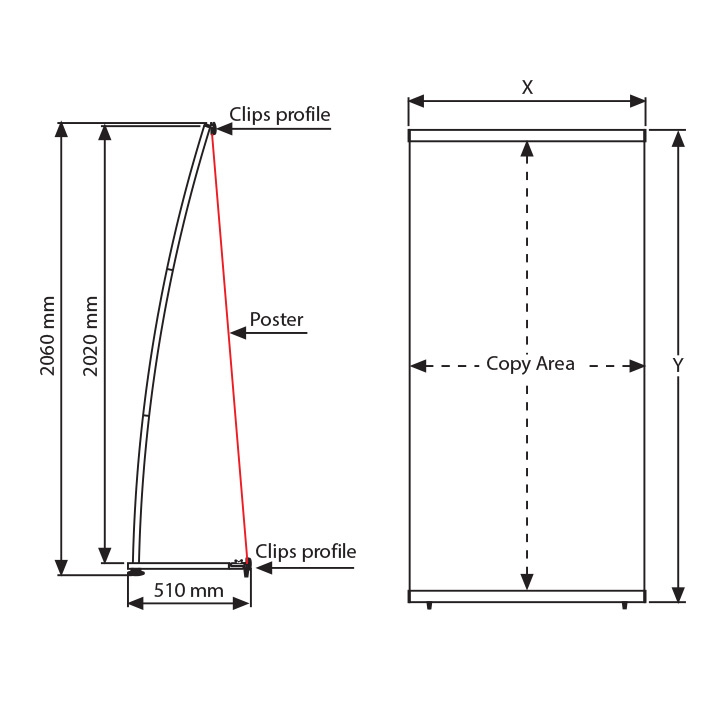 Quick Banners (Single Sided) Product Print Templates
Quick Banners (Single Sided) Assembly Sheets
Quick Banners (Single Sided) Product Certificates & Warranty