Real Estate Sign
• 20 mm angle iron construction.
• Durable powder coated finish.
• Heavy weight for stability.
• Easy panel installation.
• Slotted holes to bold sign panel securely to the frame.
• Pointed Legs for Easy Ground Installation.
• Good outdoor performance.
• Hardware not included.
• Packed unassembled.

COLOR OPTION
SIZES
18″ X 24″ (457 X 610 mm)
Real Estate Sign Product Specifications
MATERIAL : Sheet metal
WEIGHT
PACKING SIZE
ARTICLE
DESCRIPTION
MAIN PANEL
RIDER
WEIGHT
(with packing)
*W X H X D
URESB0H024
H Frame Real Estate Sign
457,2 X 609,6 mm
152,4 X 609,6 mm
3,050 kg
325 X 1210 X 55 mm
URESB0H124
H Frame Real Estate Sign, 1 Rider
457,2 X 609,6 mm
152,4 X 609,6 mm
2,350 kg
55 X 1120 X 65 mm
URESB0H224
H Frame Real Estate Sign, 2 Rider
457,2 X 609,6 mm
152,4 X 609,6 mm
2,600 kg
55 X 1120 X 65 mm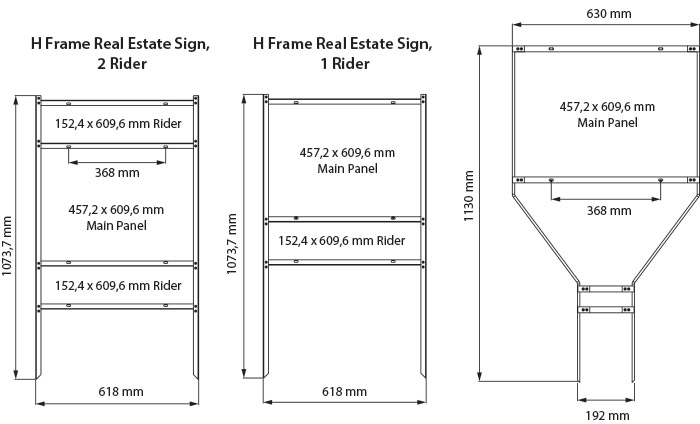 Real Estate Sign Product Print Templates
Real Estate Sign Product Certificates & Warranty