Security Frames 32 mm
• Ideal for medium-sized posters.
• It is a secure hard-to-open profile.
• Suitable for open-air use or highly frequented
areas accessible to the public.
• Natural silver-anodized and various
RAL colors are available.
• Anti-glare poster cover sheet.
• Optional Hangers for Easy mounting
ACCESORIES
COLOR OPTION
SIZES
20″ X 30″ (508 X 762 mm), 30″ X 40″ (762 X 1016 mm), 40″ X 60″ (1016 X 1524 mm), A0 ( 841 X 1189 mm), A1 (594 X 841 mm), A2 (420 X 594 mm), A3 (297 X 420 mm), B0 ( 1000 X 1414 mm), B1 (700 X 1000 mm), B2 (500 X 700 mm)
Security Frames 32 mm Product Description
These Security Frames or also known as lockable frames are great products where you need to display your posters safely. Schools, banks, hospitals, business offices are the common buyers of these tamper resistant frames.
This tamper proof frame features a lever tool that helps snap open the side profiles. The lever tool brings this product the tamper proof feature as it is very difficult to have access to the poster area, otherwise.
Natural silver-anodized and various RAL colors are available. Poster update is also very easy. Just open up the bottom framing with the help of the lever tool and then open up the other three sides. Place your poster and the anti-glare plastic cover and snap close. That is it! You only need thirty seconds for the process.
Security Frames 32 mm Accessories
Security Frames 32 mm Product Specifications
MATERIAL : Silver anodised aluminium PROFILE : 32 mm Security
WEIGHT
PACKING SIZE
ARTICLE
EXTERNAL (x-y)
POSTER
COPY
WITH PACKING
*W X H X D
UCZ325N0A3
340 X 463 mm
297 X 420 mm
277 X 400 mm
1,045 kg
360 X 460 X 31 mm
UCZ325N0A2
463 X 637 mm
420 X 594 mm
400 X 574 mm
1,820 kg
460 X 670 X 31 mm
UCZ325N0A1
637 X 884 mm
594 X 841 mm
574 X 821 mm
2,760 kg
660 X 910 X 31 mm
UCZ325N0A0
884 X 1232 mm
841 X 1189 mm
821 X 1169 mm
4,800 kg
910 X 1270 X 31 mm
UCZ325N0B2
543 X 743 mm
500 X 700 mm
480 X 680 mm
2,100 kg
560 X 760 X 31 mm
UCZ325N0B1
743 X 1043 mm
700 X 1000 mm
680 X 980 mm
3,715 kg
760 X 1060 X 31 mm
UCZ325N0B0
1043 X 1443 mm
1000 X 1400 mm
980 X 1380 mm
6,300 kg
1070 X 1480 X 31 mm
UCZ325N023
551 X 805 mm
508 X 762 mm
488 X 742 mm
2,250 kg
570 X 830 X 31 mm
UCZ325N034
805 X 1059 mm
762 X 1016 mm
742 X 996 mm
4,000 kg
830 X 1080 X 31 mm
UCZ325N046
1059 X 1567 mm
1016 X 1524 mm
996 X 1504 mm
7,200 kg
1080 X 1590 X 31 mm
* W:Width H: Height D: Depth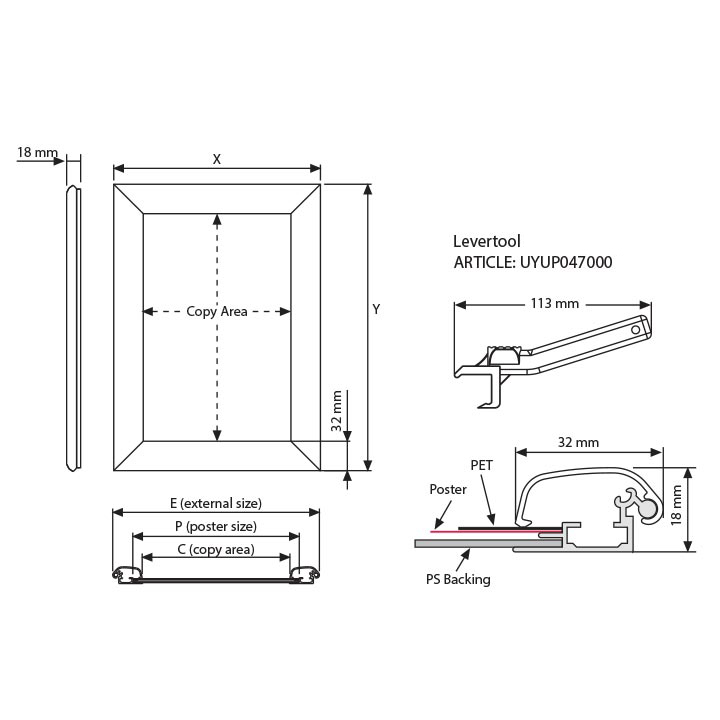 Security Frames 32 mm Product Assembly Sheets
Security Frames 32 mm Product Certificates & Warranty