Showboards
• Has 3 different models; cork backing, dry wipe
Magnetic surface, cork & perforated steel backing.
• 4 x A4, 6 x A4, 9 x A4 and 12 x A4 are available
paper capacities.
• Can be used in Portrait & Landscape positions
• Weatherproof using avaibility by inside water
leakage isolation.
• The profile width is 45 mm and the depth of the
case is 36 mm.
• Each unit includes mounting screws and plugs.
​• Max dimension 1200 x 2000mm.
SIZES
12 X A4 (210 x 297 mm), 4 X A4 (210 X 297 mm), 6 X A4 (210 x 297 mm), 9 X A4 (210 x 297 mm)
Showboards Product Specifications
MATERIAL : Silver anodised aluminium
WEIGHT
PACKING SIZE
CORK
EXTERNAL (x-y)
COPY
PAPER AREA
CAPACITY
KEY
WITH PACKING
*W X H X D
USBN1004A4
585 X 755 mm
495 X 665 mm
483 X 653 mm
4 X A4
1
6,870 kg
620 X 780 X 60 mm
USBN1006A4
585 X 1075 mm
495 X 985 mm
483 X 973 mm
6 X A4
2
8,950 kg
620 X 1100 X 60 mm
USBN1009A4
815 X 1075 mm
725 X 985mm
713 X 973mm
9 X A4
2
12,500 kg
850 X 1100 X 60 mm
USBN1012A4
1045 X 1075 mm
955 X 985 mm
943 X 973 mm
12 X A4
2
15,400 kg
1080 X 1100 X 60 mm
MATERIAL : Silver anodised aluminium
WEIGHT
PACKING SIZE
MAGNETIC
EXTERNAL (x-y)
COPY
PAPER AREA
CAPACITY
KEY
WITH PACKING
*W X H X D
USBN2004A4
585 X 755 mm
495 X 665 mm
483 X 653 mm
4 X A4
1
6,000 kg
620 X 780 X 60 mm
USBN2006A4
585 X 1075 mm
495 X 985 mm
483 X 973 mm
6 X A4
2
8,350 kg
620 X 1100 X 60 mm
USBN2009A4
815 X 1075 mm
725 X 985mm
713 X 973mm
9 X A4
2
11,600 kg
850 X 1100 X 60 mm
USBN2012A4
1045 X 1075 mm
955 X 985 mm
943 X 973 mm
12 X A4
2
14,210 kg
1080 X 1100 X 60 mm
MATERIAL : Silver anodised aluminium
WEIGHT
PACKING SIZE
M&C
EXTERNAL (x-y)
COPY
PAPER AREA
CAPACITY
KEY
WITH PACKING
*W X H X D
USBN3004A4
585 X 755 mm
495 X 665 mm
483 X 653 mm
4 X A4
1
8,250 kg
620 X 780 X 60 mm
USBN3006A4
585 X 1075 mm
495 X 985 mm
483 X 973 mm
6 X A4
2
11,000 kg
620 X 1100 X 60 mm
USBN3009A4
815 X 1075 mm
725 X 985mm
713 X 973mm
9 X A4
2
15,100 kg
850 X 1100 X 60 mm
USBN3012A4
1045 X 1075 mm
955 X 985 mm
943 X 973 mm
12 X A4
2
19,000 kg
1080 X 1100 X 60 mm
* W:Width H: Height D: Depth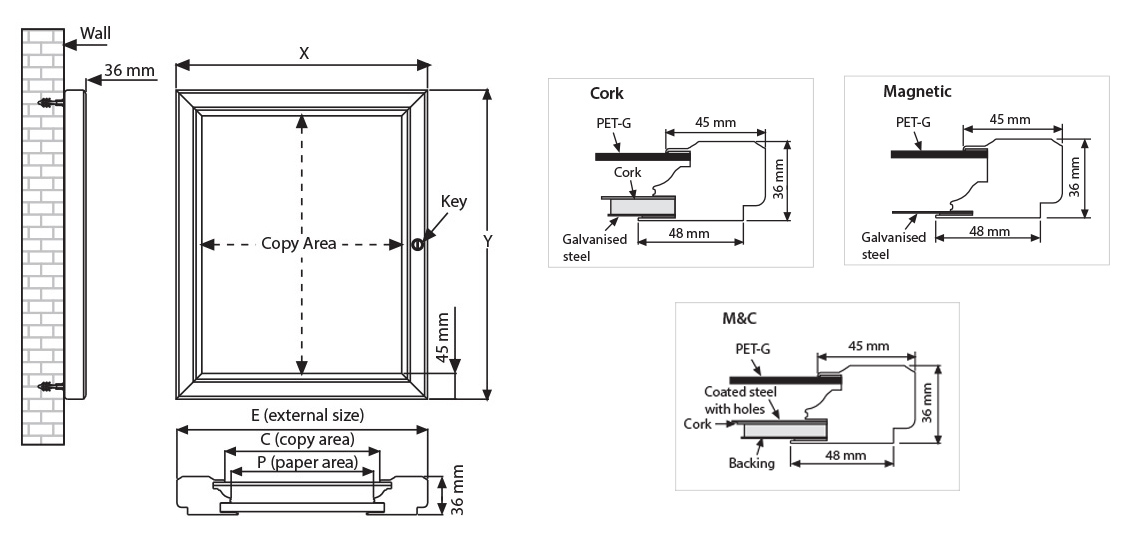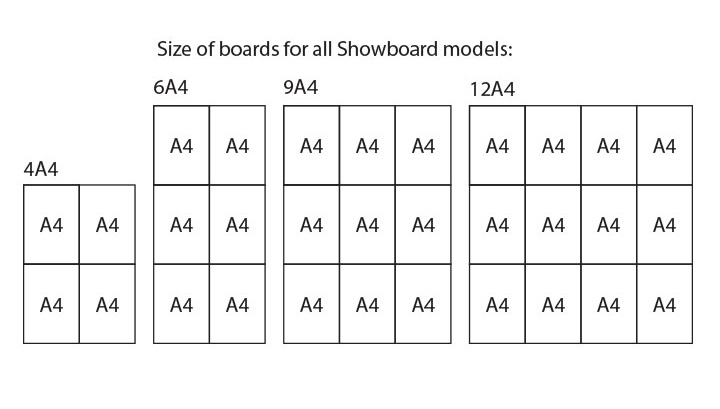 Showboards Assembly Sheets
Showboards Product Certificates & Warranty