Sign Holder Stand
Sign Holder Stand is a perfects advertising solution in a store or reception as a result of double sided frame for back-to-back prints. A dual-sided display helps to maximise your floor space whilst allowing your advertising message to be seen by people around. Constructed with durable parts it is recommended for use in outdoor conditions.
As the poster is slide-in, it is easy to place or replace with only on person.
This durable marketing stand makes any product advertisement more attractive and stylish! Each Sign Holder Stand with weighted base to ensure sturdiness and durability in busy environments. It is a good advertising stand for hotels, travel agents, shows offices and even more.

COLOR OPTION
SIZES
A1 (594 X 841 mm), A2 (420 X 594 mm)
Sign Holder Stand Product Description
• Made of powder-coated aluminium frame and post with heavy steel base.
• Frame can be easily adjusted landscape and portrait positions for A2. A1 is available only portrait position.
• 2 anti-reflex poster protection and separator included.
• Double sides frame available in A1 and A2 sizes.
• Max poster thickness is 1,75 mm when used with 2 x protections and a separator.
• In case rigid poster is used without protections and a separator, max poster thickness is 6 mm.
• Basic tool assembly required.
• Base is 6 kg.
• Flat packed. Packed in 1 one box.
• Recommended for express courier shipping as single unit.
• Suitable for customisation such as printing, branding, colouring vs are.
Sign Holder Stand Product Specifications
MATERIAL : Silver & black anodised aluminium
WEIGHT
PACKING SIZE
ARTICLE
DESCRIPTION
EXTERNAL (x-y)
POSTER
COPY
HEIGHT PORTRAIT
WITH PACKING
*W X H X D
UIBSHN00A2
Silver
443 X 617 mm
420 X 594 mm
392 X 566 mm
1560 mm
9,200 kg
975 X 530 X 52 mm
UIBSHN00A1
Silver
617 X 864 mm
594 X 841 mm
566 X 813 mm
1808 mm
9,800 kg
975 X 705 X 52 mm
UIBSHB00A2
Black
443 X 617 mm
420 X 594 mm
392 X 566 mm
1560 mm
9,200 kg
975 X 530 X 52 mm
UIBSHB00A1
Black
617 X 864 mm
594 X 841 mm
566 X 813 mm
1808 mm
9,800 kg
975 X 705 X 52 mm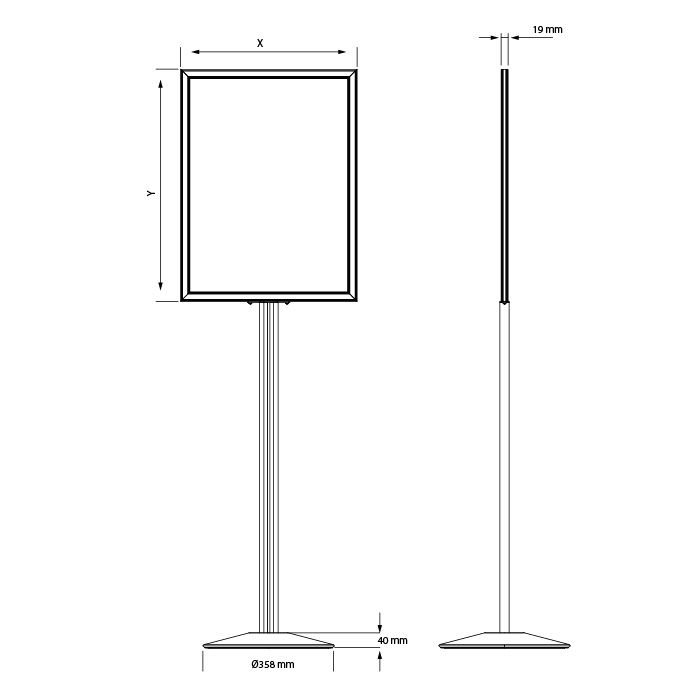 Sign Holder Stand Product Print Templates
Sign Holder Stand Assembly Sheets
Sign Holder Stand Product Certificates & Warranty