Smart LEDbox 25 mm Single Sided
• Ideal for indoor application with 19 mm depth.
• On / off button and power supply provide
long product life.
• Easy to mount and use.
ACCESORIES
SIZES
20″ X 30″ (508 X 762 mm), 30″ X 40″ (762 X 1016 mm), A1 (594 X 841 mm), A2 (420 X 594 mm), A3 (297 X 420 mm), A4 (210 X 297 mm), B1 (700 X 1000 mm), B2 (500 X 700 mm)
Smart LEDbox 25 mm Single Sided Product Description
Smart LEDbox 25 mm Single Sided
Lightbox signs are high-end and attractive custom signage solutions for a wide range of indoor applications: retail point-of-purchase, tradeshow displays, movie theatres, sports facilities, shopping malls, casinos, and more.
These light boxes are only 19 mm in depth. They are one of the thinnest lightboxes in the market. They would make great choices for high-traffic areas, especially because they do not obstruct walking paths.
Translucent poster material should be used for printing the signage of these edge lit displays. When illuminated, your advertisement will surely attract lots of attention, thanks to this LED edge lit lightbox. You do not need to worry if you want to use it for a long time, because LED bulbs last very long. You cannot see the LED bulbs from outside, since the LED bulbs of the indoor light box are embedded in the sides of the frame.
High illumination is achieved by specially treated acrylic and provides homogenous illumination. The built-in on /off switch and outer power supply helps long product life. They consume less energy since their LED lighting is lower voltage compared to other signage display frames in the market. Through this LED lighting saves up to 60% energy costs. Besides they are less expensive as well. This results in cost saving both initially and after overall usage.
Light box poster frames, are easy to load and re-load thanks to their snap open framing. You simply snap up all four sides of the frame and easily insert your poster or take out. Each frame includes an acrylic non-glare PET lens to diffuse light across your graphics. It gives an impressive effect to grab the passers-by. They are designed for wall mounting and come with the necessary hardware for mounting. Also, each product has two wall hangers to move hangers in portrait and landscape position.
If you wish to use your LED frame 24 hours in 7 days, please ask for special 7/24 power supplies.
Smart LEDbox 25 mm Single Sided Accessories
Smart LEDbox 25 mm Single Sided Product Specifications
MATERIAL : Silver anodised aluminiumPROFILE: 25 MM
WEIGHT
PACKING SIZE
ARTICLE
EXTERNAL (x-y)
POSTER
COPY
LIGHTING
WITH PACKING
*W X H X D
ULD25TN0A4
242 X 329 mm
210 X 297 mm
190 X 277 mm
1700-2000 LUX
1,100 kg
260 X 420 X 46 mm
ULD25TN0A3
329 X 452 mm
297 X 420 mm
277 X 400 mm
3300-3600 LUX
1,820 kg
350 X 540 X 46 mm
ULD25TN0A2
452 X 626 mm
420 X 594 mm
400 X 574 mm
3000-3300 LUX
2,960 kg
470 X 720 X 46 mm
ULD25TN0A1
626 X 873 mm
594 X 841 mm
574 X 821 mm
2700-3000 LUX
6,530 kg
650 X 960 X 46 mm
ULD25TN0A0
873 X 1221 mm
841 X 1189 mm
821 X 1169 mm
2500-2800 LUX
10,280 kg
890 X 1290 X 46 mm
ULD25TN0B2
532 X 732 mm
500 X 700 mm
480 X 680 mm
2900-3200 LUX
4,850 kg
560 X 820 X 46 mm
ULD25TN0B1
732 X 1032 mm
700 X 1000 mm
680 X 980 mm
2500-2800 LUX
8,710 kg
780 X 1100 X 46 mm
ULD25TN023
540 X 794 mm
508 X 762 mm
488 X 742 mm
2900-3200 LUX
5,130 kg
570 X 870 X 46 mm
ULD25TN034
794 X 1048 mm
762 X 1016 mm
742 X 996 mm
2500-2800 LUX
9,250 kg
820 X 1120 X 46 mm
* W:Width H: Height D: Depth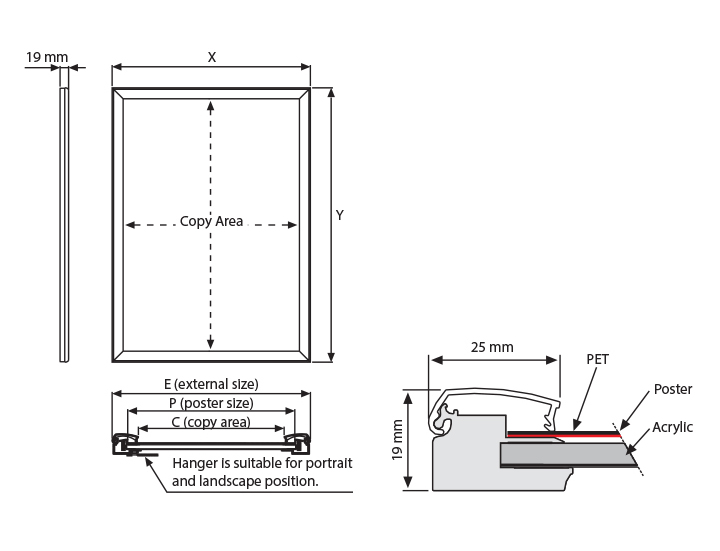 Smart LEDbox 25 mm Single Sided Product Print Templates
Smart LEDbox 25 mm Single Sided Product Assembly Sheets
Smart LEDbox 25 mm Single Sided Product Certificates & Warranty