Smart Roll Banner ( Single Sided )
• Aluminum body is silver anodised.
• Stands at min 1000 mm, max 2300 mm height.
• Telescopic pipe adjusts poster height.
• End caps on the top provides stability
and elegant look.
ACCESORIES
SIZES
1000 mm, 800 mm, 900 mm,
Smart Roll Banner ( Single Sided ) Product Description
Do you want your brand to speak out at trade shows, expositions and other promotional events? Thanks to their over seven feet / 2000mm height and their aluminium construction with a silver anodized finish Smart Roll Banner Single Sided roll up display stands are easily visible and incredibly appealing. This retractable banner is practical as well, and can be set up quickly and easily. You just have to raise the telescopic pole and pull out the banner and adjust the poster tightness. That is it!
Telescopic pipe lets you adjust the height from  3′ to 7.6′ or 1000mm to 2300mm.
It is a self- contained display.  For storage and transportation, the banner is rolled in the base and folded telescopic pipe as well as top poster rail go into the storage of the base. Moreover you can re-use the very same Smart Roll Banner Single Sided stand unfolded and non-damaged for multiple times. With its black transport bag, it is so easy to carry it from one location to another.
Printed banner is not included.
This Smart Roll Banner brings you the high quality, elegant look and easy use for your 39-4/10″ wide banners.
Smart Roll Banner ( Single Sided ) Accessories
Smart Roll Banner ( Single Sided ) Product Specifications
MATERIAL : Silver anodised aluminium
WEIGHT
PACKING SIZE
ARTICLE
X1
POSTER
WITH PACKING
*W X H X D
URBST00N82
850 mm
800 mm
6,600 kg
180 X 910 X 180 mm
URBST00N92
950 mm
900 mm
7,200 kg
180 X 1120 X 180 mm
URBST00N12
1050 mm
1000 mm
7,700 kg
180 X 1120 X 180 mm
* W:Width H: Height D: Depth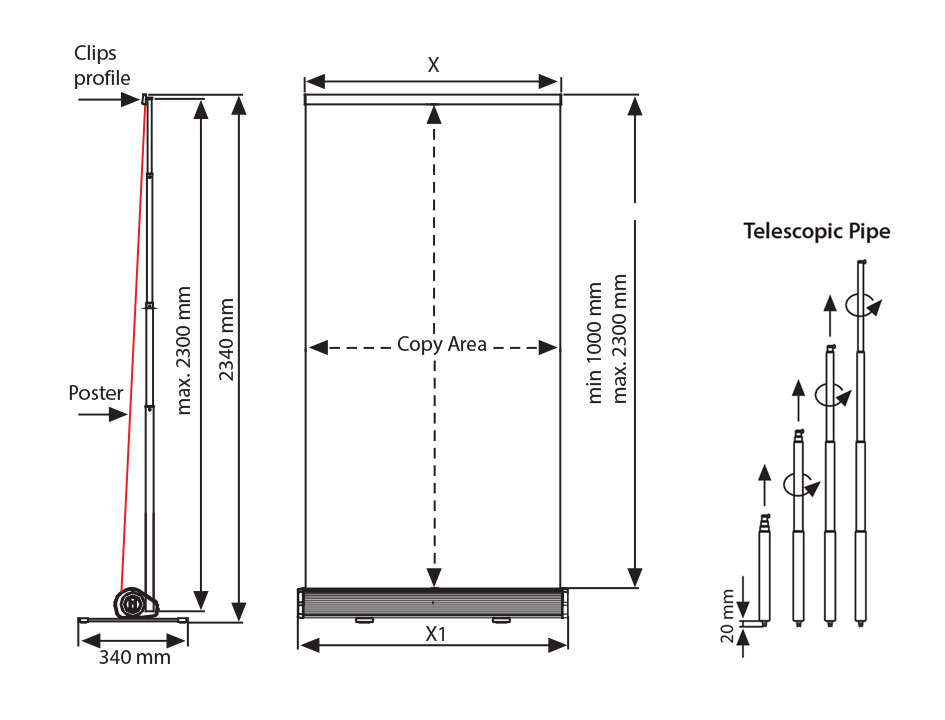 Smart Roll Banner ( Single Sided ) Product Print Templates
Smart Roll Banner ( Single Sided ) Assembly Sheets
Smart Roll Banner ( Single Sided ) Product Certificates & Warranty