Stretch Frame
• Frame stretches the poster from 4 corners.
• Easy to change the poster by plastic clips.
• From A4 to B1 sizes are available.
COLOR OPTION
SIZES
A1 (594 X 841 mm), A2 (420 X 594 mm), A3 (297 X 420 mm), A4 (210 X 297 mm), B1 (700 X 1000 mm), B2 (500 X 700 mm)
Stretch Frame Product Description
Stretch Frame
The aluminium stretch frame is a cost-effective holder for various applications. These quick frames are prices discount displays that can hold printed paper and are available in a variety of sizes. These indoor sign holders are less expensive compared to conventional snap frames. They offer a silver aluminium look and black matte finish corners with clear clips that hold posters in place elegantly. Double-sided stretch frames have both landscape and portrait models. The printed poster is inserted at 4 corners simply by inserting the paper into the lear clips at 4 corners. Once mounted, changing a poster does not require the frame to leave the wall. These low cost frames are usually used in front of shop windows with suction cups or clear strings.
Where to I use these quick-to-change sign holders?
Aluminium print holders are great way to advertise restaurants, schools, lobby, meeting rooms, gas stations, shops, banks, public areas to post various news, offers, messages, sales or menus. They fit into different business environments and are suitable for all sectors in which there is public transport such as nail shops and pharmacies.
Stretch Frame Product Specifications
MATERIAL : Silver anodised aluminium
WEIGHT
PACKING SIZE
ARTICLE
EXTERNAL (x-y)
POSTER
WITH PACKING
*W X H X D
UPSCN000A4
310 X 397 mm
210 X 297 mm
0,220kg
420 X 570 X 220 mm
UPSCN000A3
397 X 520 mm
297 X 420 mm
0,265 kg
420 X 700 X 220 mm
UPSCN000A2
520 X 694 mm
420 X 594 mm
0,340 kg
420 X 870 X 220 mm
UPSCN000A1
694 X 941 mm
594 X 841 mm
0,432 kg
420 X 1110 X 220 mm
UPSCN000B2
600 X 800 mm
500 X 700 mm
0,380 kg
420 X 970 X 220 mm
UPSCN000B1
800 X 1100 mm
700 X 1000 mm
0,510 kg
420 X 1260 X 220 mm
* W:Width H: Height D: Depth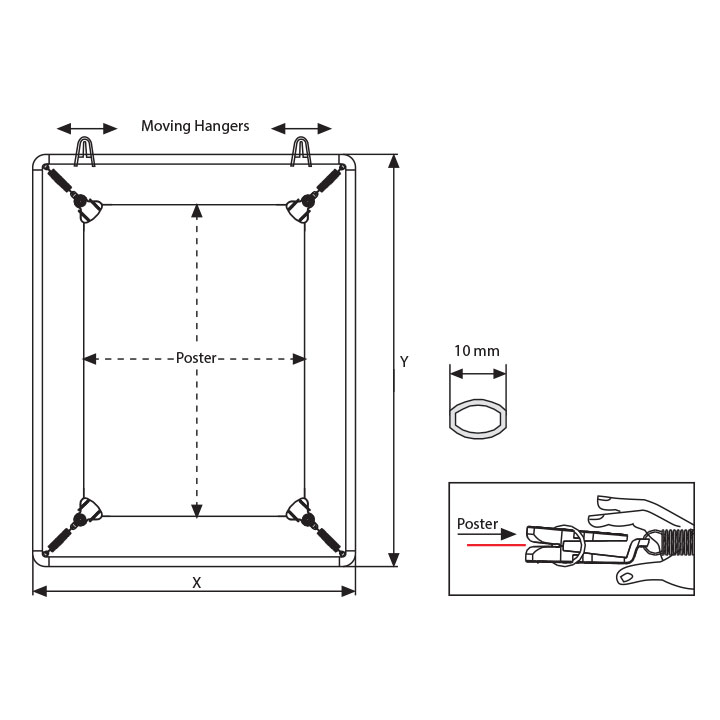 Stretch Frame Product Print Templates
Stretch Frame Assembly Sheets
Stretch Frame Product Certificates & Warranty