Touchless Dispenser Stand Foot Operated
100% handsfree, Touchless hand sanitizing dispenser stand is activated by foot with a Pedal. It is designed to offer a no-hand-touch hygiene station around your working area to help protect your staff and customers from the spread of infection. The height of the dispenser can be adjusted from 970 mm up to max. 1225 mm. This allows the dispenser to be used in any public places such as preschools, nurseries or schools. The advantage of a foot-operated Touchless Dispenser Stand, is that there is no need for access to water or paper towels for effective hand sanitation.

OPTIONAL COLORS
subject to MOQ
COLOR OPTION
Touchless Dispenser Stand Foot Operated Product Description
• The foot-operated Touchless Dispenser Stand holds 1L refillable dispenser bottle and pump top mechanism to
provide quick and easy access to disinfection. No special refill cartridges needed.
• Made of sturdy powder-coated steel stand. Overall height  is 1495 mm.
• Paddle at top allows large range of motion for dispensing.
• The 70 mm wide foot pedal is made of galvanized and powder-coated steel. It stays out at approx. 51 mm height.
• The 370 mm (w) x 400 mm (d) steel base is non-corrosive powder coated for outdoor conditions.
• Dispenser is made of shutter-proof ABS. Dispenser bottle has spring loaded locking system to prevent foreign access.
• It is easy to access for cleaning or refiling the gel or liquid by the shop or maintenance staff.
• Lever stays open for easy access during change of bottle. Pump is placed into the nest under the lever to avoid pump
moving around. Pump nuzzle faces 120° downwards allowing alcohol /gel into hand avoiding to spill over or
wasting alcohol/gel.
• Drip tray included with The Touchless Dispenser Stand, inserts into the holder with a basic locking system to prevent
loosing.
• Magnetic surface is suitable for magnetic posters as well as printing. Both direct printing  and sticker can be appiled.
• Flat Packed for economical shipping.
• 2 boxes.
Touchless Dispenser Stand Foot Operated Product Specifications
MATERIAL : STEEL
WEIGHT
PACKING SIZE
ARTICLE
DESCRIPTION (x-y)
WITH PACKING
PACKING SIZE
UHTDSG2000
Touchless Dispenser 1L(no gel), Grey
18,900 kg
370 X 1470 X 115 mm / 40 X 480 X 280 mm
UHTDSB2000
TouchlessDispenser 1L(no gel), Black
18,900 kg
370 X 1470 X 115 mm / 40 X 480 X 280 mm
* W:WidthH: HeightD: Depth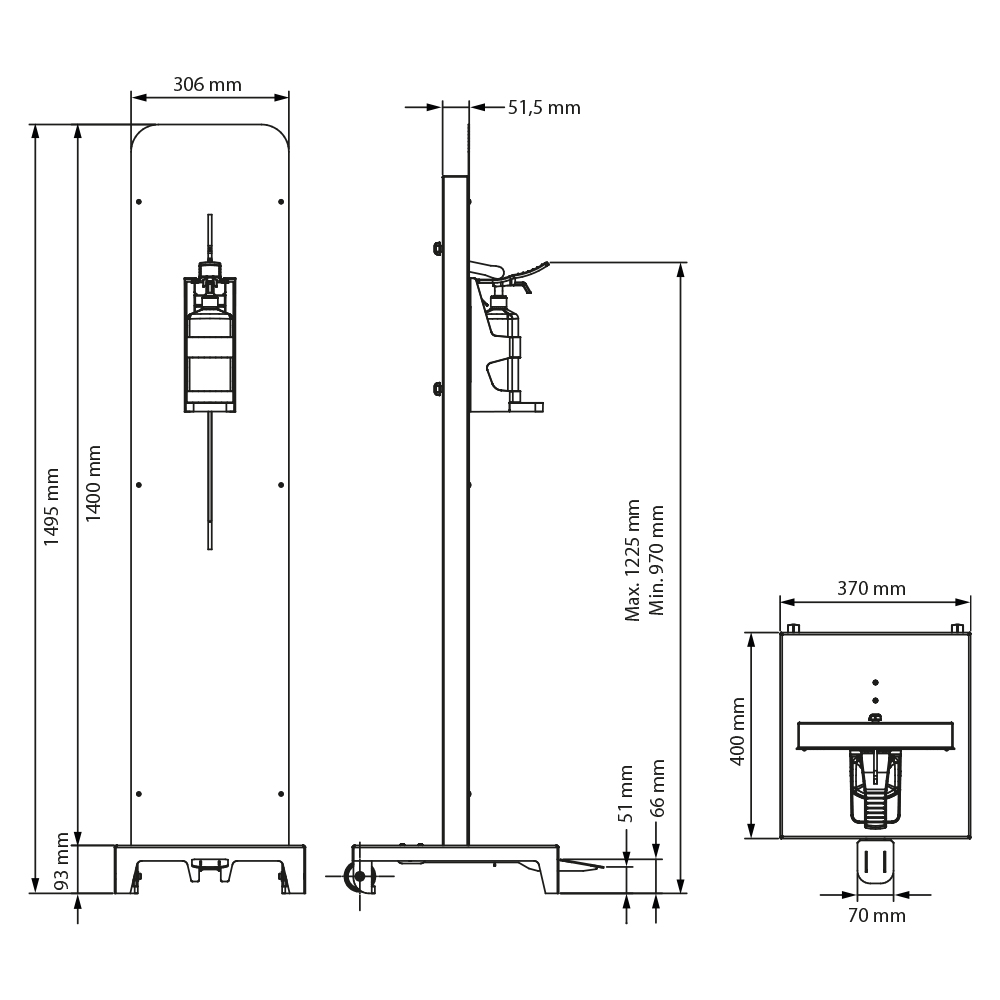 Touchless Dispenser Stand Foot Operated Assembly Sheets
Touchless Dispenser Stand Foot Operated Product Certificates & Warranty