Weatherproof Frame 35mm
• Suitable for use under outdoor conditions.
• Ideal for posters of every size.
• Natural silver-anodized with different
available in RAL colors.
• Mitred corners.
• There are water drainage holes on the product
• Anti-glare poster cover sheet.
• Patented product (TR 2006 06254 PCT/TR06/000064)
• IPP55 Approved product
• Maximum poster size 1016 x 2000mm
• Max length 1350 mm and max perimeter 2500 mm.
COLOR OPTION
SIZES
20″ X 30″ (508 X 762 mm), 30″ X 40″ (762 X 1016 mm), 40″ X 60″ (1016 X 1524 mm), A0 ( 841 X 1189 mm), A1 (594 X 841 mm), A2 (420 X 594 mm), A3 (297 X 420 mm), A4 (210 X 297 mm), B0 ( 1000 X 1414 mm), B1 (700 X 1000 mm), B2 (500 X 700 mm)
PATENT
< span style="font-size:11px;">PCT/EP2018/060515
Weatherproof Frame 35mm Product Description
This outdoor snap frame is ideal for displaying your artwork outdoors. The sign holder comes with an anti-glear protective cover sheet and is waterproof. This outdoor snap frame, aluminum poster display also includes a gasket to protect your posters from being damaged by weather conditions.
With this exterior poster holder, aluminum display, you can get rid of your tool box. Once the frame is screwed into the wall, all you have to do is snap open all four sides to change your posters. The last thing you need to do is lock the frame, to prevent tampering. We provide this outdoor snap frame with an allen wretch for convenience. We provide this outdoor snap frame with wall mounting accessories; 4 screws & 4 pegs.
This Frame that is weather resistant can be mounted in landscape or portrait position.
Aluminium weatherproof poster frames are great announcement signs for outdoors restaurants, schools, hotels, business offices to display announcements, deals, sales, notices, messages, menus, rules and directions. They fit in different business environments and appropriate for all industries.
This frame is tested and approved IP55 for outdoor use.
Weatherproof Frame 35mm Product Specifications
MATERIAL : Silver anodised aluminium PROFILE : 35 mm 450
WEIGHT
PACKING SIZE
ARTICLE
EXTERNAL (x-y)
POSTER
COPY
WITH PACKING
*W X H X D
UCH355N0A4
276 X 363 mm
210 X 297 mm
206 X 293 mm
0,730 kg
280 X 365 X 23 mm
UCH355N0A3
363 X 486 mm
297 X 420 mm
293 X 416 mm
1,105 kg
365 X 490 X 23 mm
UCH355N0A2
486 X 660 mm
420 X 594 mm
416 X 590 mm
1,750 kg
490 X 670 X 23 mm
UCH355N0A1
660 X 907 mm
594 X 841 mm
590 X 837 mm
2,990 kg
670 X 920 X 23 mm
UCH355N0A0
907 X 1255 mm
841 X 1189 mm
837 X 1185 mm
5,820 kg
920 X 1270 X 23 mm
UCH355N0B2
566 X 766 mm
500 X 700 mm
496 X 696 mm
2,330 kg
572 X 780 X 23 mm
UCH355N0B1
766 X 1066 mm
700 X 1000 mm
696 X 996 mm
4,000 kg
780 X 1072 X 23 mm
UCH355N0B0
1066 X 1466 mm
100 X 1400 mm
996 X 1396 mm
7,240 kg
1072 X 1480 X 23 mm
UCH355N023
574 X 828 mm
508 X 762 mm
504 X 758 mm
2,560 kg
580 X 834 X 23 mm
UCH355N034
828 X 1082 mm
762 X 1016 mm
758 X 1012 mm
4,350 kg
834 X 1088 X 23 mm
UCH355N046
1082 X 1590 mm
1016 X 1524 mm
1012 X 1520 mm
8,000 kg
1088 X 1600 X 23 mm
* W:Width H: Height D: Depth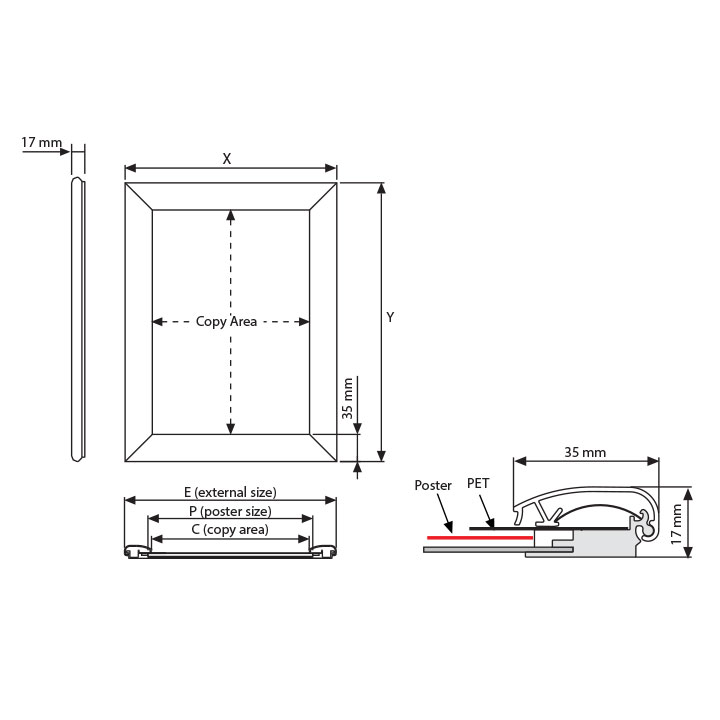 Weatherproof Frame 35mm Product Print Templates
Weatherproof Frame 35mm Product Assembly Sheets
Weatherproof Frame 35mm Product Certificates & Warranty