Window Sign
• Plastic injected solutions provides
• Easy usage and often message changing
• Anti-glare poster cover sheet.
• Available in black and gray color
• For double sided printed posters or
2 posters printed in 1 side
• Patented product (OHIM DM/084 128)
COLOR OPTION
SIZES
A4 (210 X 297 mm)
Window Sign Product Description
Plastic injected Window Sign is a practical solution for places where messages changes very often. It is suitable for posters printed double sided or 2 posters printed in single sided. Matching decorative profiles complete the view from outside the windows.
Magnets help locking the frame. It's very easy to use, complete with adhesive tape for fixing on the window. Please clean the surface before applying the double side for better application.
Available in Black and Grey as standard with anti-glare poster cover sheet.
Suitable for only A4 size posters. Recommended for use in hotels, offices, banks, restaurants and more.
Window Sign Product Specifications
MATERIAL : Plastic injected
WEIGHT
PACKING SIZE
ARTICLE
EXTERNAL (x-y)
POSTER
DESCRIPTION
WITH PACKING
*W X H X D
UCWP10B0A4
235 X 324 mm
210 X 297 mm
Magnetic / RAL 9005
3,500 kg
250X 350 X 21 mm
UCWP10N0A4
235 X 324 mm
210 X 297 mm
Magnetic / RAL 9006
3,500 kg
250X 350 X 21 mm
* W:Width H: Height D: Depth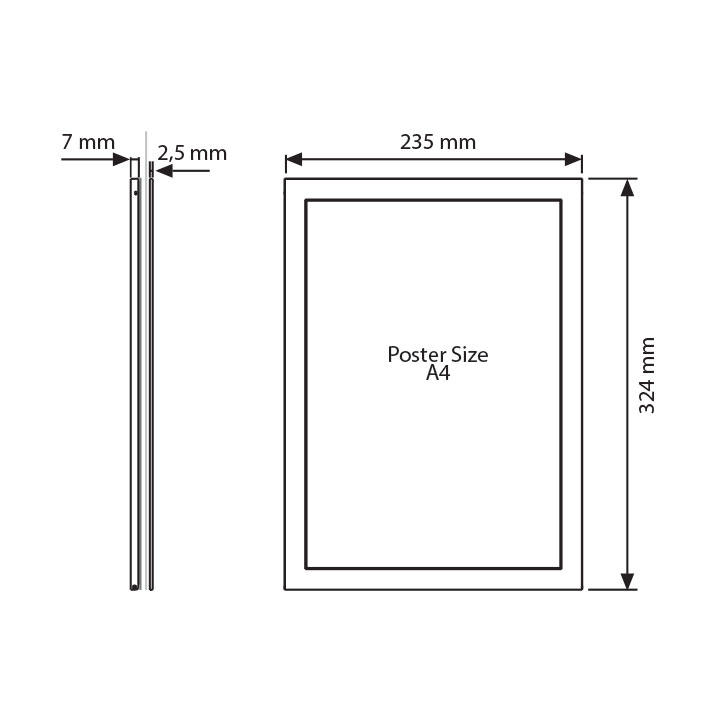 Window Sign Product Print Templates
Window Sign Product Assembly Sheets
Window Sign Product Certificates & Warranty