WindPro Lite
WindPro Lite is heavy and robust waterbase pavement sign for outdoor. It consists of 2 main articles: frame and the base. No sharp edges and has steel springs for flexibility. Poster use is double sided.
• for optional header use, header enabled frames must be ordered.
ACCESORIES
COLOR OPTION
SIZES
22″ X 28″ (559 X 711 mm), 24″ X 36″ (610 X 914 mm), 28″ X 44″ (711 X 1117 mm), 30″ X 40″ (762 X 1016 mm), A0 ( 841 X 1189 mm), A1 (594 X 841 mm), B1 (700 X 1000 mm)
PATENT
PCT/EP2018/060515
WindPro Lite Product Description
In case SwingPro and WindPro is required with a "HEADER" option, then the standard frames cannot be used. Please contact our sales department for the frames suitable for use with header.
WindPro Lite Accessories
WindPro Lite Product Specifications
FRAME : Silver anodised aluminium
WEIGHT
PACKING SIZE
SILVER
BLACK
EXTERNAL (x-y)
POSTER
COPY
WITH PACKING
*W X H X D
USWPL00NA1
USWPL00BA1
632 X 879 mm
594 X 841 mm
568 X 815 mm
6,385 kg
680 X 1140 X 35 mm
USWPL00NA0
USWPL00BA0
879 X 1227 mm
841 X 1189 mm
815 X 1163 mm
9,000 kg
925 X 1490 X 35 mm
USWPL00NB1
USWPL00BB1
738 X 1038 mm
700 X 1000 mm
674 X 974 mm
8,115 kg
785 X 1300 X 35 mm
USWPL00NB2
USWPL00BB2
538 X 738 mm
500 X 700 mm
474 X 674 mm
5,050 kg
585 X 1000 X 35 mm
USWPL00N22
USWPL00B22
597 X 749 mm
559 X 711 mm
533 X 685 mm
5,450 kg
645 X 1010 X 35 mm
USWPL00N24
USWPL00B24
648 X 953 mm
610 X 915 mm
584 X 889 mm
6,540 kg
690 X 1215 X 35 mm
USWPL00N34
USWPL00B34
800 X 1054 mm
762 X 1016 mm
736 X 1042 mm
8,500 kg
845 X 1315 X 35 mm
USWPL00N84
USWPL00B84
749 X 1155 mm
711 X 1117 mm
685 X 1091 mm
9,000 kg
795 X 1415 X 35 mm
NEWTECH WATERBASE : HLDPE
WEIGHT
PACKING SIZE
SILVER
BLACK
SIZE
FOR
H
W
D
WITH PACKING
*W X H X D
UTWM003000
UTWM003010
720 X 530 mm
22" X 28"
999 mm
720 mm
530 mm
4,480 kg
555 X 750 X 178 mm
24" X 36"
1203 mm
720 mm
530 mm
A1
1129 mm
720 mm
530 mm
B2
988 mm
720 mm
530 mm
UTWM004000
UTWM004010
900 X 630 mm
28" X 44"
1405 mm
900 mm
630 mm
6,850 kg
605 X 930 X 178 mm
30" X 40"
1304 mm
900 mm
630 mm
B1
1288 mm
900 mm
630 mm
A0
1477 mm
900 mm
630 mm
* W:Width H: Height D: Depth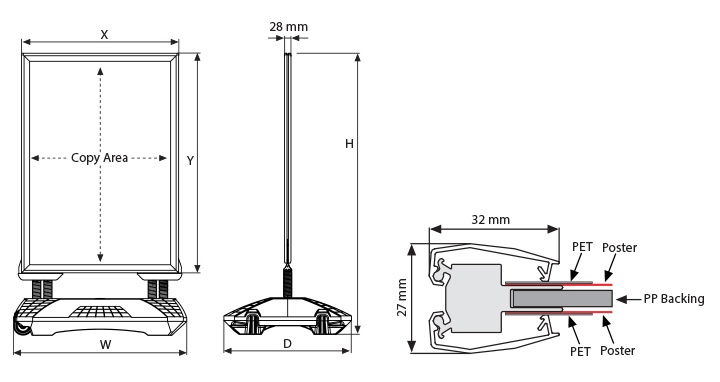 WindPro Lite Product Print Templates
WindPro Lite Assembly Sheets
WindPro Lite Product Certificates & Warranty