Wood Magazine Rack for Wall
Made of beech wood.
Suitable for wall mounting.
Lacquered finish is applied.
Designed to store and organize magazines, catalogs, flyers and information packages in one convenient location.
Clear PET G pockets are transparent and provide a full view of flyers or brochures stored in.
Clear PET G pockets are in A4 size.
 1 X 5 A4, 2 X 5 A4, 3 X 5 A4, 4 X 5 A4 sizes are available.
Dark wood and natural wood options are available.
COLOR OPTION
SIZES
1 X 5 A4, 2 X 5 A4, 3 X 5 A4, 4 X 5 A4
Wood Magazine Rack for Wall Product Specifications
MATERIAL : Beech wood
WEIGHT
PACKING SIZE
ARTICLE
POSTER SIZE
CAPACITY
DESCRIPTION
X
Y
H
WITH PACKING
*W X H X D
UWMRWN15A4
5 X A4
1 X 5 A4
Natural Wood
265 mm
75 mm
966 mm
3,800 kg
290 X 1050 X 90 mm
UWMRWN25A4
10 X A4
2 X 5 A4
Natural Wood
520 mm
75 mm
966 mm
6,500 kg
540 X 1050 X 90 mm
UWMRWN35A4
15 X A4
3 X 5 A4
Natural Wood
775 mm
75 mm
966 mm
10,400 kg
800 X 1050 X 90 mm
UWMRWN45A4
20 X A4
4 X 5 A4
Natural Wood
1020 mm
75 mm
966 mm
12,000 kg
1055 X 1050 X 90 mm
UWMRWD15A4
5 X A4
1 X 5 A4
Dark Wood
265 mm
75 mm
966 mm
3,800 kg
290 X 1050 X 90 mm
UWMRWD25A4
10 X A4
2 X 5 A4
Dark Wood
520 mm
75 mm
966 mm
6,500 kg
540 X 1050 X 90 mm
UWMRWD35A4
15 X A4
3 X 5 A4
Dark Wood
775 mm
75 mm
966 mm
10,400 kg
800 X 1050 X 90 mm
UWMRWD45A4
20 X A4
4 X 5 A4
Dark Wood
1020 mm
75 mm
966 mm
12,000 kg
1055 X 1050 X 90 mm
* W:WidthH: HeightD: Depth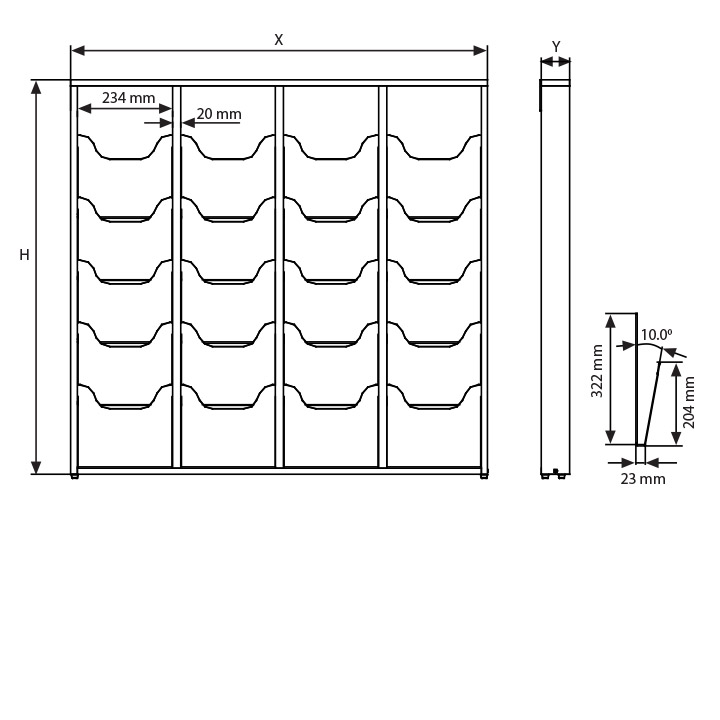 Wood Magazine Rack for Wall Assembly Sheets
Wood Magazine Rack for Wall Product Certificates & Warranty