AcryLed for Wall Mounting
• Slim and clear edge lit acryled has A4, A3
and A2 poster sizes.
• Black and silver color.
• Easy to change the poster.
• Available for indoor use with square,
circle and ellipse shapes.
COLOR OPTION
SIZES
700 X 350 mm, A1 (594 X 841 mm), A2 (420 X 594 mm), A3 (297 X 420 mm), A4 (210 X 297 mm), Ø446 mm
AcryLed for Wall Mounting Product Description
AcryLed for Wall Mounting
These acrylic LED light boards assure highest visual impact during the day and night. With a slim depth, these low profile edge-lit menu signs are great alternatives to neon lighted displays or other light boxes. They provide significant energy savings to meet your budgets as they operate on a low wattage using less power than other light boxes. Furthermore, they do not get heated like other illuminated displays.
These lighted displays holding 591 x 841 mm sheets are excellent for restaurants to boost the traffic of passer-by with its so noticeable illumination. Posters can be altered with a simple update system that only needs to unscrew the standoff fixtures. Then simply insert your new advertisement. Duratrans printing is recommended yet posters can be printed on an office computer. Poster is placed between the specially treated acrylic & cover acrylic sheet & fixed in position by two clear clips on two short sides. Products are available with two frame colors, silver & black.
These illuminated edge-lit menu signs are mounted close to the wall with screws and anchors that are already included. They consist of two acrylic boards that are mounted together using (4) standoffs.
Our edge-lit restaurant sign can be mounted landscape or portrait on the wall.
These bright LED edge-lit image holders offer uniform luminosity day and night. Enhance audience reach with eye-catching and memorable acrylic edge-lit menu signs.
All units pass CE/UL PAT test and are supplied with their quality certificates.
If you wish to use your LED frame 24 hours in 7 days, please ask for special 7/24 power supplies.
AcryLed for Wall Mounting Product Specifications
MATERIAL : Treated illuminated acrylic
WEIGHT
PACKING SIZE
ARTICLE
EXTERNAL (x-y)
POSTER
COPY
DESCRIPTION
WITH PACKING
*W X H X D
UACL0N00A4
323 X 410 mm
210 X 297 mm
194 X 281 mm
Square – Silver
2,500 kg
370 X 530 X 75 mm
UACL0N00A3
410 X 533 mm
297 X 420 mm
281 X 404 mm
Square – Silver
3,480 kg
460 X 650 X 75 mm
UACL0N00A2
533 X 707 mm
420 X 594 mm
404 X 578 mm
Square – Silver
5,400 kg
580 X 830 X 75 mm
UACL0N00A1
707 X 954 mm
594 X 841 mm
578 X 825 mm
Square – Silver
11,000 kg
680 X 1000 X 850 mm
UACL0B00A4
323 X 410 mm
210 X 297 mm
194 X 281 mm
Square – Black
2,500 kg
370 X 530 X 75 mm
UACL0B00A3
410 X 533 mm
297 X 420 mm
281 X 404 mm
Square – Black
3,480 kg
460 X 650 X 75 mm
UACL0B00A2
533 X 707 mm
420 X 594 mm
404 X 578 mm
Square – Black
5,400 kg
580 X 830 X 75 mm
UACL0B00A1
707 X 954 mm
594 X 841 mm
578 X 825 mm
Square – Black
11,000 kg
680 X 1000 X 850 mm
UACLYN0000
Ø580 mm
Ø 446
Ø 430
Circle – Silver
5,500 kg
630 X 700 X 75 mm
UACLYB0000
Ø580 mm
Ø 446
Ø 430
Circle – Black
5,500 kg
630 X 700 X 75 mm
UACLEN0000
820 X 470 mm
700 X 350 mm
684 X 334 mm
Eliptical – Silver
6,500 kg
520 X 930 X 75 mm
UACLEB0000
820 X 470 mm
700 X 350 mm
684 X 334 mm
Eliptical – Black
6,500 kg
520 X 930 X 75 mm
* W:Width H: Height D: Depth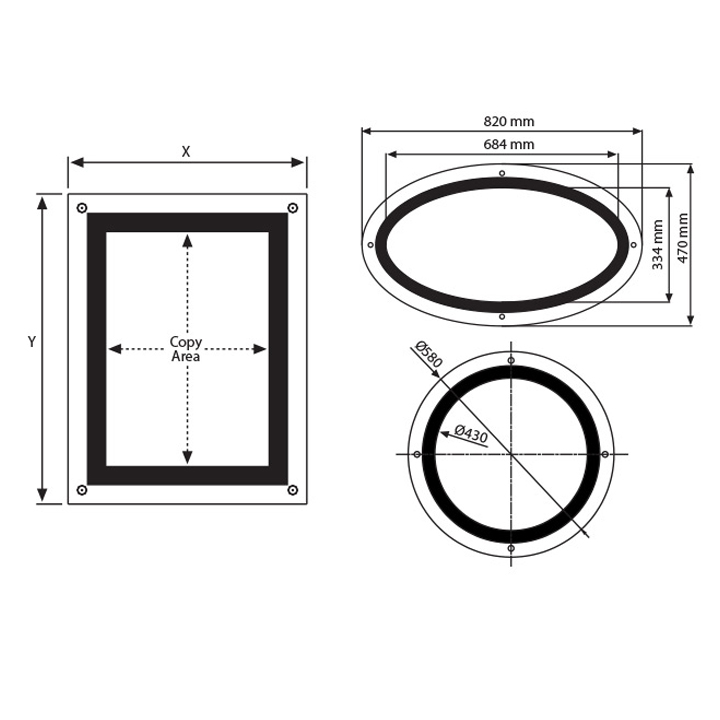 AcryLed for Wall Mounting Product Print Templates
AcryLed for Wall Mounting Assembly Sheets
AcryLed for Wall Mounting Product Certificates & Warranty