Counter Slide-in Frame
• Easy poster changing by ''peel & stick'' fixing.
• Comes with 2 PET covers.
• Landscape position.
• Suitable for outdoor conditions.
• Sealing rubber is free of charge.
COLOR OPTION
SIZES
A3 (297 X 420 mm), A4 (210 X 297 mm), A5 (148 X 210 mm)
Counter Slide-in Frame Product Description
Counter Slide-in Frame
The aluminium Counter Slide-in Frame is a printing support at reasonable prices for various applications. These high-quality aluminium slides can hold printed paper and are available in different sizes. These sliding signs are long lasting and less expensive than conventional snap frames. They offer a silver finish with 15mm profile, a high-quality profile and solid plastic panels that the posters are positioned elegantly in landscape position and suitable for outdoor conditions . Available sizes are A3, A4 and A5.The printed poster is inserted only on one side simply by sliding the panels outwards and positioning the chart. Changing the poster is quite simple by peel & stick fixing.
The aluminium slides in the frames are excellent advertising signs for restaurants, schools, halls, meeting rooms, gas stations, public areas to publish various messages, offers, notices, sales or menus. They adapt to different business environments and are suitable for all sectors where traffic is open to public spaces.
Counter Slide-in Frame Product Specifications
MATERIAL : Silver anodised aluminium
WEIGHT
PACKING SIZE
ARTICLE
EXTERNAL (x-y)
POSTER
COPY
WITH PACKING
*W X H X D
UCA255N2A5
224 X 167 mm
210 X 148 mm
174 X 112 mm
0,652 kg
190 X 270 X 65 mm
UCA255N2A4
311 X 229 mm
297 X 210 mm
261 X 174 mm
0,862 kg
260 X 360 X 65 mm
UCA255N2A3
434 X 316 mm
420 X 297 mm
384 X 261mm
1,204 kg
340 X 470 X 65 mm
* W:Width H: Height D: Depth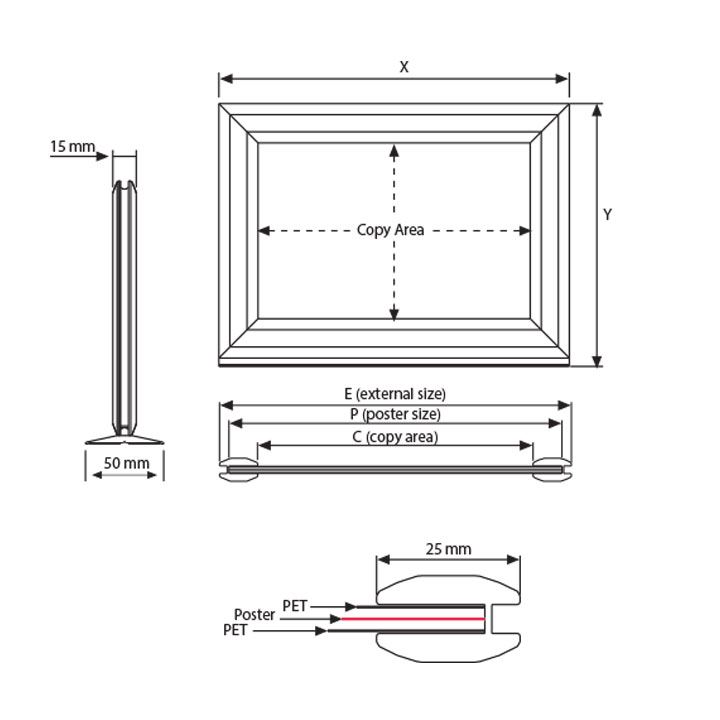 Counter Slide-in Frame Product Print Templates
Counter Slide-in Frame Product Assembly Sheets
Counter Slide-in Frame Product Certificates & Warranty