Double Sided Tower Stand
• Double sided brochure stand is suitable for use indoor.
• Two curved modules placed back to back provides
space for more brochure holders.
• Holes on the stand allows personalization of
brochure placement.
• A4-A5-A6-A1/3A4 brochure holders are available.
• stable with its heavy base and design.
ACCESORIES
COLOR OPTION
SIZES
A4 (210 X 297 mm), A5 (148 X 210 mm), A6 (105 X 148 mm)
Double Sided Tower Stand Accessories
Double Sided Tower Stand Product Specifications
MATERIAL : Steel
WEIGHT
PACKING SIZE
ARTICLE
A-B
COLOUR
WITH PACKING
W X H X D
USTDS0G265
265 X 360 mm
Gray
15,500 kg
340 X 1650 X 50 / 390 X 430 X 115 mm
USTDS0B265
265 X 360 mm
Black
15,500 kg
340 X 1650 X 50 / 390 X 430 X 115 mm
USTDS0G460
460 X 555 mm
Gray
25,000 kg
540 X 1650 X 50 / 430 X 590 X 115 mm
USTDS0B460
460 X 555 mm
Black
25, 000 kg
540 X 1650 X 50 / 430 X 590 X 115 mm
* W:Width H: Height D: Depth
SHELF : Steel
ARTICLE
POSTER
DESCRIPTION
COLOUR
UYPTSG00A4
210 X 297 mm
A4
Gray
UYPTSB00A4
210 X 297 mm
A4
Black
UYPTSG00A5
148 X 210 mm
A5
Gray
UYPTSB00A5
148 X 210 mm
A5
Black
UYPTSG00A6
105 X 148 mm
A6
Gray
UYPTSB00A6
105 X 148 mm
A6
Black
UYPTSG0A43
99 X 210 mm
1/3 A4
Gray
UYPTSB0A43
99 X 210 mm
1/3 A4
Black
UYPTSG0015
183 X 24 mm
Hook
Gray
UYPTSB0015
183 X 24 mm
Hook
Black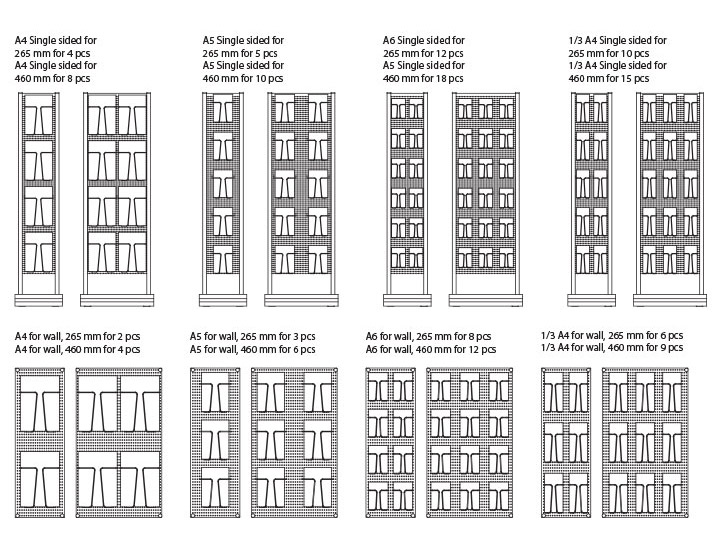 Double Sided Tower Stand Product Certificates & Warranty