Eco Roller
• Rolling cylinder casette provides easyly to
place the poster.
• Maximum poster height is 2000 mm.
• The Rolling cylinder can be set up for required tightness.
SIZES
1000 X 2000 mm, 800 X 2000 mm,
Eco Roller Product Description
Eco Roll banner Stands
In any advertisement, the timeframe you have to make an impression on your audience is limited to seconds. Eco Roll Banners provide you the effective impression for a reasonable price for indoor advertising. Your message appeals well to its audience in a proper way thanks to the high quality wide range including retractable banners and models with clamp mechanism. The roll up banner stand is produced from silver anodized aluminum making the banner stand designs sleek and elegant. For storage and transportation the retractable banner automatically rolls the poster into the base. Each of these retractable banner stands comes with a textile bag for easy transportation.
Please remember these are eco roll up banner stands without custom graphics and you have to have your tailor-made graphics printed at a nearby print shop.
Remember, the height of this value for money retractable roll up banner is fixed and graphic can be attached inhouse with the help of the clamp on the rails.
Experience the effective, affordable and fastest advertising with the eco roll up banners stands, which also provides you various width options of roll up banner size to fit your graphic requirements.
Provided without graphics
Optional carry bag 
Eco Roller Product Specifications
MATERIAL : Silver anodised aluminium
WEIGHT
PACKING SIZE
ARTICLE
POSTER
COPY
X
WITH PACKING
*W X H X D
URBET00N82
800 X 2000m
800 X 1970 mm
820 mm
2,460 kg
110 X 860 X 110 mm
URBET00N12
1000 X 2000 mm
1000 X 1970 mm
1020mm
2,900 kg
110 X 1060 X 110 mm
* W:Width H: Height D: Depth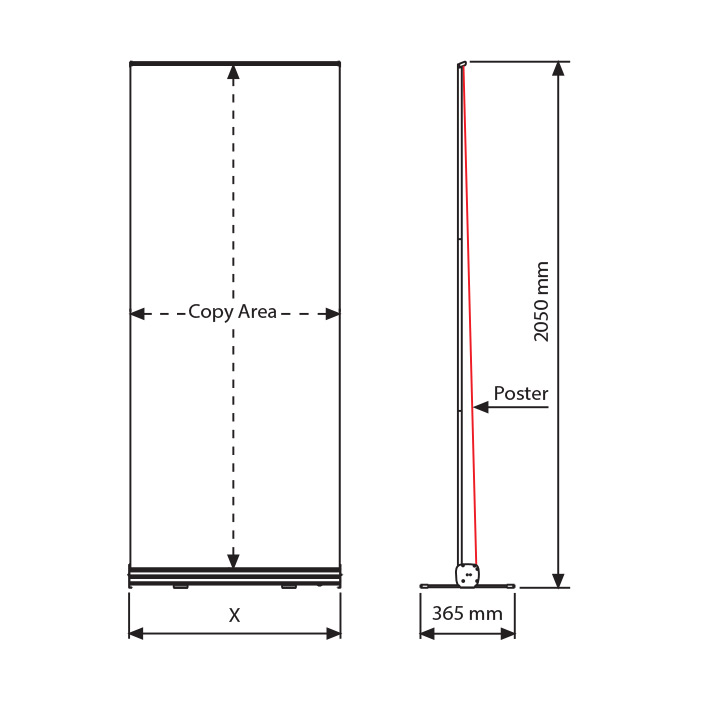 Eco Roller Product Print Templates
Eco Roller Assembly Sheets
Eco Roller Product Certificates & Warranty