Floor Stand for Healthcare Dispensers in Box
• The Floor Stand for Healthcare dispenser is designed
to hold personal protection equipment boxes such as
disposable glove, face mask, alcohol wet wipes or
tissue easily.
• Dispenser size is adaptable for various box sizes available
in the market. Max width of the box is 15 cm and min width
of the box is 9 cm, that can be placed on the box
dispenser. Any length of the box is available as long as
the max weight of the box does not exceed 2 kg.
• Dispenser's position at height is also adjustable on the
pole, moving up and down the channel of the aluminium
post.
• If required an additional box dispenser can be added,
allowing the stand to offer two dispensers at the same
time.
• The boxes are mounted with 2 pcs of very tight weather-
resistan velcro tape, which is replaceable if need be.
The length of each velcro tape is 50 cm, and allows
different box depths to be placed on the dispenser.
When box is at max 15 cm width, the max depth of
the box is 10 cm that can be placed in the dispenser.
• The station is suitable for use in high traffic areas such as
supermarkets, pharmacies, banks, factories, construction
sites, apartments and many more.

Floor Stand for Healthcare Dispensers in Box Product Description
100% Made in Turkey by M&T Displays.
Refilling is easy for maintenance staff, there is no lock for maintenance access.
Easy to assemble: only 3 main parts.
Strong aluminum material suitable for indoor and outdoor.
Supports different brands of all kind of disposable glove and tissue boxes etc (boxes not included).
Floor Stand for Healthcare Dispensers in Box Product Specifications
MATERIAL : Silver anodised aluminium
WEIGHT
PACKING SIZE
ARTICLE
DESCRIPTION
WITH PACKING
*W X H X D
USSFSNB001
Floor Stand For Healtcare Dispensers in Box
8,150 kg
410 X 700 X 90 mm
USSFSNB002
Floor Stand For Healtcare Dispensers in Box with A3 Opti Frame
9,650 kg
410 X 820 X 95 mm
USSFSNB003
Floor Stand For Healtcare Dispensers in Box with 11"x17" Opti Frame
9,650 kg
410 X 820 X 95 mm
UYPFSBN000
Additional Floor Stand For Box Dispenser Bracket
0,650 kg
150 X 290 X 75 mm
* W:WidthH: HeightD: Depth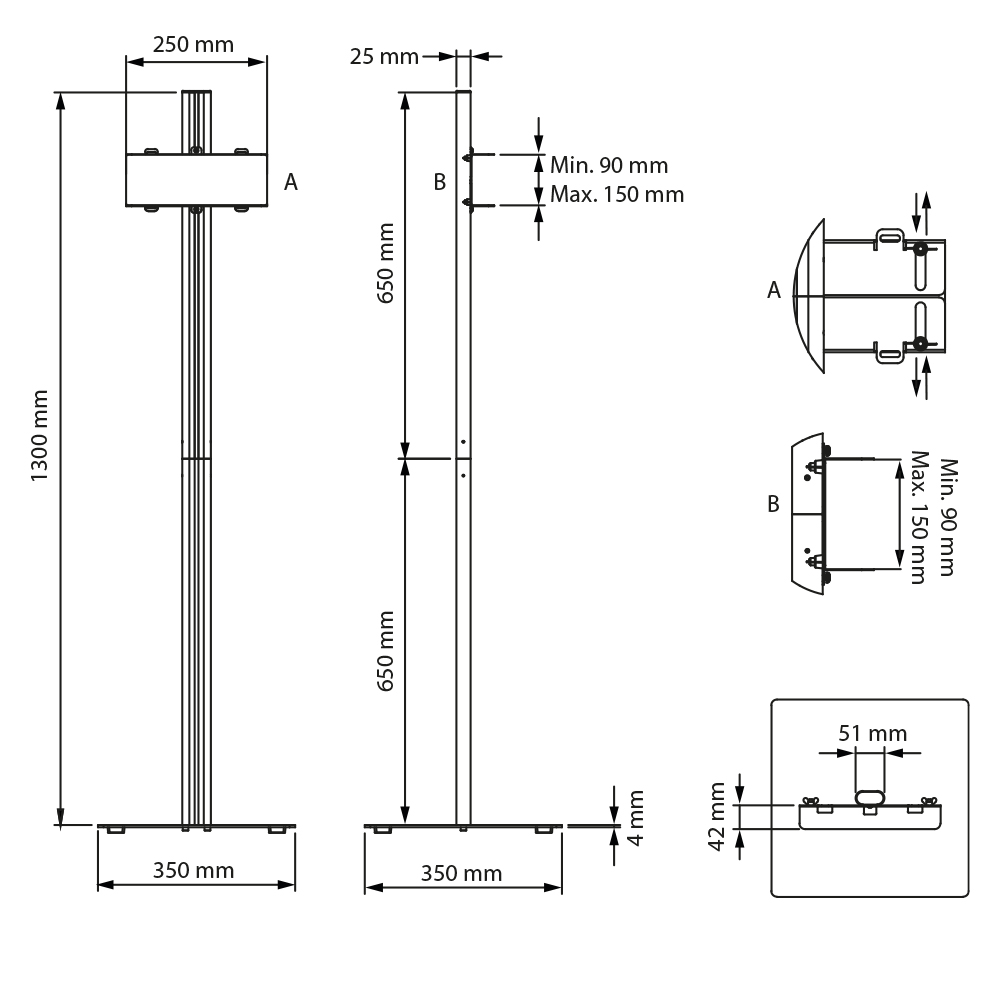 Floor Stand for Healthcare Dispensers in Box Assembly Sheets
Floor Stand for Healthcare Dispensers in Box Product Certificates & Warranty