Foldable Protective Screen With Adhesive Tape
• Portable and clear sneeze guard.
• Made of 1,5mm clear PET with rounded edges for safety.
• The soft hinges allow adjusting the angles of sides.
• 2 sizes available:
– Large: 800 mm (W) x 600 mm (H) and sides are 400mm each.
– Small: 400 mm (W) x 500 mm (H) and sides are 250mm each.
• Equipped with and without document slot and cable outlet.
• Shipped with protective film on both sides.
• Easy to clean. Clean with substances that contain alcohol.
• Flat packed. Packed in 1 box.
• Custom sizes available.

ACCESORIES
SIZES
400 X 500 mm, 800 X 600 mm,
Foldable Protective Screen With Adhesive Tape Accessories
Foldable Protective Screen With Adhesive Tape Product Specifications
MATERIAL : Silver anodised aluminium & PET
WEIGHT
PACKING SIZE
ARTICLE
SIZE (x-y-d)
DESCRIPTION
WITH PACKING
*W X H X D
UHFPS01500
500 X 400 X 250 mm
Without Slot, with tape
1,340 kg
550 X 430 X 40 mm
UHFPS01800
800 X 600 X 400 mm
Without Slot, with tape
3,100 kg
850 X 630 X 40 mm
UHFPS11500
500 X 400 X 250 mm
With Slot, with tape
1,310 kg
550 X 430 X 40 mm
UHFPS11800
800 X 600 X 400 mm
With Slot, with tape
3,070 kg
850 X 630 X 40 mm
UHFPS21800
800 X 600 X 400 mm
With Cable Outlet, with tape
3,050 kg
850 X 630 X 40 mm
* W:Width H: Height D: Depth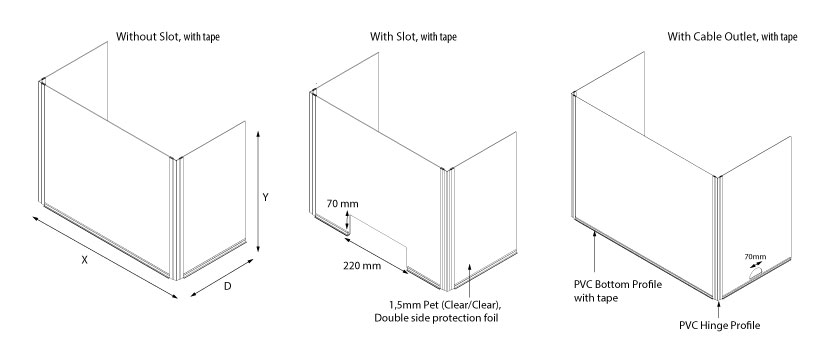 Foldable Protective Screen With Adhesive Tape Product Certificates & Warranty