Lockable Snap Frame
• Secured with allen key
• One allen key supplied per frame.
• One allen key locks one side of frame
and interlocks 3 sides.
• Anti-glare poster cover sheet.
ACCESORIES
COLOR OPTION
SIZES
20″ X 30″ (508 X 762 mm), 30″ X 40″ (762 X 1016 mm), 40″ X 60″ (1016 X 1524 mm), A0 ( 841 X 1189 mm), A1 (594 X 841 mm), A2 (420 X 594 mm), A3 (297 X 420 mm), A4 (210 X 297 mm), B0 ( 1000 X 1414 mm), B1 (700 X 1000 mm), B2 (500 X 700 mm)
Lockable Snap Frame Product Description
This silver front loading lockable snap frame is a great way promote your products, services, announcements and notices.
The lockable poster frame is simple to use with flip open sides. All you need to do is unlock the frame with the special allen key that is included with the product and snap open all four sides. Then you can place your printed poster and the plastic, clear non-glare cover over it and snap close. It only takes seconds to update your printed posters. Clear, plastic, non-glare cover prevents glare as well as keeps your poster away from dust and dirt.
Schools, museums, office buildings, hotel lobbies, restaurants are common places that this lockable poster frame can be used nice and safely.

Lockable Snap Frame Accessories
Lockable Snap Frame Product Specifications
MATERIAL : Silver anodised aluminium PROFILE : 32 mm 450
WEIGHT
PACKING SIZE
ARTICLE
EXTERNAL (x-y)
POSTER
COPY
WITH PACKING
*W X H X D
UCL325N0A4
253 X 340 mm
210 X 297 mm
190 X 277 mm
0,800 kg
260 X 360 X 31 mm
UCL325N0A3
340 X 463 mm
297 X 420 mm
277 X 400 mm
1,170 kg
360 X 480 X 31 mm
UCL325N0A2
463 X 637 mm
420 X 594 mm
400 X 574mm
1,680 kg
460 X 670 X 31 mm
UCL325N0A1
637 X 884 mm
594 X 841 mm
574 X 821 mm
3,100 kg
660 X 910 X 31 mm
UCL325N0A0
884 X 1232 mm
841 X 1189 mm
821 X 1169 mm
5,600 kg
910 X 1270 X 31 mm
UCL325N0B2
543 X 743 mm
500 X 700 mm
480 X 680 mm
2,600 kg
560 X 760 X 31 mm
UCL325N0B1
743 X 1043 mm
700 X 1000 mm
680 X 980 mm
3,800 kg
760 X 1060 X 31 mm
UCL325N0B0
1043 X 1443 mm
1000 X 1400 mm
980 X 1380 mm
6,120 kg
1060 X 1460 X 31 mm
UCL325N023
551 X 805 mm
508 X 762 mm
488 X 742 mm
3,150 kg
570 X 820 X 31 mm
UCL325N034
805 X 1059 mm
762 X 1016 mm
742 X 996 mm
4,000 kg
830 X 1080 X 31 mm
UCL325N046
1059 X 1567 mm
1016 X 1524 mm
996 X 1504 mm
7,100 kg
1070 X 1590 X 31 mm
* W:Width H: Height D: Depth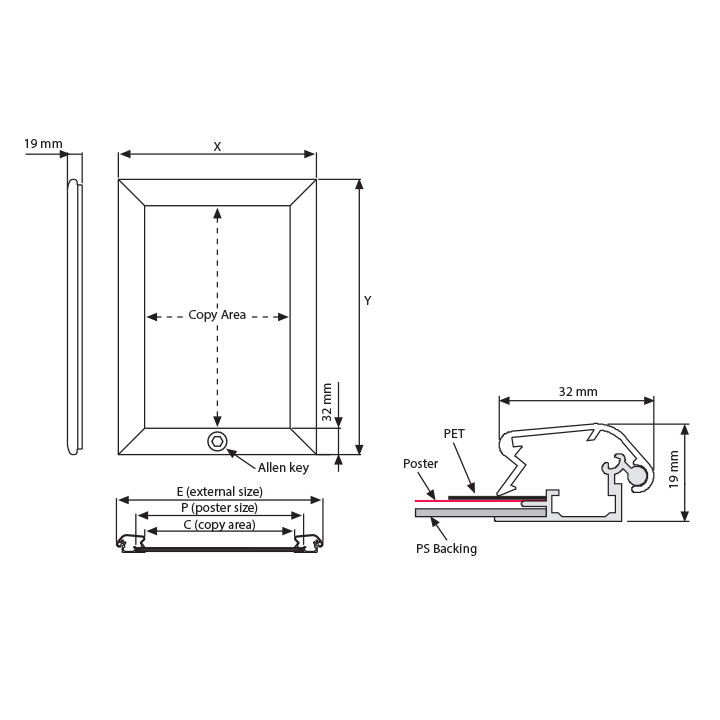 Lockable Snap Frame Product Print Templates
Lockable Snap Frame Assembly Sheets
Lockable Snap Frame Product Certificates & Warranty