Magneco LEDbox Double Sided
• Slim LEDbox frame.
• Practical magnetic protection cover.
• High and even illumination level.
• Hidden finger hole to take off the acrylic cover
to prevent public access to the poster.
• Has CE/UL PAT tests.
• Complete with 3,5 meter long cable and EU plug.
• UK and US plugs are available.
• Saves up to 60% energy costs.
COLOR OPTION
Magneco LEDbox Double Sided Product Description
Magneco LEDbox Double Sided
This illuminated frame, Magneco LED Box double sided have acrylic lens with magnets on to hold your image in place. For changing out your graphics, simply lift the lens insert your poster and place the lens back down where magnets securely hold it in place.
This illuminated sign, Magneco LED Box double sided uses a black border to frame the images. LED channels are embedded in the frame of this illuminated sign to provide an attractive eye catching effect for the advertising. This slim profile makes this unit a perfect fit for any decor.
These light box Display frame, illuminated frame that will actually save your budget in the long run. Each LED light box displays also a life over 60.000 hours when used 7-8 hours, 7 days per week.
For continuous use, 24 hour power supplies are available. Please mention with your order.
This illuminated frame is an affordable way to display movie posters, advertisement and translucent posters. In case of 24 hours use you can ask for the special power supply to purchase along with. Ready to use with suspension kit in 2m long which is also adjustable in landscape and portrait positions.
Magneco LEDbox Double Sided Product Specifications
MATERIAL : Silver anodised aluminium
WEIGHT
PACKING SIZE
SILVER
BLACK
EXTERNAL (x-y)
POSTER SIZE
COPY
LIGHTING
WITH PACKING
*W X H X D
ULDMENCBA4
ULDMEBCBA4
250 X 337 mm
210 X 297 mm
192 X 279 mm
2800-3000 LUX
1,770 kg
265 X 445 X 35 mm
ULDMENCBA3
ULDMEBCBA3
337 X 460 mm
297 X 420 mm
279 X 402 mm
2400-2600 LUX
2,850 kg
355 X 530 X 35 mm
ULDMENCBA2
ULDMEBCBA2
460 X 634 mm
420 X 594 mm
402 X 576 mm
2100-2300 LUX
4,750 kg
475 X 705 X 35 mm
ULDMENCBA1
ULDMEBCBA1
634 X 881 mm
594 X 841 mm
576 X 823 mm
1800-2000 LUX
9,250 kg
650 X 970 X 35 mm
ULDMENCBA0
ULDMEBCBA0
881 X 1229 mm
841 X 1189 mm
823 X 1171 mm
1200-1400 LUX
17,150 kg
895 X 1300 X 40 mm
ULDMENCBB2
ULDMEBCBB2
540 X 740 mm
500 X 700 mm
482 X 682 mm
2000-2200 LUX
6,250 kg
555 X 810 X 35 mm
ULDMENCBB1
ULDMEBCBB1
740 X 1040 mm
700 X 1000 mm
682 X 982 mm
1600-1800 LUX
12,380 kg
755 X 1100 X 35 mm
ULDMENCB17
ULDMEBCB17
320 X 472 mm
280 X 432 mm
262 X 414 mm
2400-2600 LUX
2,930 kg
340 X 540 X 35 mm
ULDMENCB22
ULDMEBCB22
599 X 752 mm
559 X 712 mm
541 X 694 mm
1900-2100 LUX
6,930 kg
620 X 820 X 35 mm
ULDMENCB23
ULDMEBCB23
548 X 802 mm
508 X 762 mm
590 X 744 mm
2000-2200 LUX
6,850 kg
565 X 870 X 40 mm
ULDMENCB24
ULDMEBCB24
650 X 955 mm
610 X 915 mm
592 X 897 mm
1800-2000 LUX
10,010 kg
670 X 1025 X 35 mm
ULDMENCB34
ULDMEBCB34
802 X 1056 mm
762 X 1016 mm
747 X 998 mm
1600-1800 LUX
13,600 kg
820 X 1125 X 35 mm
* W:Width H: Height D: Depth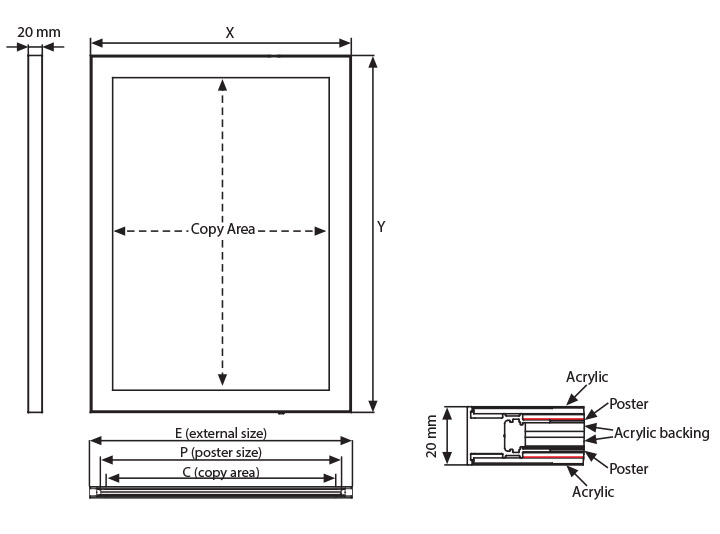 Magneco LEDbox Double Sided Product Print Templates
Magneco LEDbox Double Sided Product Assembly Sheets
Magneco LEDbox Double Sided Product Certificates & Warranty