Multi Purpose Clamp Kit
One clamp, two solutions
Removable Multi-purpose Clamp Kit provides a fast and tool-free way of creating a barrier in the front or middle of a table, desk, counter or cashier.

COLOR OPTION
Multi Purpose Clamp Kit Product Description
• It can be used to divide the tables from the middle.
• It can also be used to create a shied/screen in front of a cashier.
• Manufactured by steel and plastic material.
• Desk thickness from 6 mm to 40 mm.
• It can hold panels min. 2 mm and max. 8 mm.
• To avoid any damages to the desk, inside clamp is sported with
black soft pads (EVA) where it touches to the table.
• Easily removed and relocated. With two Multi-purpose Clamps, clamp position on the table or on panel is adjustable.
• It can be used to fix a range of rigid panels. Panel options: Clear or Frosted Acrylic and Wood.
• The panels can be moved easily and remounted.
• Multi-purpose Clamp Kit and Divider panels are suitable for a variety office styles, helping to reduce workplace disturbances and creating private workstations. Moreover it works well for restaurants, markets, cashiers, medical facilities, call centres and education and testing centres. No tools required to fix clamps and panels.
• 2 clamps are required to grip a panel.
• Packed in 2 pcs.
• Price per pack of 2 clamps.
Multi Purpose Clamp Kit Product Specifications
MATERIAL : Steel
WEIGHT
PACKING SIZE
ARTICLE
DESCRIPTION
WITH PACKING
*W X H X D
UHPC0G0000
Multi Purpose Clamp Kit (Pcs 2)
1,130 kg
110 X 130 X 120 mm
* W:WidthH: HeightD: Depth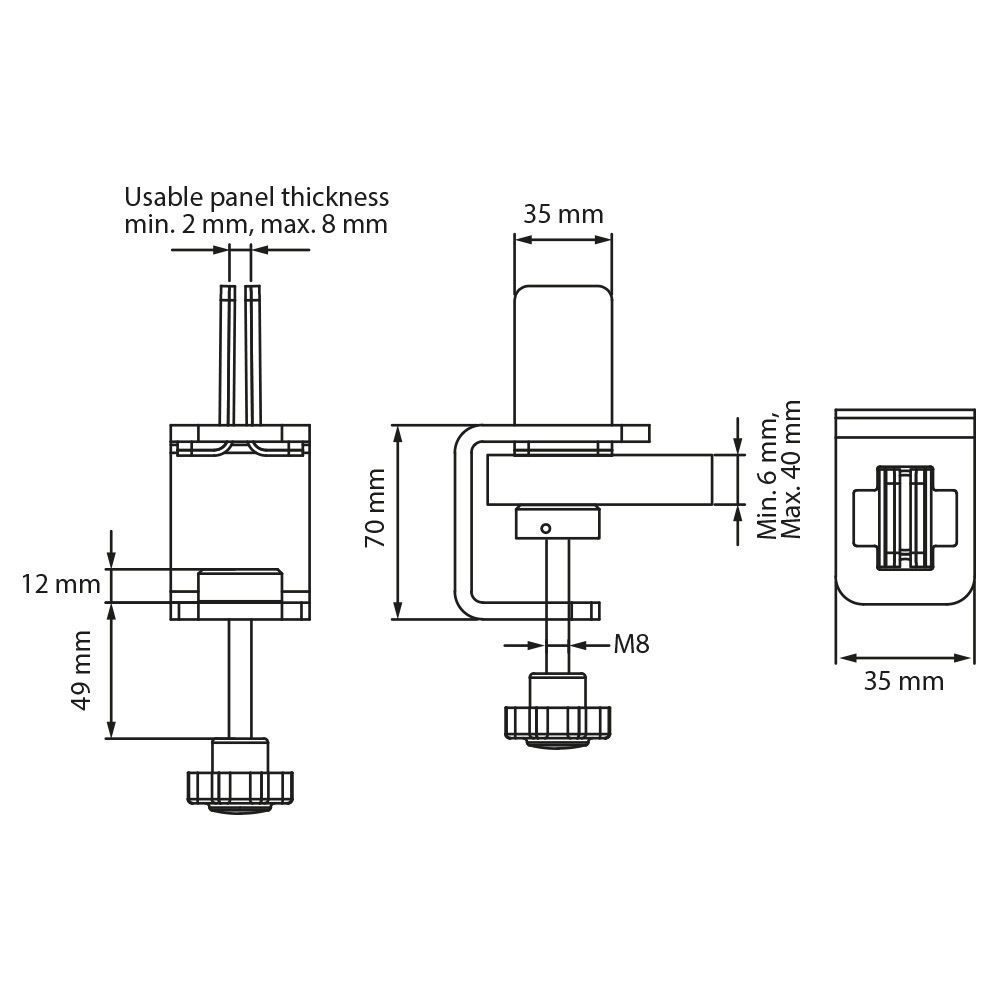 Multi Purpose Clamp Kit Product Assembly Sheets
Multi Purpose Clamp Kit Product Certificates & Warranty