Noticeboard with Led Light
• LED channels on the top and bottom profiles.
• 4xA4, 6xA4, 9xA4 and 12xA4 sizes are available.
• Suitable for outdoor use.
• Can be used in Portrait & Landscape positions.
• The profile width is 70 mm and the depth
of the case is 50 mm.
​• Max dimension 9XA4 .
SIZES
4 X A4 (210 X 297 mm), 6 X A4 (210 x 297 mm), 9 X A4 (210 x 297 mm)
Noticeboard with Led Light Product Specifications
MATERIAL : Silver anodised aluminium
WEIGHT
PACKING SIZE
CORK
EXTERNAL (x-y)
PAPER AREA
COPY
CAPACITY
WITH PACKING
*W X H X D
UNBN0L04A4
590 X 760 mm
483 X 653 mm
450 X 620 mm
4 X A4
8,500 kg
620 X 780 X 80 mm
UNBN0L06A4
590 X 1080 mm
483 X 973 mm
450 X 940 mm
6 X A4
11,250 kg
620 X 1100 X 80 mm
UNBN0L09A4
820 X 1080 mm
713 X 973 mm
680 X 940 mm
9 X A4
14,600 kg
850 X 1100 X 80 mm
MATERIAL : Silver anodised aluminium
WEIGHT
PACKING SIZE
MAGNETIC
EXTERNAL (x-y)
PAPER AREA
COPY
CAPACITY
WITH PACKING
*W X H X D
UNBN1L04A4
590 X 760 mm
483 X 653 mm
450 X 620 mm
4 X A4
9,750 kg
620 X 780 X 80 mm
UNBN1L06A4
590 X 1080 mm
483 X 973 mm
450 X 940 mm
6 X A4
13,340 kg
620 X 1100 X 80 mm
UNBN1L09A4
820 X 1080 mm
713 X 973 mm
680 X 940 mm
9 X A4
17,600 kg
850 X 1100 X 80 mm
MATERIAL : Silver anodised aluminium
WEIGHT
PACKING SIZE
M&C
EXTERNAL (x-y)
PAPER AREA
COPY
CAPACITY
WITH PACKING
*W X H X D
UNBN2L04A4
590 X 760 mm
483 X 653 mm
450 X 620 mm
4 X A4
9,750 kg
620 X 780 X 80 mm
UNBN2L06A4
590 X 1080 mm
483 X 973 mm
450 X 940 mm
6 X A4
13,300 kg
620 X 1100 X 80 mm
UNBN2L09A4
820 X 1080 mm
713 X 973 mm
680 X 940 mm
9 X A4
17,600 kg
850 X 1100 X 80 mm
* W:Width H: Height D: Depth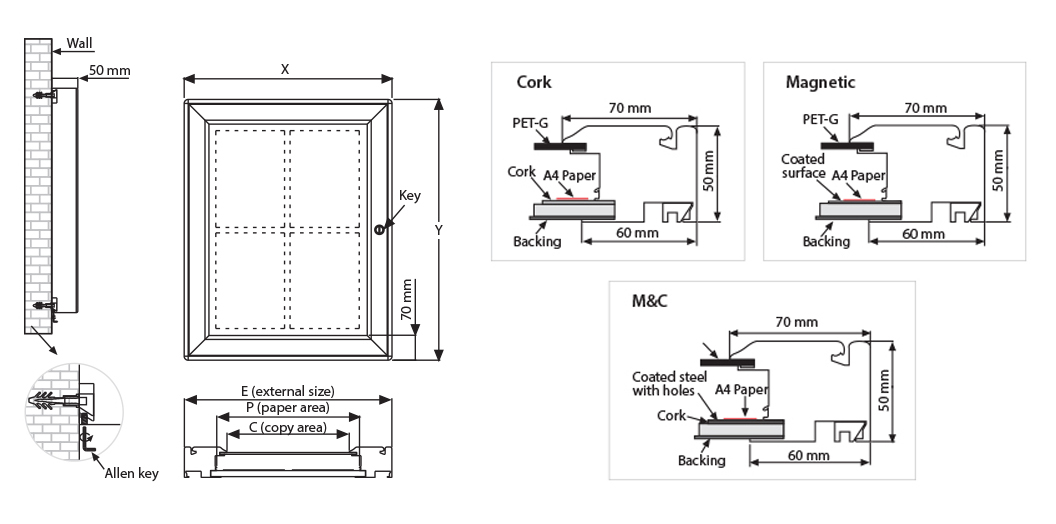 Noticeboard with Led Light Assembly Sheets
Noticeboard with Led Light Product Certificates & Warranty