Opti Frame 14 mm Wood Effect
• Wooden color backing and counter support.
• The front profiles have a wood effect finish and the
thickness is 14 mm.
• Eco-friendly.
• The product is protected worldwide by all
relevant patent applications.
• Anti-glare poster cover sheet.
*Lansdcape & Portrait positions on counter or wall.
COLOR OPTION
SIZES
A4 (210 X 297 mm), A6 (105 X 148 mm)
PATENT
Patent: PCT/TR06/000018 – WO 2007/126397 – EP 2016574 – DE 20 2006 020 145 – US 2009/211134 – AU 2006342800 – CN 101473363 – CA 2654307 – UA 2008 13893 – EA 200802174/26 – IN WO 2007/126397 – ZA 2008/09638 – TR 2007 05704 – OHIM 831235-0001,2,3,4
Opti Frame 14 mm Wood Effect Product Description
Opti Frame 14 mm Wood
Opti Frame is a new snap opening frame display product that brings a new dimension to snap open sign frames. As it is a multipurpose sign, it can be used as;
• photo frame,
• picture frame,
• graphic frame,
• wall sign,
• wall frame,
• door sign,
• office door sign,
• conference room sign
14mm / 0.55", wood effect color profile gives this aluminium office door sign a sleek and stylish look. It can be installed in either landscape or portrait position giving you the option for different arrangements. The backing is patterned plastic. Aluminum office door sign comes ready for wall mounting with 2 holes on both long sides. Wall hanging is also available with wall hanger holes; placed on one of short and long sides. It is also possible to use them on counters in both portrait and landscape positions with the easel feature available. Moreover, the easel has the same shade of front profiles for the integrity.
Slightly rounder mitred corners ensure maximum safety in public areas.Four frame edges can be flipped open for accessing to the poster area. First, pleace your 5" x 7" poster in the frame then the anti-glare plastic lens and snap shut the four edges. It is that simple. Changing the graphic with this aluminum office door sign is also easy, without having to take it off from the Wall.
This aluminum office door sign or as also can be cold as snap open frame will enhance the interior atmosphere of your business.
Sizes available A5, A6, 5"x7" and 8"x10".
Opti Frame 14 mm Wood Effect Product Specifications
MATERIAL : Wood Look Effect PROFILE : 14 mm 450
WEIGHT
PACKING SIZE
MITRED ARTICLE
EXTERNAL (x-y)
POSTER
COPY
DESCRIPTION
WITH PACKING
*W X H X D
UCP145W0A5
169 X 231 mm
148 X 210 mm
138 X 200 mm
Without support
0,250 kg
185 X 250 X 24 mm
UCP145W0A6
126 X 169 mm
105 X 148 mm
95 X 138 mm
Without support
0,140 kg
140 X 190 X 24 mm
UCP145W1A5
169 X 231 mm
148 X 210 mm
138 X 200 mm
With support
0,265 kg
185 X 250 X 24 mm
UCP145W1A6
126 X 169 mm
105 X 148 mm
95 X 138 mm
With support
0,155 kg
140 X 190 X 24,mm
* W:Width H: Height D: Depth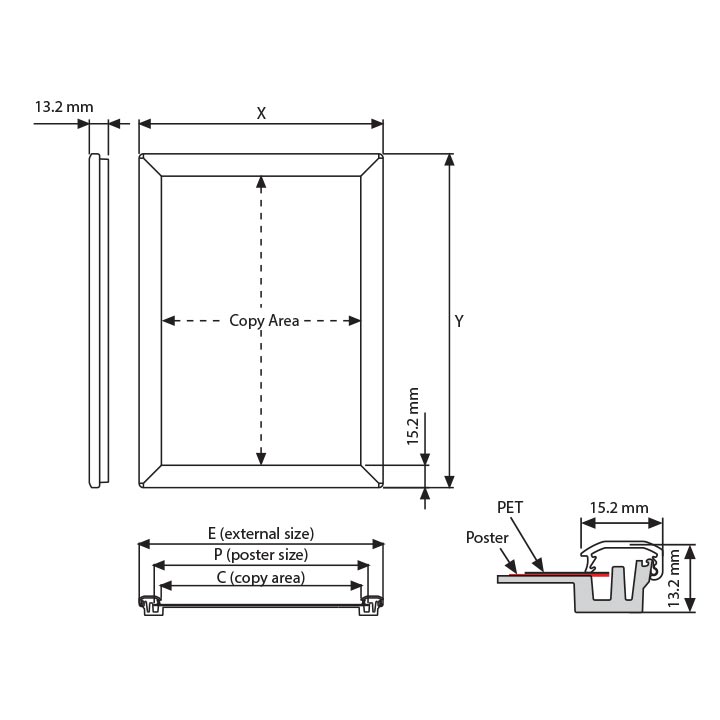 Opti Frame 14 mm Wood Effect Product Print Templates
Opti Frame 14 mm Wood Effect Assembly Sheets
Opti Frame 14 mm Wood Effect Product Certificates & Warranty