Opti Frame 25 Black
• Black color backing and counter support.
• The front profiles have black powder coating
RAL 9005 and the thickness is 25 mm.
• Eco-friendly.
• The product is protected worldwide by all
relevant patent applications.
• Anti-glare poster cover sheet.
*Lansdcape & Portrait positions on counter or wall.
COLOR OPTION
SIZES
5″x7″ (127 X 177,8 mm), A5 (148 X 210 mm), A6 (105 X 148 mm)
PATENT
Patent: PCT/TR06/000018 – WO 2007/126397 – EP 2016574 – DE 20 2006 020 145 – US 2009/211134 – AU 2006342800 – CN 101473363 – CA 2654307 – UA 2008 13893 – EA 200802174/26 – IN WO 2007/126397 – ZA 2008/09638 – TR 2007 05704 – OHIM 831235-0001,2,3,4
Opti Frame 25 Black Product Description
Opti Frame 25 Black
Another unique and worldwide patented product of MT Displays' large product range is Opti Frame. This quick clip sign frame is manufactured with injection moulding technology. The patterned plastic backer is a whole piece along with the corners. Once the backing is moulded, it is connected to black anodized, front profiles via flat springs.
Swapping your graphic is so easy that takes only a couple of minutes. Just snap open the front profiles and take out the plastic anti-glare protecting cover to have the access to the sign area.
Place A4 size graphic, then the plastic protecion and snap shut all the sides. You do not even take your frame off of the wall.
This quick clip frame has various environments to be used in, such as restaurants, business offices, elevators, schools, cafes, hotels, shops and stores and many others. It is also an alternative to high priced picture frames.
Black Opti Frame is available in A4, A5 and A6 dimensions with or without counter support.
Opti Frame 25 Black Product Specifications
MATERIAL : Black powder coated RAL 9005 PROFILE : 14 mm 450
WEIGHT
PACKING SIZE
MITRED ARTICLE
EXTERNAL (x-y)
POSTER
COPY
DESCRIPTION
WITH PACKING
*W X H X D
UCP255B0A4
241 X 328 mm
210 X 297 mm
191 X 278 mm
Without support
0,495 kg
250 X 350 X 24 mm
UCP255B1A4
241 X 328 mm
210 X 297 mm
191 X 278 mm
With support
0,520 kg
250 X 350 X 24 mm
UCP255B0A3
328 X 451 mm
297 X 420
278 X 401 mm
Without support
0.835 kg
350 X 460 X 24 mm
UCP255B122
589,9 X 742,2 mm
22" X 28"
539,8 X 692,2 mm
Without support
1.830 kg
60 X 750 X 24 mm
* W:Width H: Height D: Depth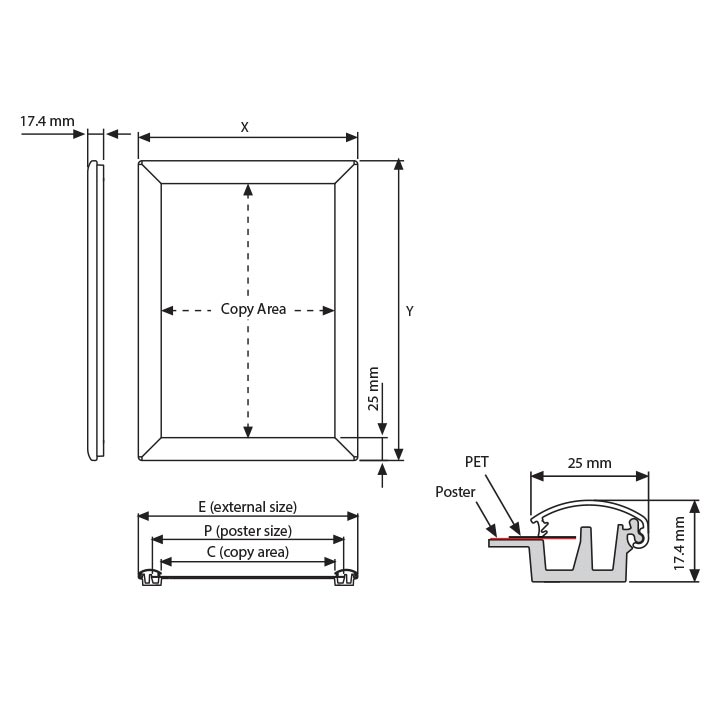 Opti Frame 25 Black Product Print Templates
Opti Frame 25 Black Assembly Sheets
Opti Frame 25 Black Product Certificates & Warranty