Poster Showboard
• Ideal for displaying individuel posters
and single sheet menus.
• Suitable for outdoor use.
• The profile width is 45 mm and the depth
of the case is 30 mm.
• Each unit includes mounting screws and plugs.
• Weatherproof using avaibility by inside
water leakage isolation.
​• Max dimension 1200 x 1800mm.
SIZES
20″ X 30″ (508 X 762 mm), 30″ X 40″ (762 X 1016 mm), A0 ( 841 X 1189 mm), A1 (594 X 841 mm), A2 (420 X 594 mm), A3 (297 X 420 mm), B1 (700 X 1000 mm), B2 (500 X 700 mm),
Poster Showboard Product Specifications
MATERIAL : Silver anodised aluminium
WEIGHT
PACKING SIZE
ARTICLE
EXTERNAL (x-y)
POSTER
COPY
KEY
WITH PACKING
*W X H X D
USBN0000A3
367 X 490 mm
297 X 420 mm
277 X 400 mm
1
2,600 kg
400 X 510 X 60 mm
USBN0000A2
490 X 664 mm
420 X 594 mm
400 X 574 mm
1
3,840 kg
510 X 680 X 60 mm
USBN0000A1
664 X 911 mm
594 X 841 mm
574 X 821 mm
2
5,700 kg
680 X 930 X 60 mm
USBN0000A0
911 X 1259 mm
841 X 1189 mm
821 X 1169 mm
2
10,000 kg
930 X 1280 X 60 mm
USBN0000B2
570 X 770 mm
500 X 700 mm
480 X 680 mm
1
4,740 kg
590 X 790 X 60 mm
USBN0000B1
770 X 1070 mm
700 X 1000 mm
680 X 980 mm
2
8,000 kg
790 X 1090 X 60 mm
USBN000023
578 X 832 mm
508 X 762 mm
488 X 742 mm
1
5,160 kg
600 X 850 X 60 mm
USBN000034
832 X 1086 mm
762 X 1016 mm
742 X 996 mm
2
8,710 kg
850 X 1100 X 60 mm
* W:Width H: Height D: Depth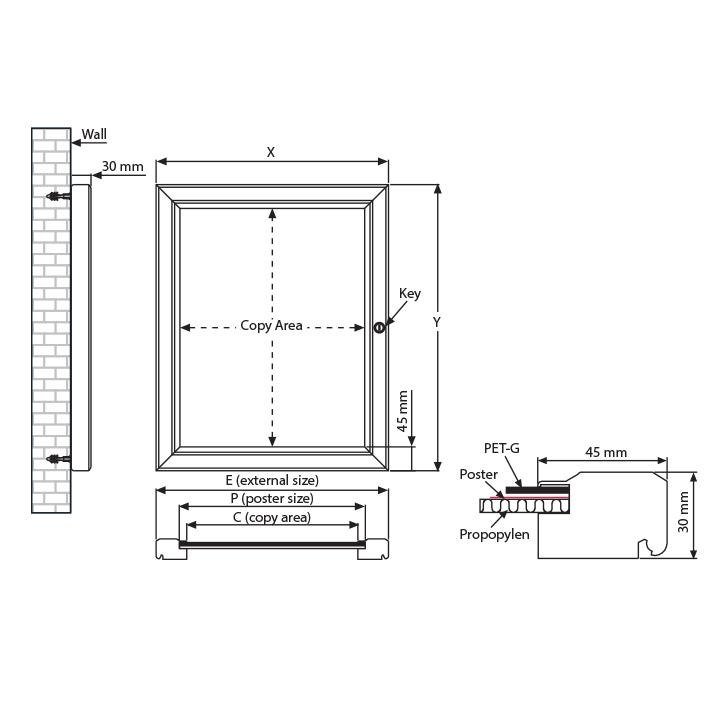 Poster Showboard Product Print Templates
Poster Showboard Assembly Sheets
Poster Showboard Product Certificates & Warranty