Q Belt
• Retractable crowd control system
• It is suitable to be used wherever people come together.
• It is constructed from sturdy, durable steel.
• It features with rubberized and heavy weight base.
ACCESORIES
COLOR OPTION
SIZES
A4 (210 X 297 mm)
Q Belt Product Description
Q Belt is an ergonomic yet elegant tool and retractable crowd control system for organizing high traffic areas. This steel quantity check item identifies; 4-way post head with 4 different configurations. Built-in locking belt mechanism optimized overall height for the most convenient use. It is constructed from sturdy, durable steel with 40mm or 1,58" profile. Bottom protection with rubberised base 114- 1/6″ long gray retractable belt.
Available printable area from 1 to 4/7 "x 103- 2/7" on the belt.Easy to assemble and disassemble. Ergonomic design with elegant looks. High quality at low cost. With all the above specifications, our portable barricade poles are available or used as well as known portable retractable belt poles can; control crowds form lines or queues separate people in groups restrict. Select one of our retractable post systems with various finish and ribbon options. Different sizes and colours are available. 
Q Belt Accessories
Q Belt Product Specifications
MATERIAL : Steel post
WEIGHT
PACKING SIZE
ARTICLE
DESCRIPTION
WITHPACKING
*W X H X D
UQBL01BB00
Black-Black Tape
9,360 kg
100 X 970 X 125 mm / 390 X 390 X 60 mm
UQBL01BR00
Black-Red Tape
9,360 kg
100 X 970 X 125 mm / 390 X 390 X 60 mm
UQBL01BL00
Black-Blue Tape
9,360 kg
100 X 970 X 125 mm / 390 X 390 X 60 mm
UQBL01GB00
Grey-Black Tape
9,360 kg
100 X 970 X 125 mm / 390 X 390 X 60 mm
UQBL01GR00
Grey-Red Tape
9,360 kg
100 X 970 X 125 mm / 390 X 390 X 60 mm
UQBL01GL00
Grey-Blue Tape
9,360 kg
100 X 970 X 125 mm / 390 X 390 X 60 mm
UQBL01CB00
Chrome-Black Tape
9,360 kg
100 X 970 X 125 mm / 390 X 390 X 60 mm
UQBL01CL00
Chrome-Blue Tape
9,360 kg
100 X 970 X 125 mm / 390 X 390 X 60 mm
UQBL01CR00
Chrome-Red Tape
9,360 kg
100 X 970 X 125 mm / 390 X 390 X 60 mm
HEADER: Sign Frame
WEIGHT
PACKING SIZE
ARTICLE
DESCRIPTION
WITHPACKING
*W X H X D
TWBSFH0305
Barrier Sign Frame, Horizontal, Black A4
1,500 kg
350 X 410 X 80 mm
TWBSFV0305
Barrier Sign Frame, Vertical, Black A4
1,500 kg
260 X 490 X 80 mm
TWBASF0405
Adaptor Of Sign Frame
80 X 130 X 85 mm
HEADER: Acrylic
WEIGHT
PACKING SIZE
ARTICLE
DESCRIPTION
WITHPACKING
*W X H X D
UQBL0011A4
Portrait, A4
1,000 kg
245 X 335 X 75 mm
UQBL0012A4
Landscape, A4
1,000 kg
245 X 335 X 75 mm
* W:Width H: Height D: Depth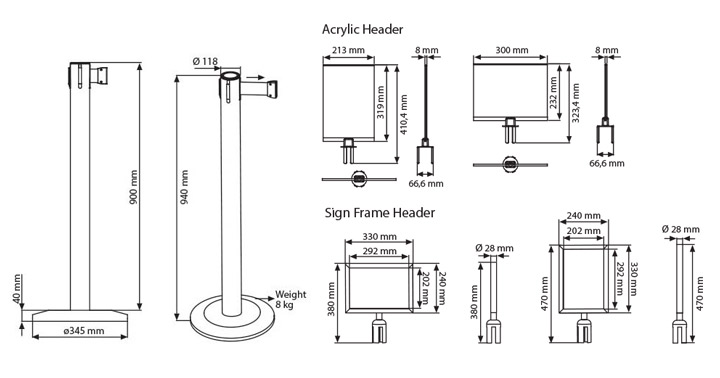 Q Belt Product Assembly Sheets
Q Belt Product Certificates & Warranty