Security Frames 25mm
• Ideal for medium-sized posters.
• It is a secure hard-to-open profile.
• Suitable for open-air use or highly frequented
areas accessible to the public.
• Natural silver-anodized and various
RAL colors are available.
• Anti-glare poster cover sheet.
• Optional Hangers for Easy mounting
ACCESORIES
COLOR OPTION
SIZES
20″ X 30″ (508 X 762 mm), 30″ X 40″ (762 X 1016 mm), 40″ X 60″ (1016 X 1524 mm), A1 (594 X 841 mm), A2 (420 X 594 mm), A3 (297 X 420 mm), A4 (210 X 297 mm), B1 (700 X 1000 mm), B2 (500 X 700 mm)
Security Frames 25mm Product Description
Security Frames make it easy to display various posters securely. These quality secure frames, which are also known as poster signs, poster holders and poster frames fit in different business environments and are appropriate for all industries. It's ideal for medium-sized posters.
This Security Poster Frame can be used directly at retail stores, corporate offices, hotels, casinos, restaurants, elevators, banks, movie theatres, sports and entertainment centres, trade shows, exhibits, government agencies for displaying daily specials, discount deals, special offers, promotion to consumers and various important and delicate messages and announcements.
These security frames are also used in schools and public areas as secure poster frames to display messages and announcements safely.
Each secure poster frame works just like regular snap frame. However with these secure frames you need a lever tool to snap open the sides. This feature makes this frame tamper-proof.
Security Frames 25mm Accessories
Security Frames 25mm Product Specifications
MATERIAL : Silver anodised aluminium PROFILE : 25 mm Security
WEIGHT
PACKING SIZE
ARTICLE
EXTERNAL (x-y)
POSTER
COPY
WITH PACKING
*W X H X D
UCZ255N0A4
240 X 327 mm
210 X 297 mm
190 X 277 mm
0,750 kg
290 X 390 X 31 mm
UCZ255N0A3
327 X 450 mm
297 X 420 mm
277 X 400 mm
1,250 kg
390 X 510 X 31 mm
UCZ255N0A2
450 X 624 mm
420 X 594 mm
400 X 574 mm
1,850 kg
510 X 690 X 31 mm
UCZ255N0A1
624 X 871 mm
594 X 841 mm
574 X 821 mm
2,650 kg
690 X 940 X 31 mm
UCZ255N0B2
530 X 730 mm
500 X 700 mm
480 X 680 mm
5,550 kg
930 X 1310 X 31 mm
UCZ255N0B1
730 X 1030 mm
700 X 1000 mm
680 X 980 mm
2,450 kg
590 X 790 X 31 mm
UCZ255N023
538 X 792 mm
508 X 762 mm
488 X 742 mm
4,330 kg
780 X 1100 X 31 mm
UCZ255N034
792 X 1046 mm
762 X 1016 mm
742 X 996 mm
2,520 kg
600 X 860 X 31 mm
UCZ255N046
1046 X 1554 mm
1016 X 1524 mm
996 X 1504 mm
4,700 kg
850 X 1110 X 31 mm
* W:Width H: Height D: Depth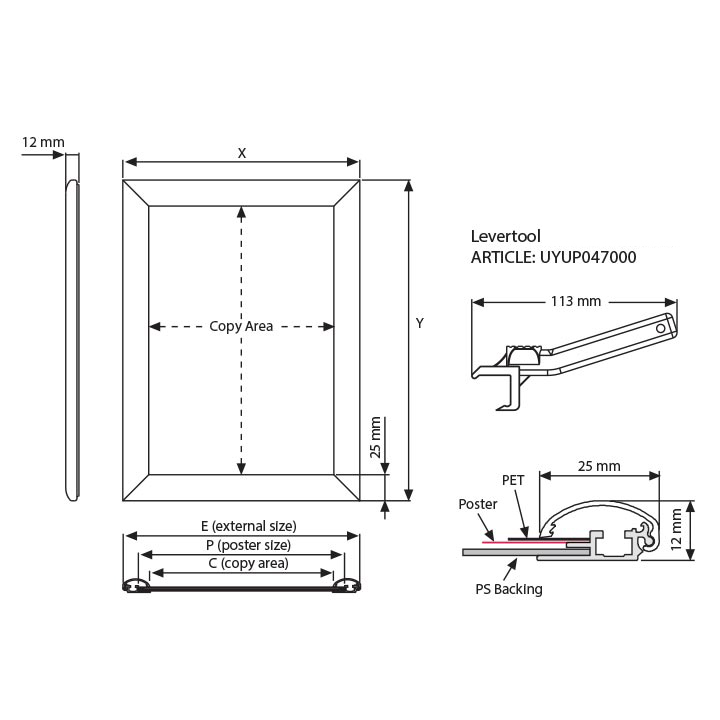 Security Frames 25mm Product Print Templates
Security Frames 25mm Assembly Sheets
Security Frames 25mm Product Certificates & Warranty