Security Frames 42 mm
• Ideal for large-scaled posters.
• Suitable for external use when equipped
with a water wick.
• A safe Autoboard model with hard-to-open profiles.
• Natural anodized silver and various
RAL colors are available.
• Anti-glare poster cover sheet.
• Optional Hangers for Easy mounting
ACCESORIES
COLOR OPTION
SIZES
20″ X 30″ (508 X 762 mm), 30″ X 40″ (762 X 1016 mm), 40″ X 60″ (1016 X 1524 mm), A0 ( 841 X 1189 mm), A1 (594 X 841 mm), A2 (420 X 594 mm), A3 (297 X 420 mm), B1 (700 X 1000 mm), B2 (500 X 700 mm)
Security Frames 42 mm Product Description
Secure poster frames like other aluminum wall frames are a unique way to display your posters. These secure snap frames snap open and shut so that your images will be held firmly in place. These secure wall frames, also called wall mounted secure frames are simple to use so your graphic can be updated in a matter of seconds. With these secure wall frames, you can change your poster as it is still on the wall. The secure wall frames simply snap open on all four sides with the help of lever tool.
Just change the insert and protective cover  and snap close. The protective cover lay holds your posters in the poster area and also ensures that the edges of your image will not be damaged when replacing your poster.
These secure poster frames also have a security feature to prevent your images from being tampered with. Our wall frames can only be opened with the lever tool so that you can display your poster securely. We supply these wall frames with the lever tool as well as a clear protective cover lay.
Security Frames 42 mm Accessories
Security Frames 42 mm Product Specifications
MATERIAL : Silver anodised aluminium PROFILE : 42 mm Security
WEIGHT
PACKING SIZE
ARTICLE
EXTERNAL (x-y)
POSTER
COPY
WITH PACKING
*W X H X D
UCZ425N0A3
340 X 463 mm
297 X 420 mm
256 X 379 mm
1,250 kg
370 X 480 X 31 mm
UCZ425N0A2
463 X 637 mm
420 X 594 mm
379 X 553 mm
1,820 kg
460 X 670 X 31 mm
UCZ425N0A1
637 X 884 mm
594 X 841 mm
553 X 800 mm
2,760 kg
660 X 910 X 31 mm
UCZ425N0A0
884 X 1232 mm
841 X 1189 mm
800 X 1148 mm
4,800 kg
910 X 1270 X 31 mm
UCZ425N0B2
543 X 743 mm
500 X 700 mm
459 X 659 mm
2,100 kg
560 X 760 X 31 mm
UCZ425N0B1
743 X 1043 mm
700 X 1000 mm
659 X 959 mm
3,715 kg
760 X 1060 X 31 mm
UCZ425N023
551 X 805 mm
508 X 762 mm
467 X 721 mm
2,250 kg
570 X 820 X 31 mm
UCZ425N034
805 X 1059 mm
762 X 1016 mm
721 X 975 mm
4,000 kg
820 X 1080 X 31 mm
UCZ425N046
1059 X 1567 mm
1016 X 1524 mm
975 X 1483 mm
7,900 kg
1070 X 1590 X 31 mm
* W:Width H: Height D: Depth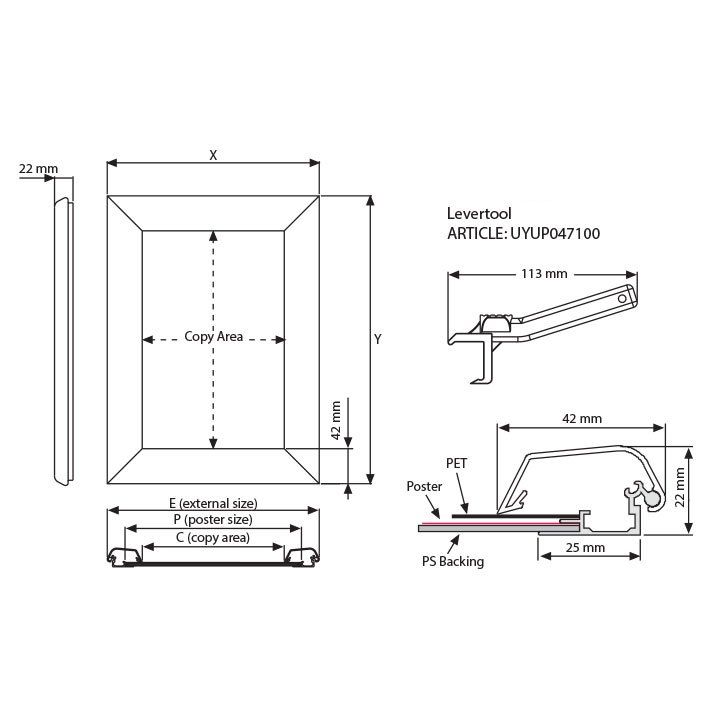 Security Frames 42 mm Product Print Templates
Security Frames 42 mm Product Assembly Sheets
Security Frames 42 mm Product Certificates & Warranty