Smart LEDbox 25 mm Double Sided
• Ideal for indoor application with 27,5 mm depth.
• On / off button and power supply
provide long product life.
• Easy to mount by ceiling hangers and cables.
ACCESORIES
SIZES
20″ X 30″ (508 X 762 mm), A1 (594 X 841 mm), A2 (420 X 594 mm), A3 (297 X 420 mm), A4 (210 X 297 mm), B2 (500 X 700 mm)
Smart LEDbox 25 mm Double Sided Product Description
Smart LEDbox 25 mm Double Sided
Every business uses LED lightbox signs to display their individual signage. This special light box has an extremely thin profile, measuring 27,5 mm depth.
LED signs with ultra-fine design are perfect to be used with printed signboards and transparent poster protection. LED illuminated lightbox signs illuminate your ads LED illuminated lightbox frames change business settings as commercial or light bulbs are in continuous use for about 100,000 hours Light bulbs are buried in the edges of the frame and are hidden from view LED lighting is lower in tension than most other models on the market and results in less energy This lighting technology As a result, they are both light costs and costly lightbox signs for maintenance and general use.
These signage frames have an instant open frame for easy operation. Lightbox signs that show ads can be changed in just a few minutes! This lightbox for light use is designed for ceiling suspension.
Each of the backlighted lightbox marks comes with the hardware required to mount it to most ceiling. 2m long wire cable hand hanger included in the pack. The snap frame of the joins allows users to easily open the four sides of the frame for easier access to the displayed posters. These custom display lightbox signs include an acrylic light-guided panel to distribute the light through your graphics.
Each closed lightbox comes with a non-glare lens to prevent the particular lightening at work from interfering with the appearance of your sign.
If you wish to use your LED frame 24 hours in 7 days, please ask for special 7/24 power supplies.
Smart LEDbox 25 mm Double Sided Accessories
Smart LEDbox 25 mm Double Sided Product Specifications
MATERIAL : Silver anodised aluminiumPROFILE: 25 MM
WEIGHT
PACKING SIZE
ARTICLE
EXTERNAL (x-y)
POSTER
COPY
LIGHTING
WITH PACKING
*W X H X D
ULD25CN0A4
242 X 329 mm
210 X 297 mm
190 X 277 mm
1500-1800 LUX
1,600 kg
260 X 420 X 46 mm
ULD25CN0A3
329 X 452 mm
297 X 420 mm
277 X 400 mm
2000-2300 LUX
2,490 kg
350 X 540 X 46 mm
ULD25CN0A2
452 X 626 mm
420 X 594 mm
400 X 574 mm
1800-2000 LUX
4,220 kg
470 X 720 X 46 mm
ULD25CN0A1
626 X 873 mm
594 X 841 mm
574 X 821 mm
1600-1800 LUX
8,430 kg
650 X 960 X 46 mm
ULD25CN0B2
532 X 732 mm
500 X 700 mm
480 X 680 mm
1700-1900LUX
6,450 kg
560 X 820 X 46 mm
ULD25CN023
540 X 794 mm
508 X 762 mm
488 X 742 mm
1700-1900 LUX
6,900 kg
570 X 870 X 46 mm
* W:Width H: Height D: Depth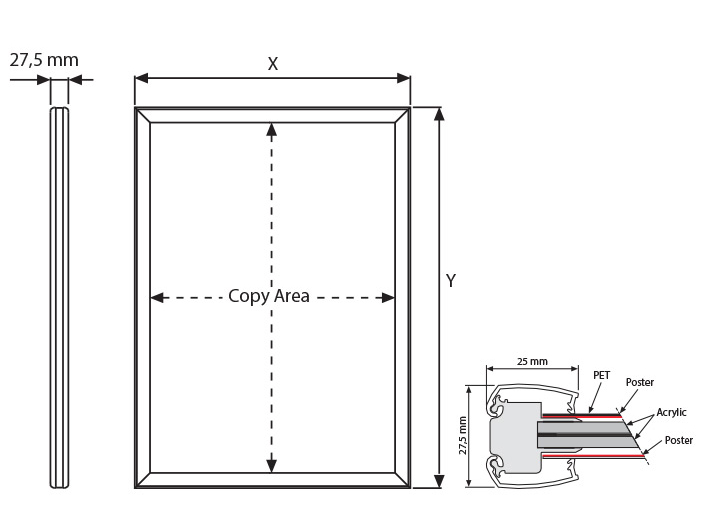 Smart LEDbox 25 mm Double Sided Product Print Templates
Smart LEDbox 25 mm Double Sided Product Assembly Sheets
Smart LEDbox 25 mm Double Sided Product Certificates & Warranty