Smart LEDbox 35 mm Double Sided
• 39 mm profile thickness.
• Treated acrylic in the middle provides
homogenous liighting.
• LED lisgt panels are ideal for wide range
of indoor applications.
• Maximum poster size is 1016 x 1600 mm.
• Easy to mount by ceiling hangers and cables.
ACCESORIES
SIZES
30″ X 40″ (762 X 1016 mm), 40″ X 60″ (1016 X 1524 mm), A0 ( 841 X 1189 mm), A1 (594 X 841 mm), B0 ( 1000 X 1414 mm), B1 (700 X 1000 mm),
Smart LEDbox 35 mm Double Sided Product Description
Smart LEDbox 35 mm Double Sided
Lightbox screens are excellent tools for delivering eye-catching graphics. Regardless of signage or advertising, passers-by will certainly be notified when they are on these panels.
These illuminated banner frames are designed to hold postcards between A4 – 1016 x 1024 mm sizes. Profile thickness is 29 mm. The holders are versatile to orient both vertically and horizontally. On light box screens, we even provide the necessary mounting brackets and hardware for both directions. In addition, changes made with this model are a "snap". These lightbox displays with LEDs, also known as lightbox signs, have instant open framing. For this reason, even during a graphic change, you can pin a large holder to a wall!
These illuminated lightbox displays are equipped with LEDs for a long-lasting, permanent fixture. They are highly recommended for retail stores and stores. Illuminated sign holders, illuminated light box screens are sold at affordable prices to fit any budget. These models combine high quality and reasonable price. If you want to add a presentation light markings, select these LED lightbox displays that are mounted to achieve the best result. The work requires only 24 volts of electricity. Based on graphics, these special lightbox displays give you a long-lasting, energy-efficient, low-cost lighted poster frame. Ceiling suspension kit and power supply included in the pack.
If you wish to use your LED frame 24 hours in 7 days, please ask for special 7/24 power supplies.
Smart LEDbox 35 mm Double Sided Accessories
Smart LEDbox 35 mm Double Sided Product Specifications
MATERIAL : Silver anodised aluminiumPROFILE: 35 MM
WEIGHT
PACKING SIZE
ARTICLE
EXTERNAL (x-y)
POSTER
COPY
LIGHTING
WITH PACKING
*W X H X D
ULD35CN0A1
641 X 888 mm
594 X 841 mm
571 X 818 mm
2100-2400 LUX
15,100 kg
720 X 1010 X 60 mm
ULD35CN0A0
888 X 1236 mm
841 X 1189 mm
818 X 1166 mm
1800-2100 LUX
20,750 kg
965 X 1380 X 60 mm
ULD35CN0B1
747 X 1047 mm
700 X 1000 mm
677 X 977 mm
2000-2300 LUX
17,340 kg
815 X 1170 X 60 mm
ULD35CN0B0
1047 X 1447 mm
1000 X 1400 mm
977 X 1377 mm
1500-1800 LUX
27,000 kg
1120 X 1570 X 60 mm
ULD35CN034
809 X 1063 mm
762 X 1016 mm
739 X 993 mm
2000-2300 LUX
15,000 kg
910 X 1180 X 60 mm
ULD35CN046
1063 X 1571 mm
1016 X 1524 mm
993 X 1501 mm
1500-1800 LUX
28,850 kg
1170 X 1700 X 60 mm
* W:Width H: Height D: Depth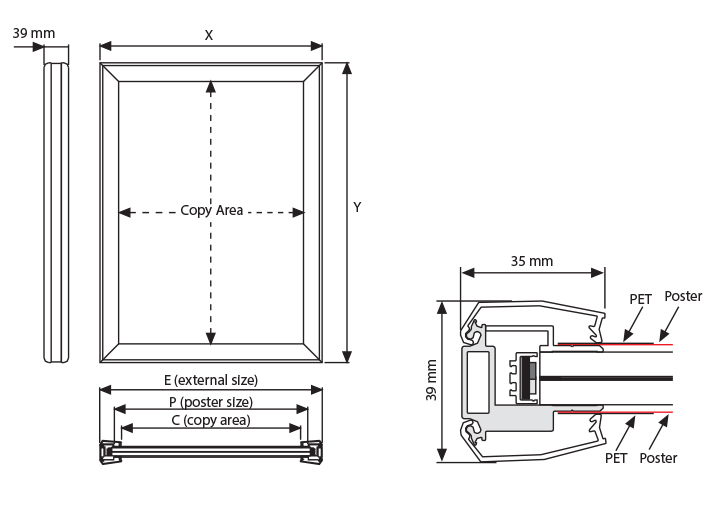 Smart LEDbox 35 mm Double Sided Product Print Templates
Smart LEDbox 35 mm Double Sided Product Assembly Sheets
Smart LEDbox 35 mm Double Sided Product Certificates & Warranty